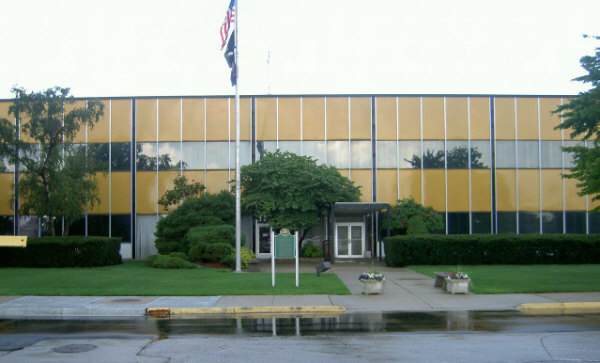 General Motors Bay City PowerTrain plant is nearing its 100th anniversary of operations here.
---
Bay City's GM PowerTrain Positioned for Expansion with 100% Tax Exemption
Local Retention Committee Has Been Working With Company Over a Year
August 1, 2008 Leave a Comment
By: Dave Rogers
The fate of a General Motors factory long critical to the economy of Bay City and Bay County is riding on global economic trends.
But local officials are hoping their efforts over the past year and a half and an unprecedented 100 percent tax break for 50 years will send a strong and positive signal to the automaker.
Despite record General Motors losses caused by low vehicle sales, layoffs and downsizing, Bay City officials remain optimistic -- and hopeful -- about the fate of the Bay City PowerTrain plant.
In 1983-84, the plant, then a unit of the Chevrolet Motor Division, had 2,078 production employees and 369 management personnel, totaling 2,447. The size of the facility at 100 Fitzgerald Street was listed at 1,078,000 square feet. It dates to April 10, 1916 when the National Cycle Works was purchased by William Durant, founder of GM, to make parts for Chevrolet.
"The Bay City plant was scheduled to close in 1985," recalled Bernie Brunett, former leader of the Quality of Work Life (QWL) program at the plant that made national headlines.
"We were able to save the plant with a living agreement and other innovations that were agreed upon by the union and management," said Brunett. "It's still here more than 20 years later and I expect GM to bounce back like it always has."
The City of Bay City has positioned itself for expansion of the local GM plant with an unprecedented 100 percent tax exemption on new equipment for 50 years.
Other communities are offering total tax abatements on equipment investments but mostly with 20 and 30 year limits; Bay City's 50 year tax break reportedly is tops in Michigan.
The Bay Area Chamber of Commerce, Bay Future, Inc., county and city officials for the past year and a half have been conducting a low-key campaign to keep the General Motors Bay City PowerTrain plant alive if possible.
Mike Seward, chamber president, said "GM could expand significantly in Bay City without a major investment; the infrastructure is there in the building, parking, etc. We want to make sure the business community and government effectively communicate so they know they're important to us."
The GM Retention Committee includes Seward and Fred Hollister, executive director of Bay Future, Inc., as co-leaders, along with Steve Black, deputy city manager, Mayor Charles Brunner and County Executive Thomas L. Hickner, both of whom helped initiate the effort, City Commissioner Chris Shannon, State Senator James A. Barcia, State Rep. Jeff Mayes, along with the manager of the plant, Dan Ryon.
Members of the group have made several trips to the Detroit area to meet with GM executives, according to Mr. Seward.
Part of the effort to keep GM here involved repaving Woodside Avenue in front of the plant, he said, continuing: "We will continue to do our best to effectively communicate how important they are while they look for new business."
Tim Quinn, personnel manager at PowerTrain, recently appointed Bay County personnel director, said: "GM is going to come back and it's going to be better than ever. I have a lot of faith in General Motors."
Bay County government has about $800,000 in annual tax revenue riding on the GM plant's continued operations and the city's stake is about $1 million a year, according to Mayor Charles Brunner, adding:
"GM is our largest single taxpayer and it is absolutely critical to our budget to have the GM factory thriving in Bay City so we have been doing everything in our power to show them they are needed and wanted here."
Mr. Hickner noted the local GM plant's new labor agreement combines 14 different job classifications into one, "which should make for more productive operations." He noted the Bay City retention effort is similar to one initiated several years ago by Mayor David Hollister in Lansing that resulted in saving jobs and construction of two new plants.
Although only about 275 shop floor employees remain in the Bay City plant since 238 workers took buyouts last May, local officials hope they will be replaced by new hires under a new two-tier wage schedule. Beginning workers now will receive about half the former wage of about $25 an hour.
The local plant's annual tax payment to Bay County is about $800,000 per year, putting it second to Consumers Energy on the list of top county taxpayers.
The plant's taxable value was $132,849,800 in 2007, representing 4.41 percent of the total property valuation of the county. Consumers Energy, with its huge Karn-Weadock electrical generating facility at the mouth of the Saginaw River, is valued at nearly $261 million.
The Center for Automotive Research (CAR) states: "The automotive industry is under going enormous changes. The tremendous competitive, market and government forces are not going to abate over the next several years, but are more likely to increase. Innovation is a necessary strategy for all companies to remain prosperous, especially in light of the low wage countries."
CAR is sponsoring an industry conference Aug. 11-15 at the Grand Traverse Resort & Spa, Traverse City, entitled "Transcending Turbulence."
Among speakers at the conference will be Bo Andersson, GM's group vice president, global purchasing and supply chain. The conference program states:
"From a global perspective, the automotive industry is in a growth phase. In the past expansions could be counted on to provide a rising tide to lift all boats.
"This period of expansion, however, is different -- growth in a few geographic areas and product segments is accompanied by contractions and financial struggles in others."
---
---

Dave Rogers




Dave Rogers is a former editorial writer for the Bay City Times and a widely read,
respected journalist/writer in and around Bay City.
(Contact Dave Via Email at carraroe@aol.com)

More from Dave Rogers
---
Send This Story to a Friend!
Letter to the editor
Link to this Story
Printer-Friendly Story View
---
--- Advertisments ---