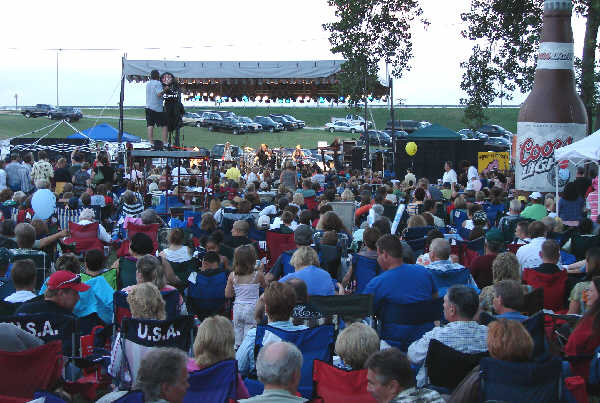 Eddie Money 'Sh-sh-sh-sh-sh Shakin' the Bacon at Pig Gig 2008
2008 Labadie Pig Gig Bring in Thousands to Bay City Vets Park 4 Day Event
August 3, 2008 3 Comments
By: Julie McCallum, Entertainment Editor
The 16th Annual Labadie Pig Gig 2008 Championship Midwest Rib Cook-off Presented by State Farm brings in thousands of 'Pig Giggers' to Vet's Park in Bay City.
Area Family Charities announced that The Labadie Pig Gig has risen over $700,000 during the past 15 years. And this year's event looks to add a generous amount to the running total.
Rib Competitors from across the country and even Australia come in to vie for the title of "The Best Ribs in the Midwest". Labadie Pig Gig attendees can vote for their favorite ribs. They can also vote for their favorite celebrity ribs during the Celebrity Rib Cook-off on Friday at Noon.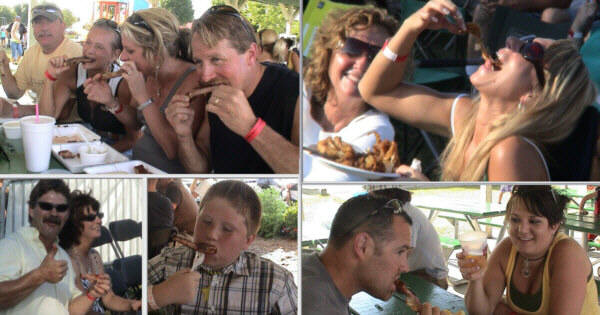 IT WAS ALL ABOUT THE FOOD (Upper Left) Rick & Cindy from Johnny Heinz Landscaping and Greg & Cari Berkobien (Saginaw) are workin' hard on some Lagerhead Ribs. (Upper Right) Kristi Schmidt (Bay City) shows the best way to eat a Bloomin' Onion Rings as her mom (Sharon,) looks on. (Bottom Right) Justin & Allison Campbell (Reese) enjoy the ribs from Porky & Beans. (Bottom Middle) Caleb Pijaszek has a mouthful of good taste in the VIP tent. (Bottom Left) Harold Dost, Jr. & Cindy Kloha enjoy some "good eats" during the Grass Roots concert.
(MyBayCity Photo by O. J. Cunningham)
The Mid-West Championship Rib Cook-Off featured national competitors from around the country, worldwide competitors from Australia as well as local competitors including:
Aussom Aussie, Sydney, Australia
Bar-B-Cutie's, Mt. Pleasant, MI
Famous Dave, Saginaw, MI
Meats N' More, Bay City MI
Mountain Town Station, Mt. Pleasant, MI
Willinghams, Memphis TN
Lagerheads BBQ, Cleveland, OH
Sawmill Smoke House BBQ, Freeland, MI
Porky N Beans, Port St. Lucie, FL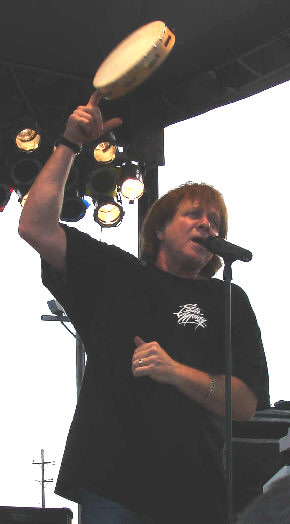 (Left)
Eddie Money Turned up the music just as loud as it could go on Friday night and Vet Park did some shakin' till the middle of the night.
(Below)
Jim Kruszynski (State Farm) and Wendy Dore (Event Organizer) take a moment out of their busy day to smile for MBC Cameras.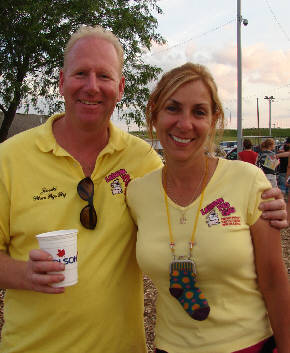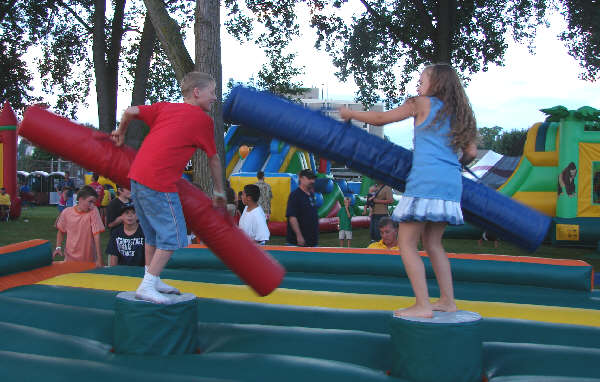 Tons of entertainment for the whole family including the Kids Zone with 'Bouncers & More Inflatables' and the petting zoo.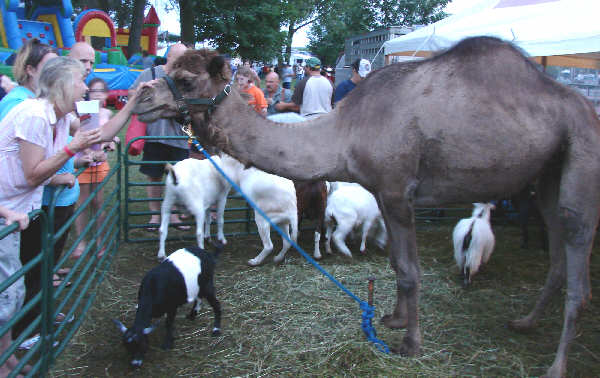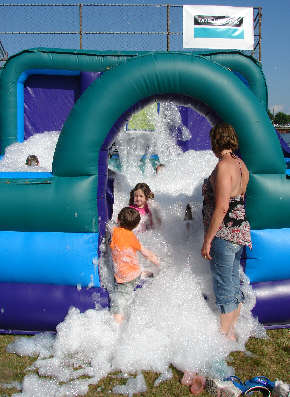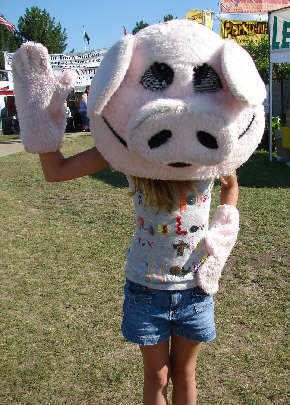 (Above Left)
SUDS OF FUN! what a fun way to cool off.
(Above Right)
ADORABLE! Could that Faith Dore behind that mask.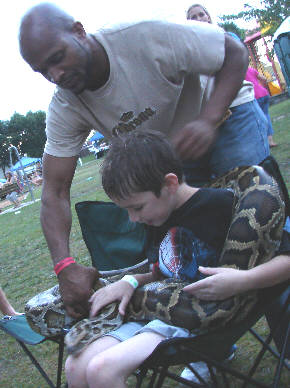 (Left)
Lance Morales age 9 gets his picture taken with a Burmese Python named 'Slinky'. When I asked Lance what was it like to hold the Python, Lance said, "I'm comfortable around snakes and rats."
(Below)
You could also get your picture taken with "Shredder".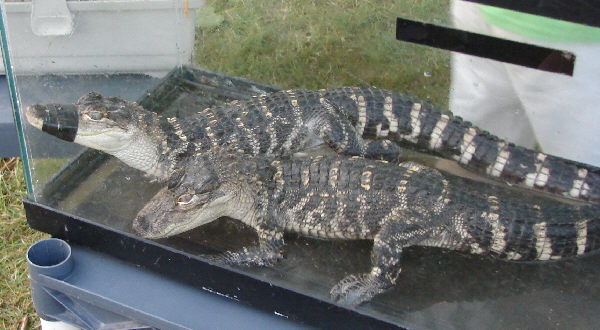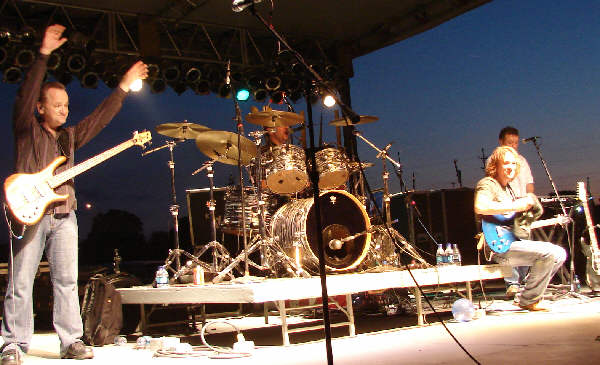 "Hotel California" an Eagles Tribute band performed on Thursday night following the Michigan's Got Talent Finals.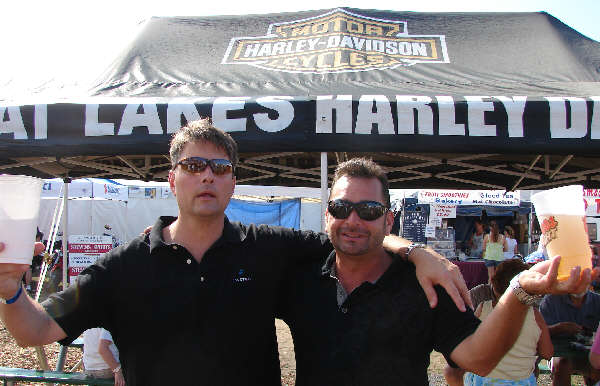 (Above L/R)
Greg Smith from Paetec in Flint pictured with Joe Garcia of Beaverton. Garcia said he participated in the Teddy Bear Run, from Great Lakes Harley Davidson to Covenant.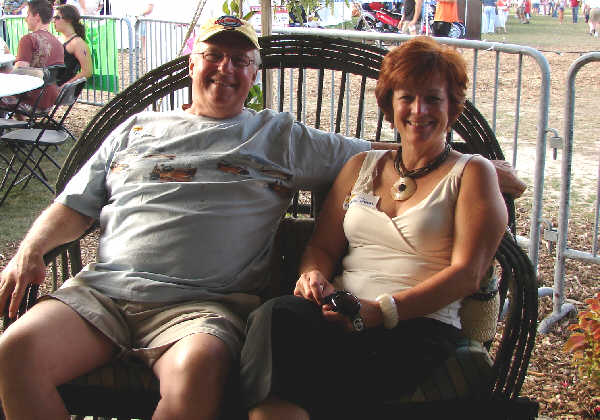 Jim Reid and Laurie Bush take a moment to relax in the VIP Tent.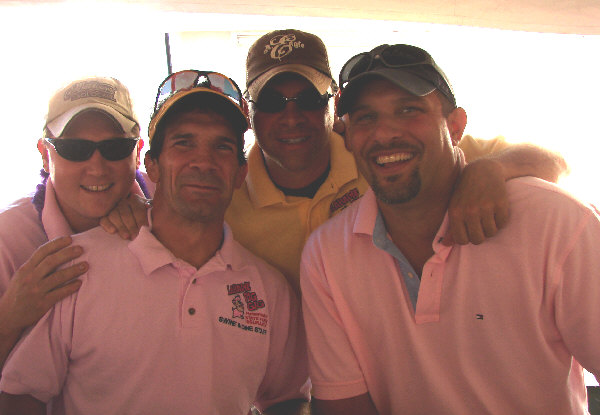 Labadie Pig Gig volunteers kept busy in the VIP tent, but took a minute out to smile for MBC cameras.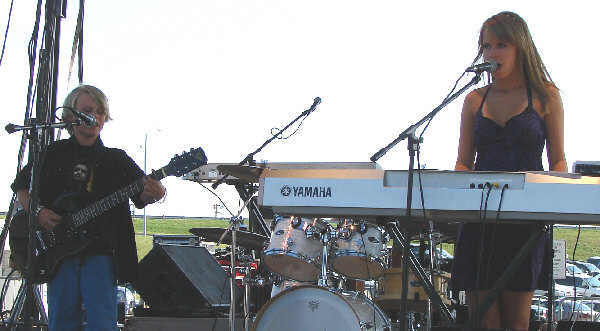 The Samborns
- Mitch & Brandy - a brother and sister musical duet from Bay City were the opening musical act for Steve Holy on Saturday along with Mandi Layne & The Lost Highway.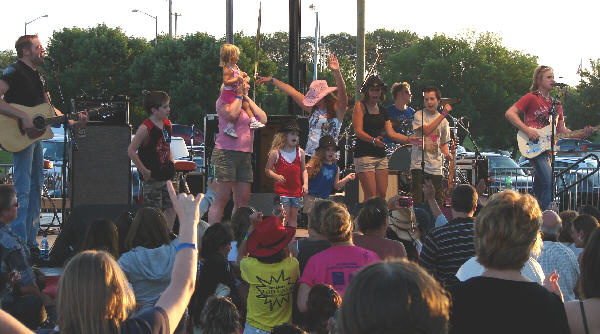 (ABOVE/BELOW) Steve Holy had a whole party on stage when he sang his famous song: 'I got a brand new girlfriend' on Saturday night.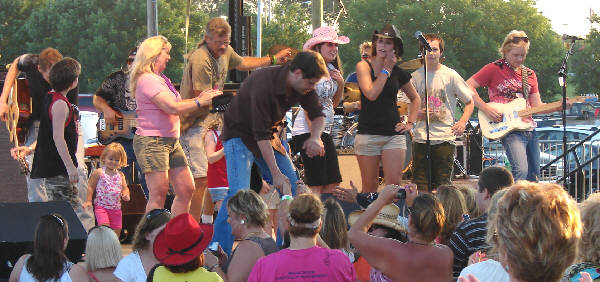 Pig Gig Volunteers, L/R, Linda Bowen, Cheri Fischer and Denise Dore.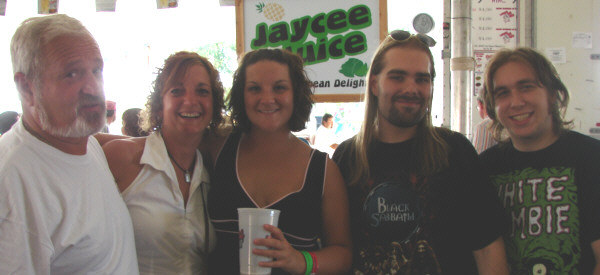 Regulars at the Stables on Wednesday nights came out to watch Kevin Sackett's performance on Sunday at the Pig Gig, (L/R) Dave O'Doul (Bernrueter), Darlene Matlock, Kayla Courneya, Drew Brady and Ben Alcorn.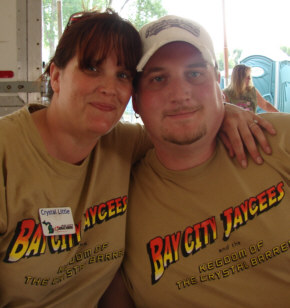 (Left)
Bay City Jaycees, Crystal Little and Jeff Colicker. According to Little they worked the last 5 days in 12 hours shifts setting up and running the beer tents. Thanks Guys! Well Done.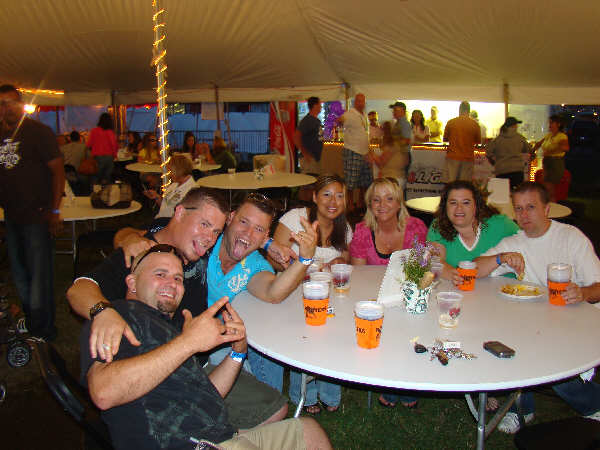 Pictured (L/R): Shawn Hitz, Josh Cline, Ryan Stevens, Samantha Aguilar-Stevens, Laurie Hitz, Jessica Helie and Brad Killey. Bell Tire and Copoco Credit Union gang take a breather in the VIP tent Saturday night!
(MyBayCity Photo)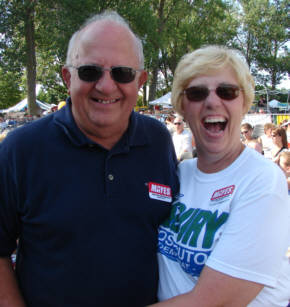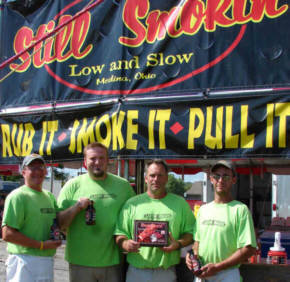 (Left) Former Mayor Mike Buda and wife Sandy enjoy the Sunday's concert as the night comes to a close.
(Right) Lager Heads BBQ won 2nd place for best sauce, Sunday in the Rib Competition. (Pictured L/R) Doug Miller, Tom Rados, Jon Kiene and Damien Maddama
Wendy Dore, event organizer, thanked the following sponsors:
Labadie
State Farm
Meijer
Covenant
Coca-Cola
Dow Corning
Health Plus
Pioneer Sugar
Coors Light
Molson
Americinn
Harley Davidson
Arnold Sales
7-Eleven
Saganing Eagle's Landing Casino
Barefoot Wine
Bay City Times
Chemical Bank
Hamilton RV
Michigan Lottery
WNEM TV5
Lowe's
Art Van
Bay City Mall
McDonald's
Blue Care Network
Belle Tire
SpeedNet
Sprint
Mid-Michigan Toyota Dealers
Batschke's Garden Center
Outdoor Adventures
Omnisource
Saginaw Spirit
Wolgast Corporation
Meadowbrook Insurance
Bay County Realtors Assoc.
Bay City Jaycees
Consumers Energy
Bay City Motor Company
---
"The BUZZ" - Read Feedback From Readers!
GreenDog says: On August 04, 2008 at 01:12 AM

Great article Julie. This is what Bay City needs. Good stories about good old Bay City. If we wanted doom and death, we'd read the BC Times or watch TV news. Keep up the good work MYBAYCITY. Bay City needs you.
iml8ashell says: On August 04, 2008 at 09:18 AM

THIS WEEKENDS PIG GIG WAS AMAZING! MY WIFE AND I WENT SATURDAY NIGHT TO THE CONCERT.WE WALK BY THIS GUY WITH A MECHANICAL BULL,WE LAUGHED SO HARD AND ENJOYED THIS GUY WE MISSED THE CONCERT! PUT HIM ON THE STAGE MEXT YEAR WE'LL BE FIRST IN LINE FOR FRONT ROW SEATS
superfsh Says: On August 04, 2008 at 02:07 PM

Why have comments been shut off for the "knife wielding assailant article"? All eight visitors to that page melted down and greased the mainframe??? To much venom from your readers on that slanted article. You should be ashamed of yourselves.
---
---
Send This Story to a Friend!
Letter to the editor
Link to this Story
Printer-Friendly Story View
---
--- Advertisments ---