Mind Games
The Power of the Mind Will Never Again Be Underestimated by This Writer
September 23, 2003 Leave a Comment
By: O. J. Cunningham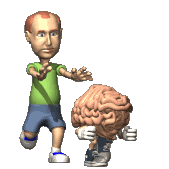 Proof Readers and Copy Editors Should Update Those Job Applications - Correct Spelling is Obviously Over-rated.
English Majors And
Spell-Checkers BEWARE!
This is waaaayyyyyyyyyy FREAKY...!!
All my life, I have been concerned with correct spelling.
Sisters of Charity at Saint Jamesrapped my knuckles for 12 years trying to get me to spell accurately. Holy Cross Fathers at Notre Dame took over for another four years.
At the end of all that education came a Degree in English/Journalism and an inbred, fanatical desire to communicate (using correct spelling) with others of my species. Add on another 25 years of "newspapering" and I have turned into a proofreading and spelling geek.
And the one constant throughout my entire writing career has been --->
I need to spell it right to get my message across
.
HA! Did You Hear That? I said HA!


Read between the lines (below) and your life may never be the same. One thing sure, don't let the kids get hold of this information or we may never get them to spell correctly.
---
The phnaomneil pweor of the hmuan mnid.
Aoccdrnig to a rscheearch at Cmabrigde Uinervtisy, it deosn't mttaer in waht oredr the ltteers in a wrod are, the olny iprmoetnt tihng is taht the frist and lsat ltteer be at the rghit pclae.
The rset can be a total mses and you can sitll raed it wouthit porbelm. Tihs is bcuseae the huamn mnid deos not raed ervey lteter by istlef, but the wrod as a wlohe.
---
WOW! - Tsht's enoghu ot mkae you trun off yuor Mircsfot Wrod Sepll-cehkcer!
---
---

O. J. Cunningham




O. J. Cunningham is the Publisher of MyBayCity.com. Cunningham previously published Sports Page & Bay City Enterprise. He is the President/CEO of OJ Advertising, Inc.

More from O. J. Cunningham
---
Send This Story to a Friend!
Letter to the editor
Link to this Story
Printer-Friendly Story View
---
--- Advertisments ---