River of Time Links Actual History Since it Occurs on James Birney's Farm
New Feature: Freedom Singers Depict the Way Slaves Communicated
September 29, 2003 Leave a Comment
By: Dave Rogers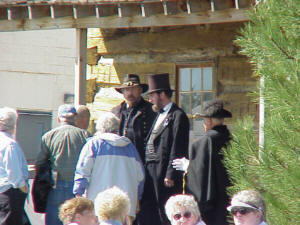 "Abe Lincoln" re-enactor address the crowd during Civil War Presentation during River of Time Festival in Bay City's Veterans' Park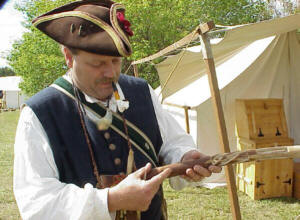 A River of Time re-enactor carves a walking stick during the 2003 Festival held in Bay City
It is altogether fitting and proper, to paraphrase Abraham Lincoln, that the River of Time living history exhibition is held on the grounds of Veterans Memorial Park on the west bank of the Saginaw River in Bay City.
For these are historic grou
. . . . .
This is embarrasing, but only paid subscribers can view archived articles on MyBayCity.com.

The maximum of 1 free blocks have been shown.
A paid subscription is required to read the full article.

If you have a subscription, please use the Log-in (top of screen) to log in.

If you do not have a subscription you may use the Log-in (top of screen) to subscribe now.


---

Diags build while calculating max body blocks.
P3_Article.ArticleID: 298
P3_Article.CategoryID: 3
P3_Article.ArticleDate: 2003-09-29 169 months old

1 P3q_CurrCategory records
WHERE CategoryID = '3'
CategoryName [Arts/Theater]
Category_Free []


The following are read in P3v3-t010.cfm
PUB_Free_Article_Age [120] months
PUB_Free_Blocks [1]
PUB_Subscription_Fee [120]
PUB_Subscription_Term [12] in months
session.LoginID [Default]
session.Login_Type [reader]

0 P3q_CurrSubscriber recs ---------------
Subscriber_Paid_From []
Subscriber_Paid_To []

Diag-020:
P3q_CurrSubscriber.RecordCount: 0
P3q_CurrSubscriber.Subscriber_Paid_From: []
P3q_CurrSubscriber.Subscriber_Paid_to: []
Diag-024:
After date test.
Not logged in as subscriber
P3body_Sub_from [2001-01-01]
P3body_Sub_to [2001-12-31]

Diag-100:
P3wkURL [subscriberid ='9191919' ] Used by t010 to get subscriber
P3body_Sub_from: [2001-01-01]
P3body_Sub_to: [2001-12-31]
Diag-200:
P3_PublicationDef.PUB_Free_Blocks: 1
P3body_Subscribed: N

P3body_MaxBlocks defaults to 9999.

Teaser only
P3body_Subscribed NOT = "Y"
P3body_MaxBlocks=1 are allowed

Build P3_Fulltext looping over 16 bodytext records WHERE ArticleID = '298'
We've already com up with the P3body_MaxBlocks above.
We test it now and display the message at the top if necessary.
---
---

Dave Rogers




Dave Rogers is a former editorial writer for the Bay City Times and a widely read,
respected journalist/writer in and around Bay City.
(Contact Dave Via Email at carraroe@aol.com)

More from Dave Rogers
---
Send This Story to a Friend!
Letter to the editor
Link to this Story
Printer-Friendly Story View
---
--- Advertisments ---