Bay City Central Football Ready For 2008
Offense & Defense Line Play Will Be Key to Success
August 23, 2008 Leave a Comment
By: Greg Diebolt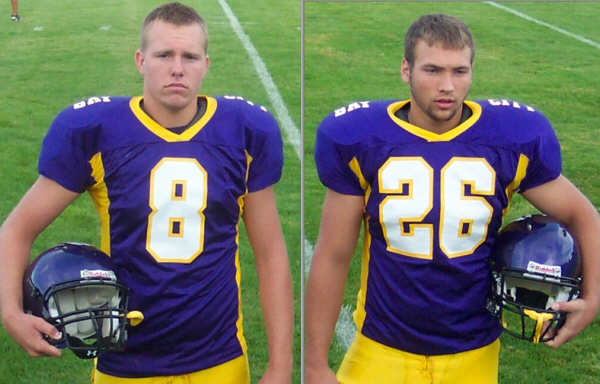 In the backfield with QB Mike Schepper will be Carlton Downing at 5' 11", 215 lb.
(MyBayCity Photo by Greg Diebolt)
The 2008 Bay City Central High School football season is rapidly approaching as Coach Morley Fraser's squad is right in the middle of two-a-day practice sessions. This is Coach Fraser's 23rd season at the helm for the Central Wolves.
The Saginaw Valley Conference consists of eleven high schools this year. Bay City Central will open its gridiron season at Elmer Engel Stadium against the Saginaw High Trojans on Aug 28th.
Once again, assisting Coach Fraser on both sides of the line of scrimmage will be Gene Rademacher. This is Coach Rademacher's 21st season at Central High.
"Our offensive and our defensive lines will be strong and we have good depth," Coach Fraser said. "Our quarterback this year will be Mike Schepper," Fraser added. Fraser went on to point out that Schepper's 2007 season was injury-plagued. Schepper is a 6' 3", 200 lb senior.
Anchoring the offensive line will be seniors Joe Brown, Shawn Everitt, Ryan Franceshina, Travis Koziatek, Wes Napieralski, and Christopher Sova. J. Brown is 6' 4", 255 lb and T. Koziatek is 5' 9', 260 lb.
In the backfield with QB Schepper will be Carlton Downing at 5' 11", 215 lb, Marques Rangel at 5' 9", 160 lb and Jordan Murphy, 5' 10", 170 lb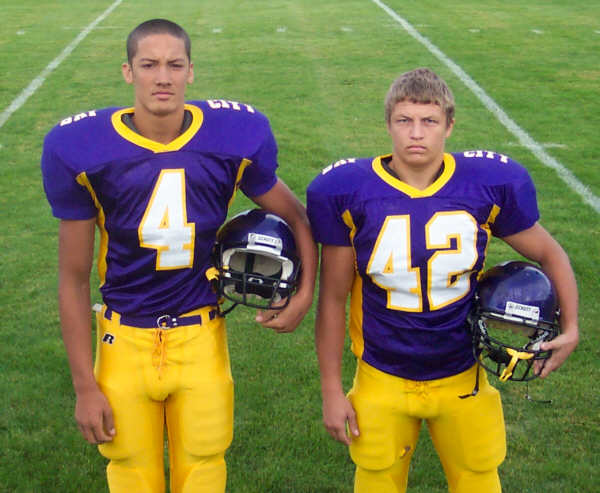 Defensive Secondary - Martin & Collins
(MyBayCity Photo by Greg Diebolt)
The receiving corps will have Tony Brown and Dylan Byington, to mention a few.
The Wolfpack on the defensive line and linebackers will go with Sean Patrick Brady, Kyle Melton, Shane O'Shea, Victor Mercado, and Dan Schermerhorn. S.P.Brady, K. Melton, and S. O'Shea are juniors, and V. Mercado at 6' 3", 215 lb and D.Schermerhorn at 5' 6", 225 lb are seniors.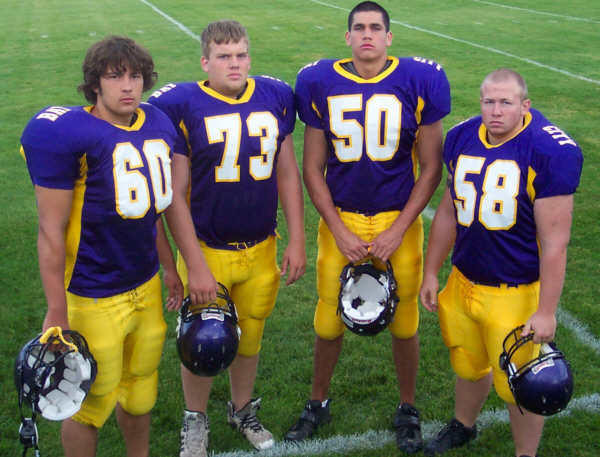 Defense - Franceschina, Sova, Mercado & Schermerhorn
(MyBayCity Photo by Greg Diebolt)
Coach Fraser has several of his players play both ways. One such player is Dylan Byington, who also handles defensive safety duties. Another defensive safety is Jacob Collins. At the corner-back positions are Isaac Saucedo and Cameron Sullivan. At the free safety position will be Deon Martin.
No captains are elected on Bay City Central's football team. Coach Fraser prefers to have all the senior classmen lead the team in its efforts on the the football field.
The Bay City Central junior varsity team is led by Coach Brian Bishop and the Central High freshmen are coached by Eric Anderson.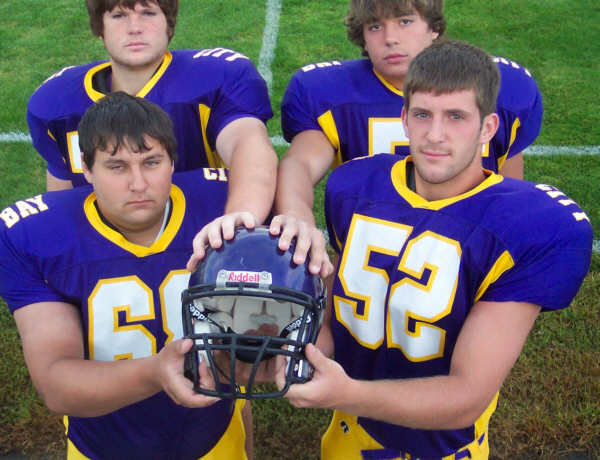 Offensive Line - Brown, Naperalski, Koziatek & Everitt.
(MyBayCity Photo by Greg Diebolt)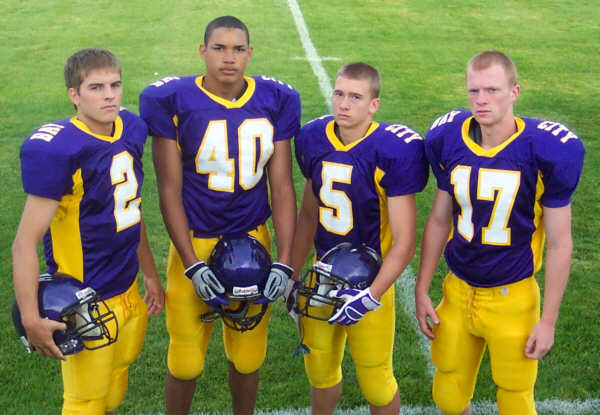 Reciever Corp - Drzewicki, Brown, Byington & Rasdorf.
(MyBayCity Photo by Greg Diebolt)
---
---
---
Send This Story to a Friend!
Letter to the editor
Link to this Story
Printer-Friendly Story View
---
--- Advertisments ---