I'm Going To Open My Own Gas Station and Sell Gas Really Cheap
I'll Make Millions Just Undercutting the Price of Existing Stations
August 21, 2008 Leave a Comment
By: O. J. Cunningham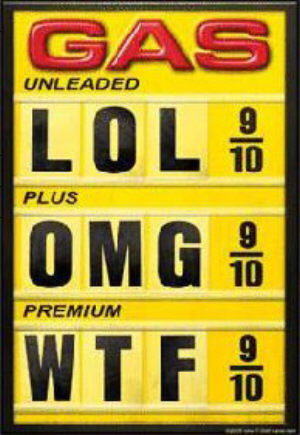 I think we all agree that gasoline prices are high.
With gas prices soaring to all-time highs, does anyone out there ever wonder (like me!) why nobody has started their own gasoline station.
America is the land of Capitalism.
For some reason, the rules of Capitalism do not seem to pertain to gasoline prices.
Think about it this way.
If a single restaurant over-charges for lunch, no one will come to eat.
If all the restaurants in town over-charge for lunch, someone will open a new restaurant, charge less, and take all the lunch business away from the others.
This is what keeps the cost of living under control. As long as I've been on the planet (and that's a long time) this underlying law of economics has always kept prices in check.
Does anybody out there remember "gas wars?"
A "gas war" took place when two gas stations - across the street from one another - would just keep dropping their price lower than their neighbor. This could go on for days.
This is the same price competition that we all faced when trying to sell lemonade on the street, in front of our house, in the middle of August, when were seven years old.
We found out (painfully) that you can't sell lemonade for a dime when they're selling it for a nickle across the street. Ahhhhhh, Capitalism.
When the price of airline tickets began to soar, JetBlue and Virgin Atlantic Airlines were born. Why? Because the price of most every ticket to fly was too expensive. What happened? Prices leveled off. Ahhhhhh, Capitalism.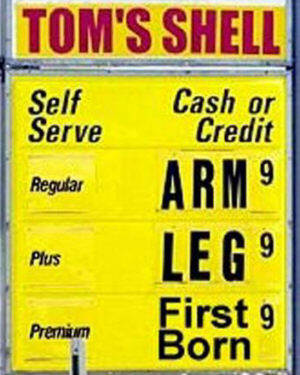 I think it's safe to say that the price of every gallon of gasoline that we buy today is too expensive.
So . . . Where's the new gasoline company? Why isn't Capitalism stopping the price gouging?
Hold on a sec . . . I gotta make a call to a refinery to set up some gasoline delivery.
A fly in the ointment!
Maybe it's gonna be harder than I thought to start my own gas station. I just called one of the refineries in the Gulf of Mexico. I don't think they liked the idea of me starting my own chain of gas stations.
The gal at the refinery said something about . . . "We only sell to gas to our own gas stations." Hmmmmmmmmm . . . So I'm gonna need to have my own refinery first.
That will probably slow me down.
Time to switch gears.
There must be another industry where the money is "easy pickins." Let's see . . . What other industry seems to be totally out of control as far as pricing is concerned.
That's an easy one.
Health Insurance!
Piece of Cake!
I'll build my own hospital, make a new drug company and hire a group of minimum wage doctors and charge really low prices. How tough could that be?
Hmmmmmmmmm . . . This is not going well.
Maybe I'll just have to take the easy way out and open a new restaurant and charge REALLY low prices for lunch . . .
At least Capitalism still works in the restaurant business.
---
---

O. J. Cunningham




O. J. Cunningham is the Publisher of MyBayCity.com. Cunningham previously published Sports Page & Bay City Enterprise. He is the President/CEO of OJ Advertising, Inc.

More from O. J. Cunningham
---
Send This Story to a Friend!
Letter to the editor
Link to this Story
Printer-Friendly Story View
---
--- Advertisments ---