(Left) John Austin describes Great Lakes cleanup initiatives at Bay Area Community Foundation breakfast. (Right) Mike Kelly conducts news conference featuring, from left, Chad Lord, and John Austin.
---
Heat is on Presidential Candidates to Support Great Lakes Cleanup Plan
One Target: 60 Percent of Bay City Sewers with Combined Storm Outflows
August 21, 2008 Leave a Comment
By: Dave Rogers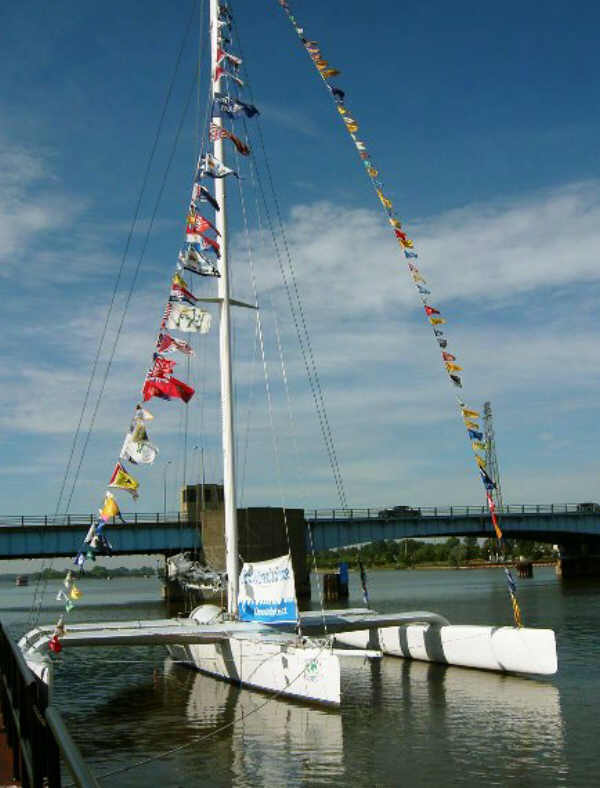 At the DoubleTree dock the 60-foot long trimaran Earth Voyager attracted public interest.
(MyBayCity Photo by Dave Rogers) Leaders of the Great Lakes environmental cleanup initiative surged into Bay City Thursday and made big waves.
Self-proclaimed "policy wonk" John Austin,of Flint, a Brookings Institution scholar and member of the State Board of Education, led the tide:
"The new President, whoever he is, and Congress need to act now to restore the Great Lakes," said Mr. Austin at a blue ribbon community breakfast at the DoubleTree Hotel - Bay City Riverfront.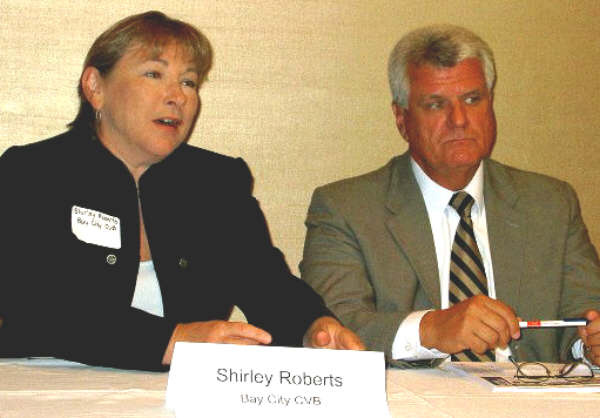 Shirley Roberts (Left) tells of local benefits from water improvement initiatives as Mayor Brunner looks on.
(MyBayCity Photo by Dave Rogers)
The event was hosted by the Bay Area Community Foundation and introduced by Eileen Curtis, executive director, BACF. The event was in coordination with the Bay Area Convention and Visitors Bureau, The Bay City Times, Saginaw Basin Land Conservancy and Saginaw Bay Sailing Association. Sponsors included The Dow Chemical Co., Consumers Energy and the Saginaw Bay Watershed Initiative.
While the estimated $25 billion cost is great, the restoration would generate $80 to $100 billion, according to Mr. Austin, who also is executive director of the New Economy Initiative for Southeast Michigan.
Mr. Austin presented a summary of the Brookings Metropolitan Policy Program report entitled "Healthy Waters, Strong Economy: The Benefits of Restoring the Great Lakes Ecosystem."
After several hundred local supporters finished their coffee and a typical Bay City lumberjack breakfast, leaders convened a short news conference to top off the morning. The news conference was moderated by Michael Kelly, director, Great Lakes office of The Conservation Fund, Bay City.
"Restoring the Great Lakes is a boon for our city and our region," said Shirley Roberts, Bay Area Convention and Visitors Bureau executive director. "We know what the problems are and we know how to fix them. Raising awareness about the urgent need for restoration is critical to the economic health of our city and our region."
Mayor Charles Brunner homed in on the need to separate the City of Bay City's sewer system that is 60 percent combined storm and sanitary lines, causing overflows of sewage into the drainage system during heavy rains.
Bay City's water quality also is affected by overflows in Saginaw and Flint, and this is an area targeted for improvement in the Great Lakes cleanup initiative, he said.
Mr. Brunner also noted that local efforts to clean up the Bay City State Recreation effort, headed by county commissioners Kim Coonan and Ernie Krygier, need to have backup from Washington.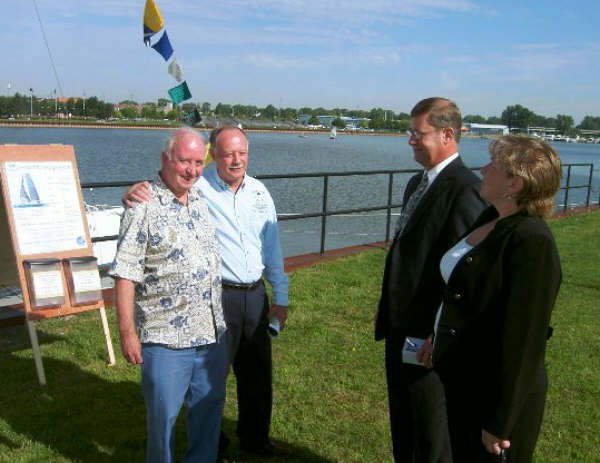 Don Morin greets Bob Sarow, left, as Shirley Roberts and Kevin Dykema of the Bay Area Convention and Visitors Bureau observe the Earth Voyager trimaran.
(MyBayCity Photo by Dave Rogers)
Several of the leaders noted that "Michigan can't do it alone, the cost is too great." They also were generally critical of the Bush Administration for failing to show concern for the Great Lakes region.
Other problem areas include invasive species like zebra mussels, phragmites (fast-spreading pervasive waterfront plants), toxic pollution, wetland loss, habitat destruction and beach contamination, the officials said.
All three Presidential candidates, Democrats Barack Obama and Hillary Clinton and Republican John McCain were persuaded to sign pledges to support the Great Lakes through a restoration fund, appointing a Great Lakes "czar" to oversee efforts, and to establish a separate budget and hold officials accountable for following up.
A $23.5 million Great Lakes Legacy Act to clean up toxic waste is moving through Congress slowly, having been approved by two committees, according to Chad Lord, of the National Parks Conservation Association Great Lakes Coalition, which has 100 organizational members.
"We need to convince our national leaders to make the Great Lakes a priority," said Mr. Lord. He said leaders hope Congress will adopt the legislation this fall before the election recess.
The legacy act triples the authorization level for Great Lakes cleanup, targeting first the Detroit area, Muskegon Lake and the St. Mary's River, he said.
Mr. Austin said the Brookings Institution hired top economists who applied a property value market driven analysis to support the Great Lakes Regional Collaboration Strategy. The analysis covered only residential property and Mr. Austin noted the cleanup "will pay off in huge economic benefits."
An heir to the Austin Company, a construction firm that helped build the Dow Chemical Company in Midland, Mr. Austin is also hoping federal transportation legislation will provide additional funding for cities in the Great Lakes region.
"We have seen our highway funds go into a bunch of earmarks and bridges to nowhere," he said, urging lawmakers to choose to spend on infrastructure instead of war. "With just a piece of the funds all this would be taken care of, and more, and it should be done on a bipartisan basis because it helps everyone," he added.
At the DoubleTree dock the 60-foot long trimaran Earth Voyager attracted public interest. It is visiting Bay City for a few days as part of a 13 city summer tour to raise awareness about the urgent need to restore the lakes. Organized by the Healing Our Waters-Great Lakes Coalition, the tour launched in Buffalo, N.Y. on June 6 and will end in Rochester, N.Y. on Sept. 6.
For more information about the tour visit www.healthylakes.org/tour and to access the Great Lakes economic research visit www.brookings.edu/projects/great-lakes.aspx. ###
---
---

Dave Rogers




Dave Rogers is a former editorial writer for the Bay City Times and a widely read,
respected journalist/writer in and around Bay City.
(Contact Dave Via Email at carraroe@aol.com)

More from Dave Rogers
---
Send This Story to a Friend!
Letter to the editor
Link to this Story
Printer-Friendly Story View
---
--- Advertisments ---