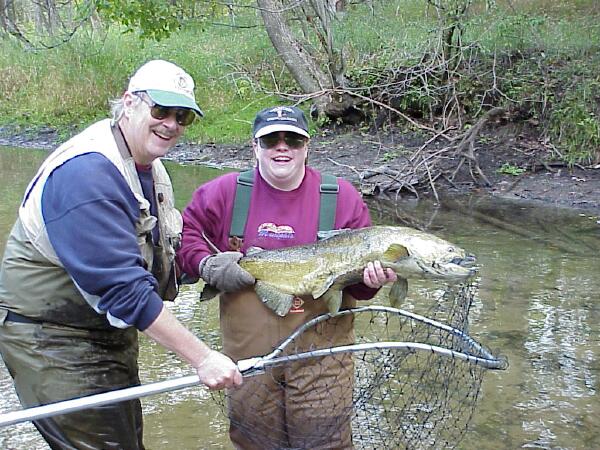 First Salmon - Pere Marquette River - Baldwin, Mi
Kelley Kent hooks and lands her first big fish
October 2, 2003 Leave A Comment
By: Stephen Kent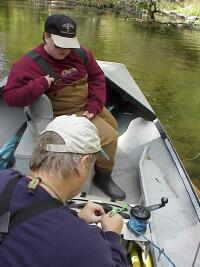 For a parent there are few thing as fun and rewarding as watching your child experince something really thrilling. I had that opportunity on Tuesday when my daughter Kelley got her first salmon fishing trip.
Kelley has always loved to go fishing. From the time she was a little girl and caught her first blue gill, she's been "hooked". She'sperfectly happy to sit on the end of the dock at the cabin and catch 3 inchers all day long.
Each year my partner OJ Cunningham (publisher of MyBayCity.com) tries to get me to find a day to go fishing with him. OJ owns
Hiawatha Lodge
on the Pere Marquette river so there should be ample opportunities for me to tag along on a trip. I've made it only one time. This year things worked right and not only did we go, but we were able to take Kelley too!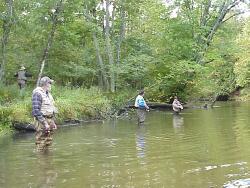 Tuesday looked like it would present marginal weather. The forecast called for a bit of everything and the temperature was not going to go above 50 degrees. We left Bay City at 8:00am, picked Kelley up at her CMU dorm, and were on the river by 11:00. We bundled up in all the clothes we had and put waders on top of that then hit the stream in OJ's drift boat.
At this time of year there are lots of fishermen on the river. We rowed for about an hour before coming to the first promising spot not occupied. There was a wide shallow area for wading and a deeper hole on the far shore with a stretch of spawning gravel immediately upstream.. Best of all, there was a large female fanning the gravel and a batch of males hanging around for the party.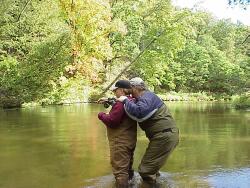 First came some casting lessons. Kelley can handle a spin rod pretty well, but she's tried a fly rod only once. This type of casting is different from both because she was using a (very long) fly rod and the line had a lead weight four feet from the end where the fly was tied. It's more of a "lob" than a traditional cast and it took some practice to learn. Those in the know (I found out later) call this fishing method either "chuck and duck" or "lift and lob."
After some practice casts, it was time for Kelley's first solo cast to the fish. She had the feel for it and the cast was perfect. In fact, it was so perfect that one of the large males took the chartreuse egg fly imitation almost immediately. OJ yelled for her to set the hook and hang on. The male salmon was probably 20 pounds worth of muscle and he used every bit of it as the fish ripped line and headed downstream. It took about 10 minutes of chasing and reeling to finally get him to the net. What away to start the day! First solo cast, hook a monster fish, and actually land the thing! Everyone was thrilled.
And so the day proceeded. The weather went from clouds to sun to light rain and back. The temperature hovered around 45 degrees all day. The river was beautiful and the fish were great. Kelley hooked three more during the trip and landed one, which was the best fighter of the day. The water was deep so Kelley had little room to move, and the fish was "fresh" and full of energy. He was probably only 10-12 pounds, but had all his strength and fought and battled for a full 15 minutes before surrendering to OJ's net.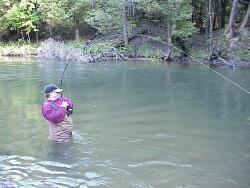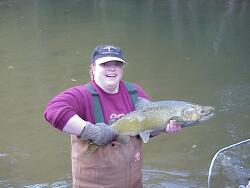 ---
Columns Article 301
---

Stephen Kent




Steve Kent and his family have lived in Bay City for 30 years. He is VP of Technical Services at MMCC which produces MyBayCity.Com. Kent is active in many Bay City civic organizations.

More from Stephen Kent
---
Send This Story to a Friend!
Letter to the editor
Link to this Story
Printer-Friendly Story View
---
--- Advertisments ---