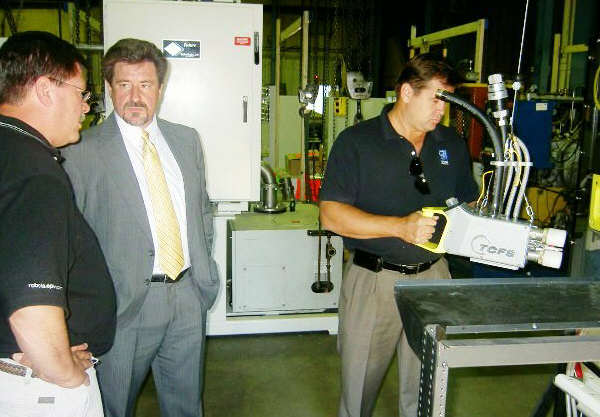 Howard Diehl talks with Christopher Hollerback, center, as George Barbeau manipulates TCFS closed loop fueling system at Future Technologies, Inc.
---
Toxic Fluid Handling Equipment Demonstrated by Inventor at Local Firm
Innovative Process Under Development Has Global Potential
August 31, 2008 Leave a Comment
By: Dave Rogers
What if you could fill your diesel fleet three times faster with absolutely no fumes or spills released into the atmosphere, all without contaminating soil and ground water?
And what if you could handle any toxic liquid without hazard in a closed loop process?
Those questions have been asked by the chemical and transportation industries recently and now their questions may be answered.
A robotic fueling method developed two decades ago by a Bay City inventor has evolved into a toxic fluid handling system patented by his son.
Christopher Hollerback, of Arvada, Colorado, was in Bay City last week demonstrating his "Total Containment Fueling Systems (TCFS) equipment.
Providing support was his father, James A. Hollerbach, of Holtech, Inc., and Trans-American Robotic Fueling, whose process was patented in 1987 and was developed several years ago.
Interest displayed by local venture capital sources, transportation firms and industries compelled them to conduct the demonstration project in Bay City, they said.
Chris Hollerback, a graduate of Birch Run High School, attended Delta College and Macomb Community College. He and his wife, Kathy Auman Hollerback, of Essexville, have lived in Colorado for over two decades.
As a commercial building engineer and mechanical systems designer, Chris Hollerback was inspired by his father's early work in fueling systems, which led to the research of global methodologies to refine them for today's environmental concerns in the fluids transfer industry.
Hollerback says his process "is designed to remove human error from the refueling process and protects the air, soil, and water from fuel contaminates while eliminating human exposure to fumes and raw fuel.
"By capturing and measuring the once-lost fumes, which contribute to ground level ozone (smog) and preventing the possibility of ground and water contaminating spills, this new method of refueling has the potential to become a new source for tradable carbon credits."
The equipment was demonstrated at Future Technologies Inc., 2490 E. Midland Road, and was viewed by local industrial officials, fleet transportation firms, military planners, economic developers and potential investors.
Among those inspecting the equipment were George Barbeau, of Epson Robots, California, and Howard Diehl, of Neff Engineering, Flint, a firm that sells and installs robots.
The addition of robotic capability to the closed loop system is being studied by both Chris Hollerback and Jim Hollerbach.
"Nothing on the market today has these capabilities and with the robotic element added we could make the transfer of fluids and other toxic materials even safer," said Chris Hollerback.
Chris Hollerback said he found Michigan more welcoming to exploring the capabilities of his equipment. "This is coming home for me and I am finding this environment, where autos and durable goods have traditionally been produced for the nation, may be a good place to develop a new global company."
"This retro-fit 'SmartNozzle' dispensing system is designed to handle multiple fluids simultaneously," said Hollerback.
Planners preparing documentation for his equipment also will look at the European markets that have mandated the use of a secondary fluid, urea, under the trade name "AdBlue" which is dispensed into a separate holding tank for all Selective Catalytic Reduction (SCR) diesel applications. other fluids such as urea.
This NOx and particulate reduction method adds additional costs an time to the refueling efforts of international fleets.
The TCFS "SmartNozzle" configuration is the only dispensing system designed to combine fluid transfer tasks to reduce labor costs for large fleets. This is also relevant for the U.S. because the SCR method is in contention for diesel emissions compliance for 2010 and beyond. Urea in the U.S. will be known as Diesel Emissions Fluid (DEF).###
---
---

Dave Rogers




Dave Rogers is a former editorial writer for the Bay City Times and a widely read,
respected journalist/writer in and around Bay City.
(Contact Dave Via Email at carraroe@aol.com)

More from Dave Rogers
---
Send This Story to a Friend!
Letter to the editor
Link to this Story
Printer-Friendly Story View
---
--- Advertisments ---