Garber Stuns Pinconning 40-0
Big Plays and Turnovers Hurt the Spartans
September 3, 2008 Leave a Comment
By: John Keuvelaar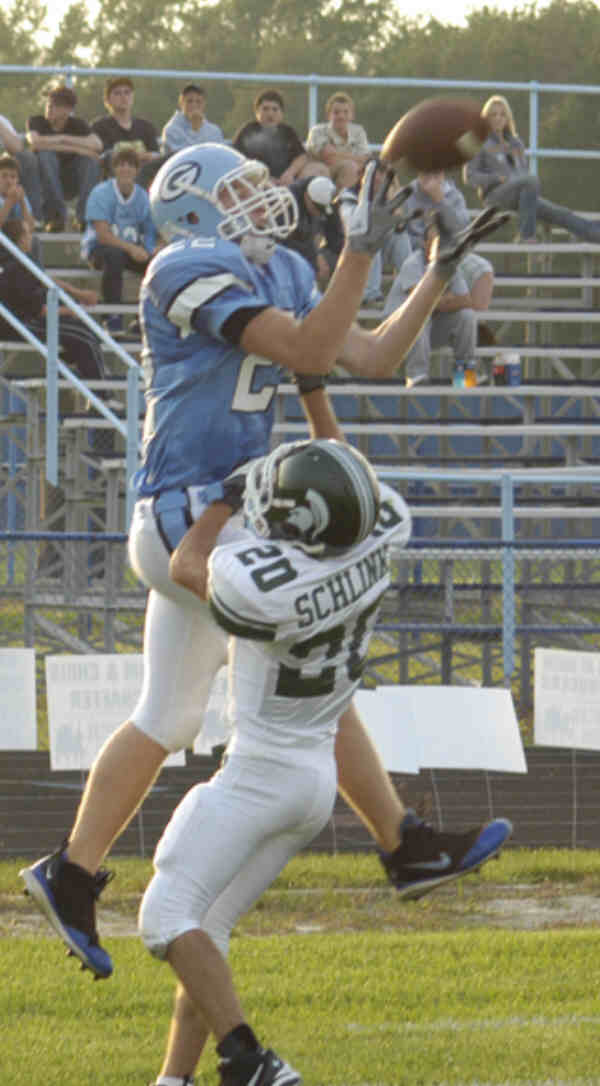 22 Todd Walraven leaps over Pinconning's 20 Tylor Schlink for Garber's first score.
(MyPinconningNews Photo by John Keuvelaar)
Garber and Pinconning continued their traditional cross-county rivalry in typical hard hitting fashion. In the end, it was big plays and turnovers that determined the outcome as Garber posted a 40-0 win on opening night.
Pinconning took the opening kick off and marched 34 yards to the Garber 34. Then on fourth and one, the Duke defense stiffened as Kyle Asel broke through the line nailing the Spartan ball carrier for a loss. Pinconning stopped Garber on three plays and took back over possession of the football on their own 26 yard line. Garber's defense came out strong highlighted by a third down sack by Lee Madziar and following a 24 yard punt, the Dukes found themselves on the Spartan 37 near the end of the first quarter. It didn't take them long to cash in on good field position as quarterback Jake Hebert led the team to the Spartan 15 before hitting Todd Walraven with the first of Walraven's three touchdown catches on the night. This put Garber up 6-0 in the early stages of the second quarter.
After a good kickoff return put Pinconning on their own 41, the Spartans looked to strike back quickly. But on the first play from scrimmage, Pinconning's 18 Moore was intercepted by Garber's Travis Britko at the Garber 37 and the Dukes were back in business. A mixture of hard running by senior captain Andrew Aho and key pass receptions by Travis Britko and Jimmy Cornejo moved the ball to the Pinconning 6 were David Laskowski punched it in for Garber's second touchdown. Garber's other quarterback, Lee Madziar then hit David Laskowski in the corner of the end zone putting Garber up 14-0.
The second half started with Garber receiving and looking to keep the momentum. But a strong Spartan defense stopped the Dukes and seemingly stopped the momentum. However, Mike Schroeder unleashed a booming 52 yard punt for a touchback pinning Pinconning on their own 20 yard line. A fired up Duke defense lead by senior Shane O'Mara met the challenge. On third down, Chris Rochow sacked Moore forcing a fumble and Garber recovered on Pinconning's 21. Jake Hebert wasted no time as he immediately hit Todd Walraven with a pass to put Garber up 20-0.
Down by 20, Pinconning turned to an air attack and started moving the football. Then Garber's Andrew Aho stepped in front of a Moore pass and ran 68 yards for a touchdown. Dominic Trogan ran it in for a two point conversion and suddenly Garber was ahead 28-0 half way through the third period.
Pinconning's next possession saw more of the same as Aho made his second interception at the midfield stripe. An exchange of punts by both sides saw Garber start the fourth quarter on their own 47. Backup quarterback Lee Madziar then hit Todd Walraven for a 37 yard touchdown pass and Garber was now up 34-0. Following Garber's fourth interception of the night and second by Travis Britko, Garber finished out the scoring with a 10 yard run by Dominic Trogan.
After the game, Coach Schwartz had this to say about the game: "The score was not indicative of the game. It was a hard hitting physical game. Things just got out of hand in the second half with big plays and interceptions. We were fortunate tonight but we have a long season to go."
For the game, the Dukes totaled 137 passing yards with Jake Hebert throwing 7-9 for 99 yards with 2 touchdowns and an interception and Lee Madziar throwing 2-2 for 38 yards and a touchdown plus a two point conversion. On the ground, Garber ran for 132 yards with Andrew Aho leading the way with 85.
Garber's next game is at Birch Run; always a tough opponent.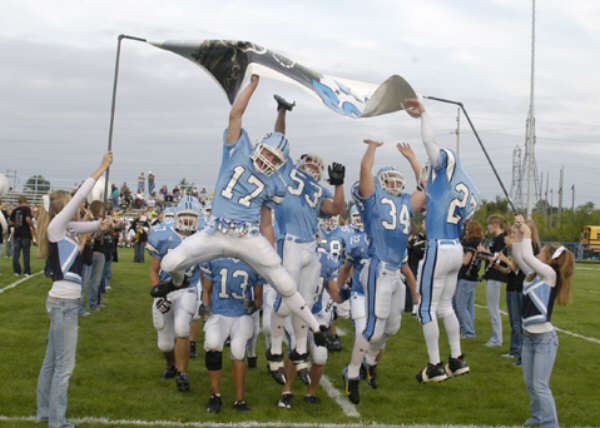 Team Captains lead the team into the season.
(MyPinconningNews Photo by John Keuvelaar)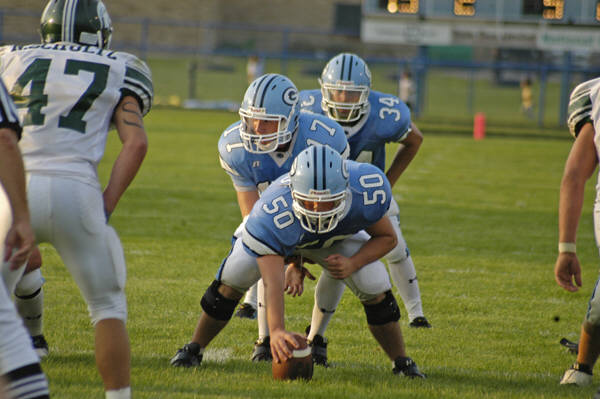 Chad Hages 50 and Andrew Aho 34 are poised and ready as they await Jake Hebert's signals.
(MyPinconningNews by John Keuvelaar)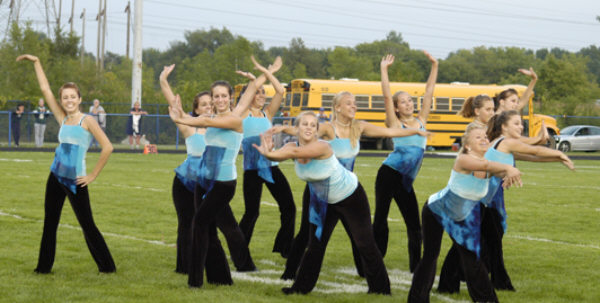 Garber Dance Team shows their stuff during the halftime show.
(MyPinconningNews by John Keuvelaar)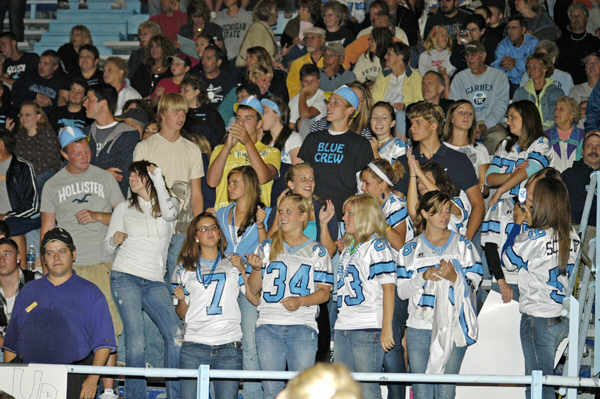 The "Blue Crew" showed up to cheer on their dukes.
(MyPinconningNews by John Keuvelaar)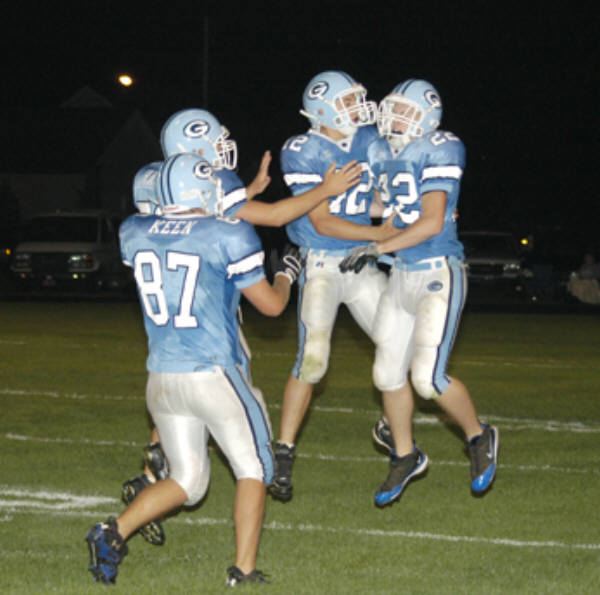 22 Todd Walraven celebrates his third receiving touchdown of the game with his Quarterback 12 Lee Madziar.
(MyPinconningNews Photo by John Keuvelaar)
---
---

John Keuvelaar




John Keuvelaar is a college student at Midwest Photography Workshops and Delta College.

More from John Keuvelaar
---
Send This Story to a Friend!
Letter to the editor
Link to this Story
Printer-Friendly Story View
---
--- Advertisments ---