John Glenn Bobcat's Middle School Football Team Is Ready To Rumble!
Brand New Jr. High School Team Holds Fundraiser Before Season Begins!
September 4, 2008 1 Comments
By: MyBayCity Staff

John Glenn Bobcat's new Middle School team held a fundraiser for helmets Wednesday at Uno's Chicago Grill on Wilder
(MyBayCity Photo)
John Glenn has a new venue when it comes to Fall Football! The Bobcat's have opened up their league to include a Middle School Bobcat's team for 7th and 8th grade players. The team name will be John Glenn Bobcat's as is the Varsity. John Glenn Varsity Football Head Coach Mark Miller and his coaching team have been extremely helpful in supporting this new Jr. High School team from it's existence.
This league was formed to prepare the young players for the rigors of High School Football with the hopes of making the players more agile and better prepared to experience 9th grade athletics.
"This new team enforces no weight limits, it is unlimited. Kid's in the past have simply not been able to play due to weight restrictions, we are hoping that this will open the door and help out the High School Football program eventually bring in some very strong players," said Offensive Coordinator, Coach Kain.
This league has caused quite a commotion of excitement this inaugural season. Many students from outside districts have tried to earn a spot on the team. However, out of district players are not allowed to play within the league if they attend another school or district. In-district students showed up in droves to enter this league, with a "whopping" 45 players to be exact!
The team was fortunate to have some local businesses show their support with donations for equipment, uniforms and coverage by MyBayCity.com, however, they are still in dire need of new helmets.
"Expectations are high, the excitement is outstanding for this team's first season. The players response has been phenomenal. We are very excited about the upcoming scrimmage next Tuesday," said Head Coach Dobbins.
A fundraiser was held Wednesday for the teams existing needs at Uno's Chicago Grill on Wilder in Bay City. The team would like to express thanks to all businesses, sponsors and parents who came out Wednesday to show their support!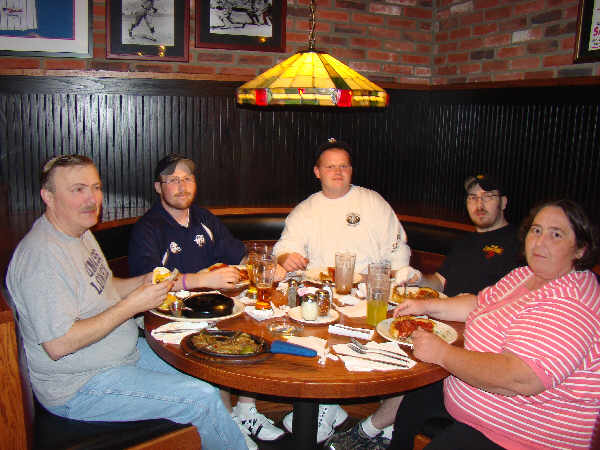 Defensive Coach Chris Walker enjoys the evening with family and friends with hopes of raising enough to purchase new helmets for the team
(MyBayCity Photo)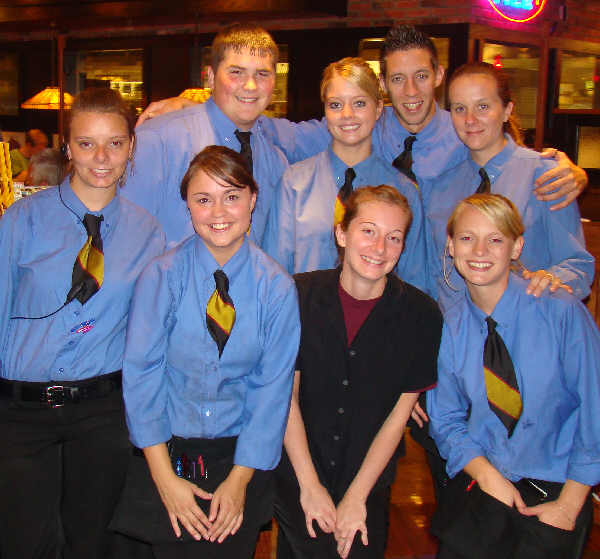 Uno's "gang" was prepared for the rush of supporters who came throughout the day and night for this fundraiser
(MyBayCity Photo)
John Glenn Bangor Bobcat's Game Schedule:
September 09: LEAGUE SCRIMMAGE in Millington 5p.m.
September 23: Bobcat's vs. Millington 5p.m. HOME
September 30: Bobcat's vs. Bridgeport 5p.m. HOME
October 07: Bobcat's vs. Caro 5p.m. AWAY
October 14: Bobcat's vs. Garber 5p.m. AWAY
October 21: Bobcat's vs. Carrolton 5p.m. HOME
October 28: Bobcat's vs. Frankenmuth 5p.m. AWAY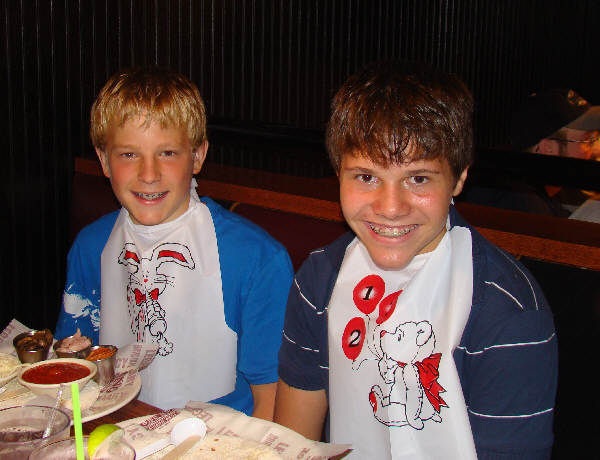 Teammates Ryan Leitermann & Kyle Blair take a moment to pose for MyBayCity camera before digging in to their entrées
(MyBayCity Photo)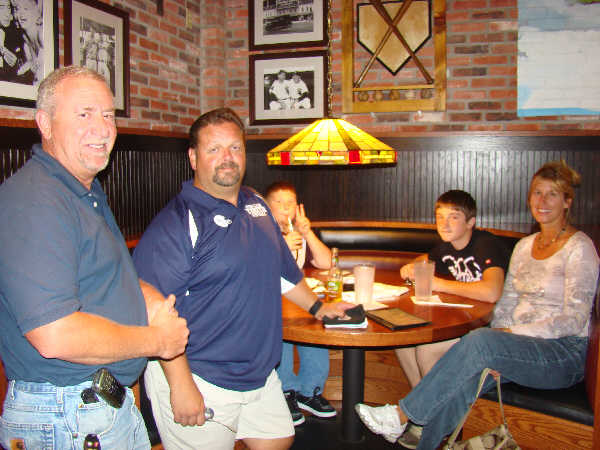 Pictured (L/R): Pete Auernhammer, Coach Kain, Caleb Pijaszek, player, Logan Pijaszek and Sue Pike, Monitor Township Treasurer Elect
(MyBayCity Photo)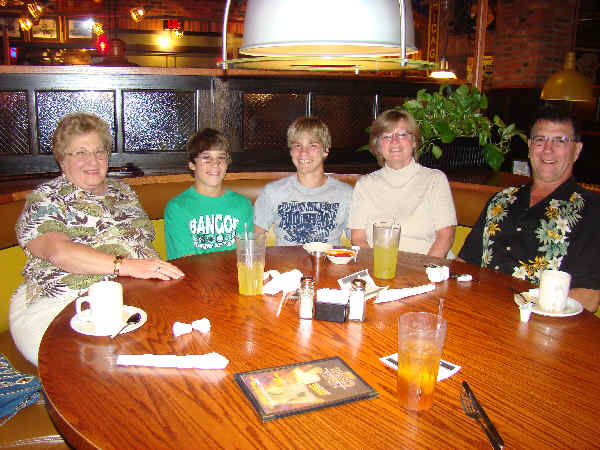 John Glenn Bobcat player Connor VanEnBosch cools off with a cold drink after a long practice with brother Matt, Mom, Dad and Grandmother.
(MyBayCity Photo)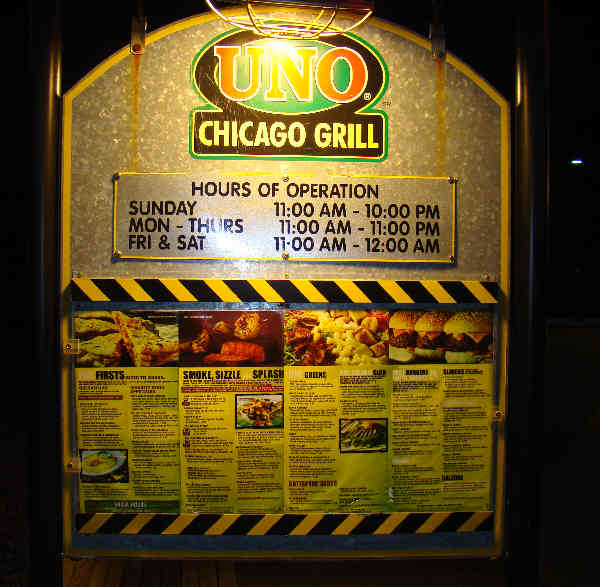 For your next corporate event or fundraiser, be sure to keep Uno's Chicago Grill on Wilder in mind! Contact Misty Wilhide, Marketing Coordinator for more information at (989) 624-8667
(MyBayCity Photo)
The team will be involved in many other projects to raise funds for it's success and can always utilize additional volunteers! For additional information on this team, to volunteer or make a direct donation, call Head Coach Dobbins at (989) 737-2520.

MyBayCity.com would like to thank Harvey's Grill & Bar for sponsoring coverage of this new and exciting team! Harvey's continued community involvement and support is appreciated by all! Be sure to show Harvey's Grill & Bar your support and mention you saw them on MyBayCity! For Information On How Your Business Or Event Can Be Featured, Call Sales & Marketing Director, O.J. Cunningham At ((989) 892-8501 Or Email OJ@MyBayCity.com TODAY!

---
Arts/Theater Article 3045
"The BUZZ" - Read Feedback From Readers!
sglaza Says: On September 07, 2008 at 08:34 AM

Nice article regarding Jr. High School (7-8th Grade) football.

Just wondering if there could be some coverage regarding Bay Area Football (10-11 & 12 year old). Opening day was yesterday at St. Stan's (All Saints) Football Field. Hundreds of people came out to watch and support theses young boys. There are 6 teams in the league and these boys gave it their all.

Thanks
---
---
Send This Story to a Friend!
Letter to the editor
Link to this Story
Printer-Friendly Story View
---
--- Advertisments ---