The Lowdown on Downtown
Bales Talks About DDA and DMB and Plans for Downtown Bay City
September 7, 2008 Leave a Comment
By: Stephen Kent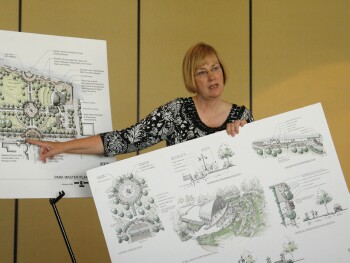 Last Weeks program
August 26, 2008
Rotarian
Candace Bales
, Director of the Downtown Management Board (DMB) and Downtown Development Authority (DDA), addressed the Rotary Club on Tuesday speaking on the topic "Lowdown on Downtown".
DDA's were created by the state legislature with Public Act 197 of 1975. The intent was to provide a catalyst for development of downtown districts in Michigan communities. These authorities provide a number of funding methods that can pay for projects in the downtown area.
A primary funding method is the Tax Increment Finance Authority (TIFA), which was created in 1980 with the intent of helping cities stop the decline of property value. TIFA districts promote growth in a DDA district by increasing property tax valuation and reducing the decline in property values.
Bay City's DDA collects a special tax assessment of 2 mils on downtown property. The generated funds have been used for a number of infrastructure projects in downtown Bay City.
Streetscapes are a big topic for DDA's throughout the state. Downtown Bay City has benefited from a number of projects including lighting and sidewalk work. The recent improvements to the front of the Post Office was a joint project using Federal, State and local DDA funds. "The Post Office gets more visitors than any other in downtown. The Federal Court is there and lawyers come from around the world", said Bales.
Another project under study is road surface improvement on several blocks of Center Ave. "I call them spider web streets from all the patches", said Bales. Borings will be taken soon to determine the condition of the road bed. "When you start digging into these hundred year old streets there's no telling what you'll find", she added. "We hope that it will be possible to just remove the top layers and resurface the existing street."
One of the larger downtown projects is an update of Wenona Park at the foot of Center Ave. "Our studies have shown that people just don't use the park except for planned events. We hope to change that."
The first phase of work will be the riverfront. An overlook will cantilever over the water. A section of the seawall will be lowered in a step down fashion so that small boats can tie up and have access to the park, as it was in days past. Cafe tables with umbrellas will be installed along with new paving and walks.
The riverfront work is partly funded by a half million dollar state grant. Work was planned for last year but had to be delayed when state spending was suspended for a year. The project is now being re-bid in hopes that work can be started soon.
The Downtown Management Board (DMB) works to improve the image and experience of the downtown area. They work on the image and the brand of the city. The board is a dynamic group including a number of Rotarians.
Bales mentioned a number of popular downtown events related to the DMB. The 10th annual Wine Walk is coming up. The Music in the Park series of concerts at Waterfall Park were a joint effort with the Bay Arts Council. In the next week the "Michigan Downtown Conference" will be held in Bay City.
People work but also live in the area with the numerous condos. Art Dore has purchased the Empire Theater and is making improvements. The historic State Theater has become a centerpiece for performing arts. Businesses, such as the Dow Credit Union, are making their home there. Downtown Bay City is an experience, not just a place to shop.

Proposed Wenona Park Entrance
---
CLUB NEWS and ANNOUNCEMENTS
The club will hold another membership drive in the next couple of months. Everyone is encouraged to propose candidates.
Our incoming exchange student from Brazil is in town and enrolled at John Glen High School. He will speak to Rotary in a couple of weeks. One more host family is still needed for the mid-December to Easter time period.
The district Group Study Exchange program is soliciting applications for next year's visit to Thailand. The team will have one Rotarian as leader and the rest of the members are young non-Rotarian.
Chuck Cusick announced that a Polio Immunization trip is being planned for the Ivory Coast of Africa. This professionally organized trip will be for eleven days. Between 50 and 100 people will go. A brochure is available for anyone interested.
International Night event tickets and bucket of fun raffle tickets have been distributed to all members. If you plan to attend, please make payment for your tickets at $60 each. Patron Sponsorships are available for $175 for two tickets. Attending or not, sell those bucket of fun tickets!
---
Upcoming Programs
(See the official schedule at
RotaryBayCity.org
)
Sept 9 Ray Scott NBA player and coach speaks.


Sept 16 Michigan Petroleum Association President Mark Griffin will speak on the cost of fuel and how it is effecting consumers, jobbers and gas stations.


Sept 23 18th Annual River of Time. This is one of two time-line style historical encampments in the nation. 1,400 school children visit on Friday...free to the public on Saturday and Sunday. Hear why this event is so unique.
---
Visit RotaryBayCity.org
---
---

Stephen Kent




Steve Kent and his family have lived in Bay City for 40 years. He is VP of Technical Services at MMCC which produces MyBayCity.Com. Kent is active in many Bay City civic organizations.

More from Stephen Kent
---
Send This Story to a Friend!
Letter to the editor
Link to this Story
Printer-Friendly Story View
---
--- Advertisments ---