Earmarks? Give Us More, Says U.S. Rep. Dale Kildee at Chamber Luncheon
Keep Hands Off Great Lakes Water, Congressman Warns Western States
September 7, 2008 Leave a Comment
By: Dave Rogers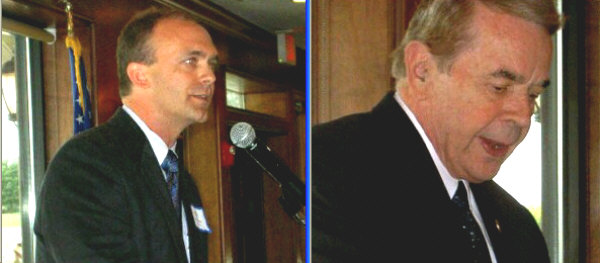 (Left) Max Holman, Chamber board vice chair, introduces meeting; right, Rep. Dale Kildee explains federal initiatives for the Bay area.
(MyBayCity Photos by Dave Rogers)
Give us more earmarks for the tri-county area, says U.S. Rep. Dale F. Kildee, who spoke Friday to about 100 eager listeners at the Bay Area Chamber of Commerce Legislative Luncheon.
And, keep your hands off our Great Lakes water, he said, addressing western states that have been trying to "hopscotch our water through the Great Plains" to the Colorado River so they can be transferred to parched California.
Taking a stand in favor of earmarks that contradicts that of Sen. John McCain, Republican candidate for President, who vows to veto all earmarks if elected, Rep. Kildee noted he is working with Republican Rep. Dave Camp of Midland on earmarks for more dollars for MBS Airport and other projects in this area.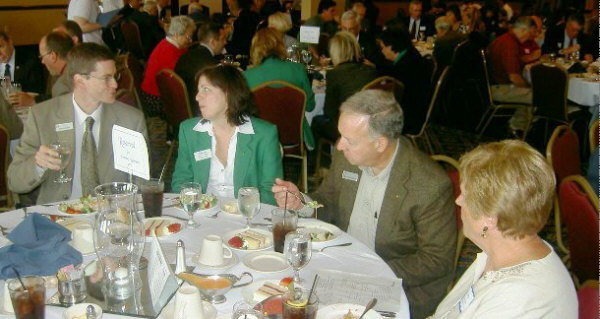 Chemical Bank representatives at Chamber luncheon were, from left, Brent Gettel, Sandy Loomis and Randy Kienbaum with Joyce Hardy of Bay Regional Medical Center.
(MyBayCity Photo by Dave Rogers)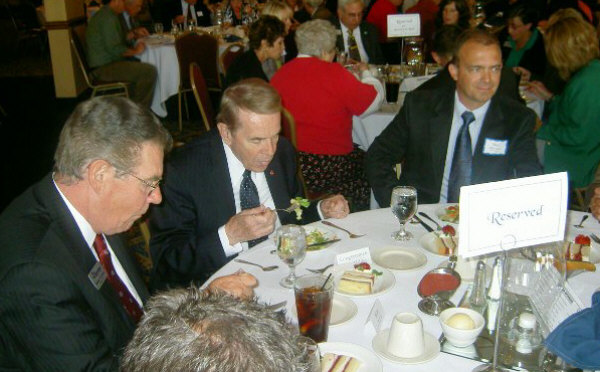 Chamber President Mike Seward, left, and Chair Max Holman, right, confer with speaker Rep. Dale Kildee, D-Flint.
(MyBayCity Photo by Dave Rogers)
"We need to help local communities address infrastructure needs," exclaimed Rep. Kildee, featured speaker at the annual luncheon.
When Congress returns to session in two weeks, Rep. Kildee said pressure will be put on oil companies to produce oil from wells on 68 million acres of federal land that currently aren't being pumped. Firms will be given five years to pump or give up leases, he said.
And, Congress will be poised to act on a proposal for $50 billion in loan guarantees to the auto industry and major suppliers "because of the importance of autos to the rest of the economy."
Rep. Kildee also noted he has joined with Republicans to over-ride a veto of the Farm Bill, including sugar amendments key to this area, by President George W. Bush. "Agri-business is a very important part of the total economy," he said.
The importance of water is dramatized by the recent move of Vlasic Pickles back to Lapeer to get adequate supplies. The firm had moved to Georgia for lower wages. "Suddenly they found that Georgia had temporary and permanent water problems," said Rep. Kildee.
"The Great Lakes is our ace in the hole for the economy," he exclaimed.
Representatives Kildee and Camp teamed up last year to put a $1.43 million earmark in the Appropriations Committee for a new terminal for MBS, he said, noting the facility desperately needs replacement.
He noted that although MBS is just outside his district, "it serves the people in my district and I understand its importance to the region."
Designs for the new terminal will soon be ready for display, said Rep. Kildee, who also is working with the Federal Aviation Administration to make the project "up-to-date and user-friendly."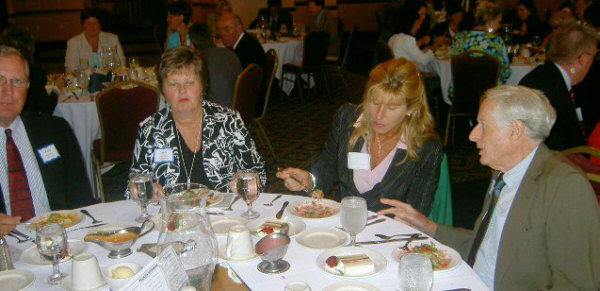 Kelly Farr, left, and Linda Sims, both of Consumer Energy, enjoy lunch with Sue Pike, Monitor Township Treasurer-elect, and Cliff Van Dyke, CEO of the Bay County Growth Alliance.
(MyBayCity Photo by Dave Rogers)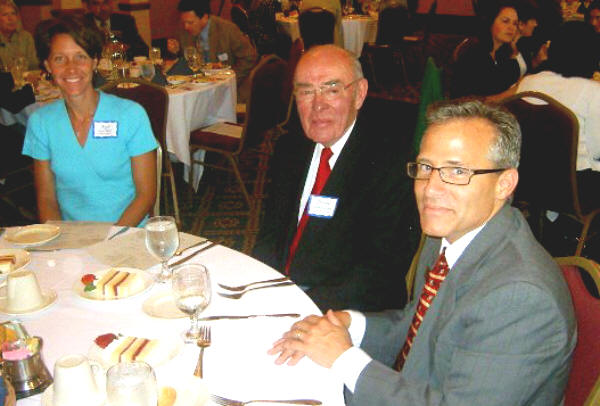 Angie Dinninger, manager of physical medicine/rehabilitation for Covenant Health Care, with Dick Somalski of Bay Landscaping, and Clarence Rivette of Wirt Financial.
(MyBayCity Photo by Dave Rogers)
Crumbling county roads and city streets also are earmark targets, he said, calling those improvements "crucial for successful business development."
Pointing to the partially completed $2.16 million reconstruction of Henry Street in Bay City, Rep. Kildee said "Bay City could not have redone Henry Street without the federal government." He is also working to obtain funds for improvement of M-84 (West Side Saginaw Road) from Bay Valley to Saginaw County.
"Earmarks have been given a bad name," he said, noting "Bay City send enough money to Washington and its important to get some of it returned here."
In further defense of earmarks, Rep. Kildee asserted they are less than one percent of the total federal budget. "Earmarks don't add to the budget, they just tell the agencies where to spend the money," he said. "A bureaucrat in Washington cannot possibly know what the needs are of local communities, like the Henry Street project."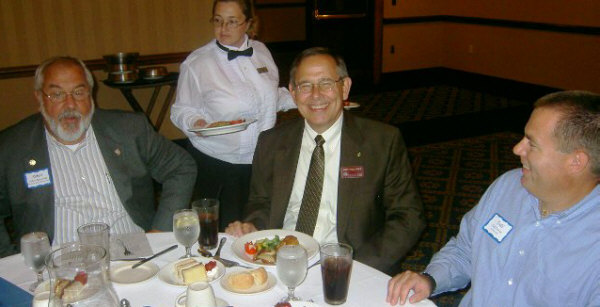 Bob Adamowski, left, executive director of the Bay County Realtor Association, joins with Gary Riedlinger, of Yeo & Yeo accountants, and Todd Clements, right, of First State Bank.
(MyBayCity Photo by Dave Rogers)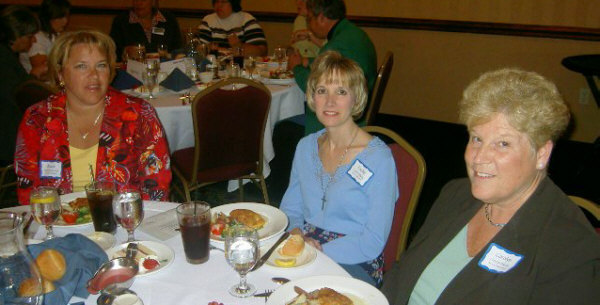 Bay City Board of Education representatives, from left, are Marie McFarland, board president; Pauline Helmling, vice president, and Supt. Carolyn Wierda.
(MyBayCity Photo by Dave Rogers) Earmarks became notorious, said the local Congressman, when Rep. Randy "Duke" Cunningham, California Republican, used them to get no-bid contracts for his friends who were defense contractors. (Cunningham is now in jail for bribery and other violations of federal laws.)
Saginaw River projects such as dredging and a diked disposal area are other earmark areas that are vital to commerce in the Bay City-Saginaw area, he said. While water transportation is the cheapest way to ship goods, low water in the river causes freighters to come and go half loaded, defeating economies.
Kildee asserted that through his work on earmarks a total of $10 million has been appropriated for dredging the river over the years. "Dredging has been neglected for a long time and we finally got a new disposal site that will allow dredging to resume," he said.
The river needs about $2 million in dredging every year to maximize its economic potential.
Tax breaks for Dow Corning's Hemlock Semiconductor Plant and for a proposed $2.3 billion expansion at the Consumers Energy Karn-Weadock generating complex also are vital to the growth of the local economy, said the Congressman.
Chamber President Mike Seward seconded Rep. Kildee's initiative to help the auto industry, noting that the annual "Bay Area On The Go" celebration will recognize the 100th anniversary of General Motors that has had plants in Bay City and Saginaw for much of that time. ###
---
---

Dave Rogers




Dave Rogers is a former editorial writer for the Bay City Times and a widely read,
respected journalist/writer in and around Bay City.
(Contact Dave Via Email at carraroe@aol.com)

More from Dave Rogers
---
Send This Story to a Friend!
Letter to the editor
Link to this Story
Printer-Friendly Story View
---
--- Advertisments ---