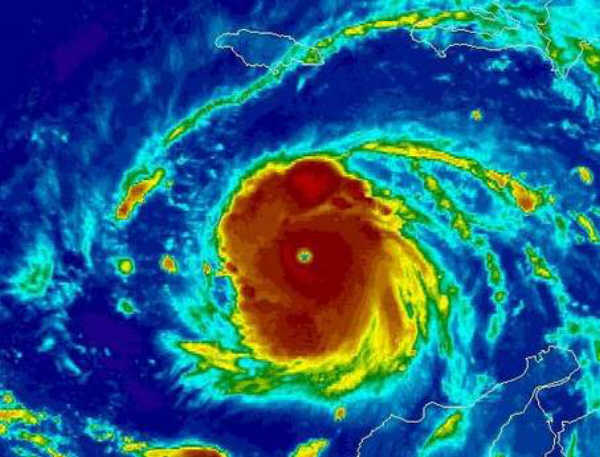 One Old Man's Storm May Just Be A Trickle to Young Florida Hurricane Veterans
---
Weather . . . It's Just a Matter of Perspective
The Water is Always Deeper on the Other Side of the Hurricane.
September 7, 2008 Leave a Comment
By: O. J. Cunningham
Beauty is in the eyes of the beholder.
The grass is always greener . . .
One man's trash is another man's treasure.
The rain in Spain . . .
There's a thousand Confucius-like sayings (like those above) that have crossed paths with me during a career of writing and editing the written phrase.
But there's nothing to compare a big rain in Michigan with a 4-day hurricane in mid-Florida.
In the past 10 days, we have (in the middle of Michigan) had our share of torrential downpours. Roof gutters overflow. Every once in awhile a basement gets wet. The drain on the roof of my office building is a bit plugged and needs cleaning so that the extra inch of water accumulated on the roof can drain away.
Our weather guys at TV5, TV12 and TV25 have had a field day with rain prognostication and pictures of felled trees and rushing water in the streets.
Water over-flow retention basins are discharging all kinds of sewage into the Saginaw and Kawkawlin rivers.
This is terrible stuff we're experiencing! Or so some might imagine.
On the other hand . . .
My daughter (Jessica) has recently graduated from college (FIT in Melbourne, FL) and has remained/relocated to Florida to take a job with a NASA-related company in the Cocoa Beach area.
As you might imagine, hurricanes have become a REALLY big deal in the Cunningham family since Jessica went to Florida in 2004.
During the latest Michigan downpour, I thought of Jessica. I couldn't help but call Jessica to share our "harsh" weather.
"Jessica," I blurted, when she answered her phone. "It's horrible here. It's been raining for (like) over twenty minutes and the rain is starting to overflow the downspouts.
"The wind," I went on, "is out of the West at (like) 12 miles per hour with gusts (OMG) up to 15 miles per hour." She was laughing louder and louder as I continued my "on the spot, Jim Cantore-like report" of the current Michigan weather situation.
You see . . . Jessica had just been through 4-days of Hurricane Gustav. Total Rainfall = 33+ inches. Wind speed = 100+ miles per hour (FOR FOUR DAYS) -- 72 Hours barricaded in her apartment.
On this same day, we had all learned that Hurricane Hannah had turned up North and would not be a factor to Jessica's new hometown near Cocoa Beach but Ike . . . that dirty Ike . . . just might make a beeline for the middle of Florida - a similar path to Gustav. And behind Ike, there was Josephine.
"If Ike heads for mid-Florida," Jessica said (more worldly than her 21 years), "I'm flying outta here." Then she laughed . . . "Will you buy me a ticket home, Dad?"
We both laughed.
Oh . . . Now I remember that saying . . .
"WEATHER MAKES THE HEART GROW FONDER"
Maybe Michigan's not such a bad state (weather-wise) after all. (smile)
---
---

O. J. Cunningham




O. J. Cunningham is the Publisher of MyBayCity.com. Cunningham previously published Sports Page & Bay City Enterprise. He is the President/CEO of OJ Advertising, Inc.

More from O. J. Cunningham
---
Send This Story to a Friend!
Letter to the editor
Link to this Story
Printer-Friendly Story View
---
--- Advertisments ---