John Glenn Bobcat's Middle School Football Season Opener!
Millington Was Host To Season Opener Scrimmage!
September 14, 2008 Leave a Comment
By: MyBayCity Staff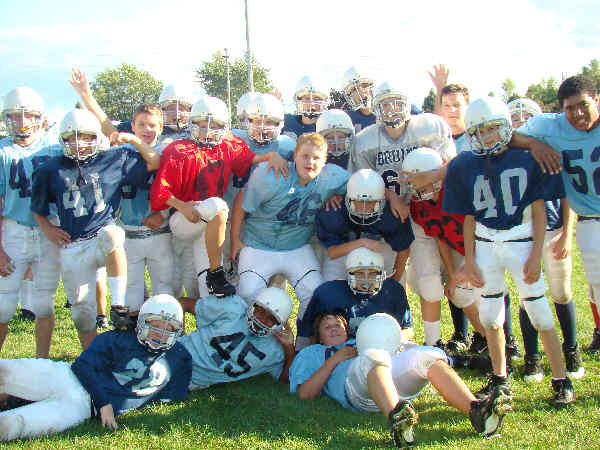 The John Glenn Bobcat's Middle School team was in full force Tuesday evening in Millington to face a scrimmage including all 9 teams in this league head on!
(MyBayCity Photo)
The John Glenn Bobcat's opened what is sure to be an exciting inaugural year for this team Tuesday evening in Millington with a scrimmage featuring all nine teams in this league.
The nine schools featured in this league are Christa McAuliffe (John Glenn), Caro, Carrollton, Frankenmuth, Millington, Bridgeport, Birch Run, North Branch and Garber. The Bobcat's faced off in the scrimmage against Caro, North Branch and Birch Run.
"We may work these boy's very hard, but they were very organized tonight and did not get tired. We could have played another three games tonight. We were so impressed with what we saw this evening in the scrimmage. We did a few things wrong, but several right on," said Head Coach Dobbins.
This league was formed as "Jr." to John Glenn to prepare these young players for the rigors of High School Football with the hopes of making them more agile and better prepared to experience 9th grade athletics.
"This new team enforces no weight limits, it is unlimited. Kid's in the past have simply not been able to play due to weight restrictions, we are hoping that this will open the door and help out the High School Football program eventually bring in some very strong players," said Offensive Coordinator, Coach Kain.
Each team in the league has one week of regular season game play off (bye) due to the uneven number of teams in the league. The Bobcat's were picked for the first week of regular play as their bye week, therefore this coming Tuesday, the John Glenn Bobcat's will have an Inner Team Scrimmage (home).
"We have to treat this inner scrimmage as our first real game. This gives us the opportunity to have one more week to prepare and concentrate on our fundamentals before facing other teams in the league," said Offensive Coach Kain.
The team has gained a ton of support from John Glenn Varsity Football Head Coach Mark Miller and his coaching team. Current and previous J.V. and Varsity John Glenn players have also shown up in droves to offer their assistance to this team.
The Bobcat's however, are still facing one obstacle to overcome, which is the dire need of new helmets. The helmets are approaching seven years in age and are too large for most players. To donate to the team's helmet fundraising quest, contact Coach Dobbins at (989) 737-2520 or Coach Kain at (989) 529-9907.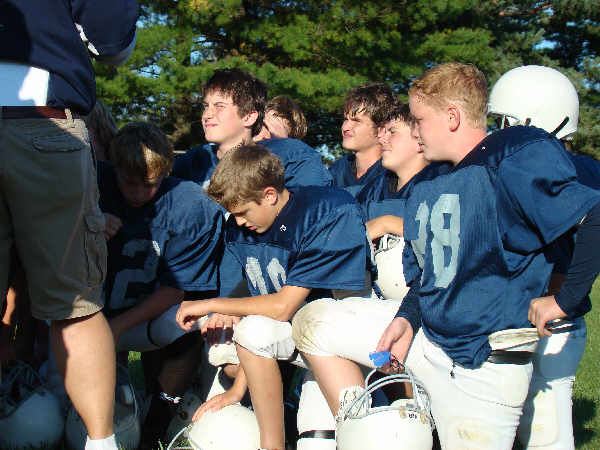 Pictured (L/R): Ryan Literman, Logan Pijaszek, Josh Grimmer, Jordan Jacobs, Michael Ernt and Jeremy Williams. The players were listening intently to the coaching staff during a team huddle
(MyBayCity Photo)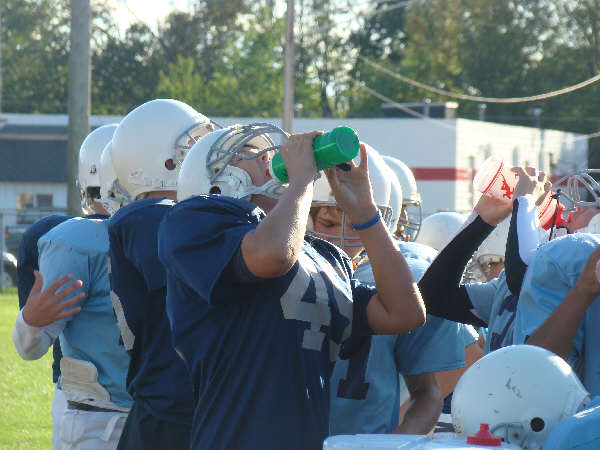 Team players take a break to rehydrate before taking on the next team in the scrimmage
(MyBayCity Photo)
Logan Pijaszek, #32 and others warm up before this phenomenal scrimmage featuring all 9 teams in the league began.
(MyBayCity Photo)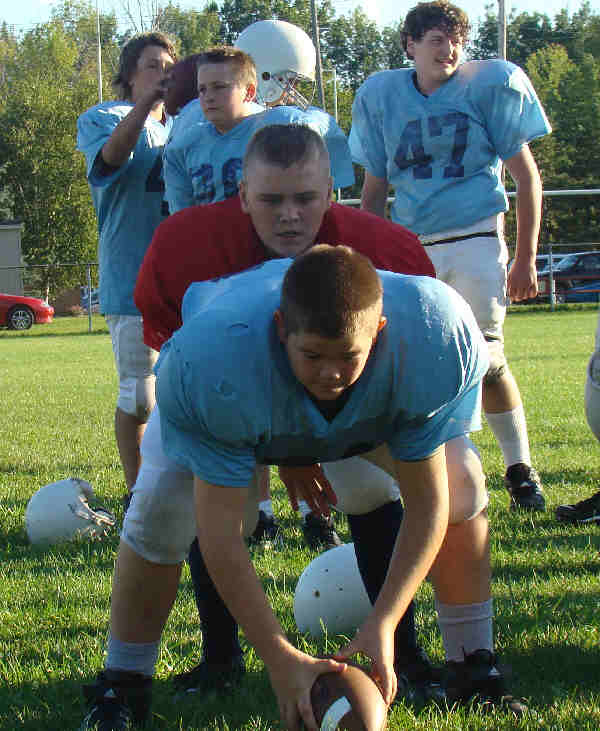 Shown in the foreground are Ryan Schofield and Shaun Budry. Quarterback for the Bobcat's, Derek Clyde practices with Center, Adam Maroni
(MyBayCity Photo)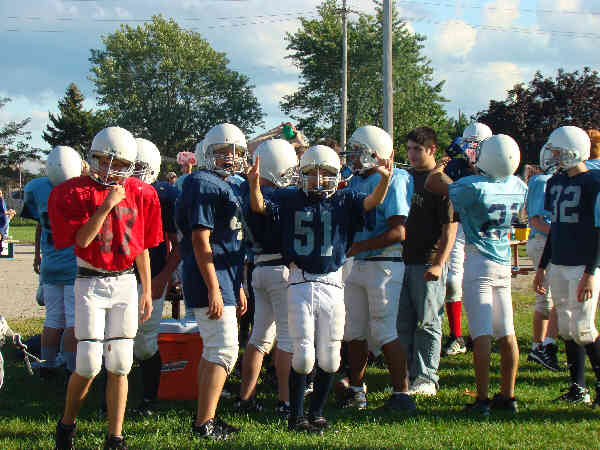 Second String Quarterback, Gatlin Hoffman, Austin Adamschek and Thomas Thelen give their victory pose to MyBayCity camera!
(MyBayCity Photo)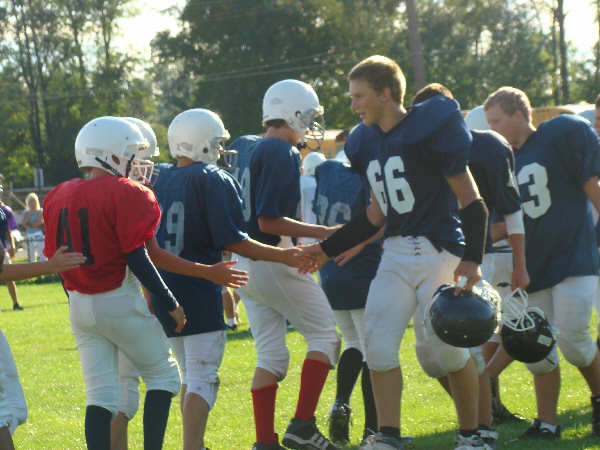 Bobcat's show their sportsmanship after one of many scrimmages against North Branch
(MyBayCity Photo)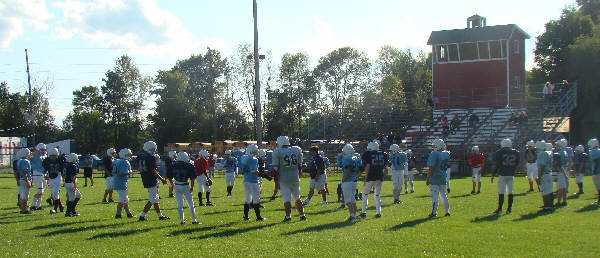 The Bobcat's Middle School team has forty five players this season! This photo in particular showcases one fabulous team that looks as if it could be two! Red uniforms represent Quarterbacks, Light Blue represent Offense and Navy represents Defense.
(MyBayCity Photo)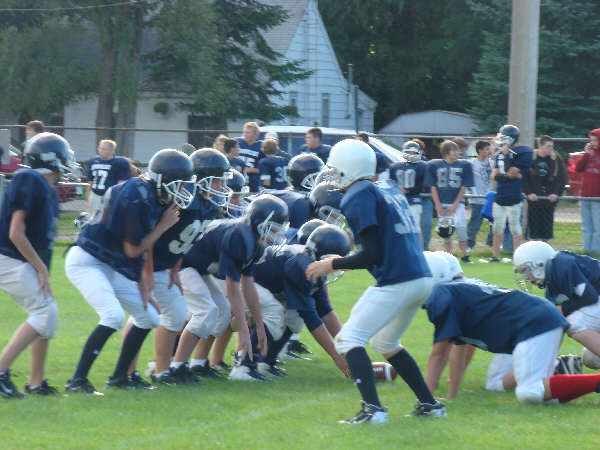 The Bobcat's represent in a 50 Angle Lid pose before North Branch snaps the ball
(MyBayCity Photo)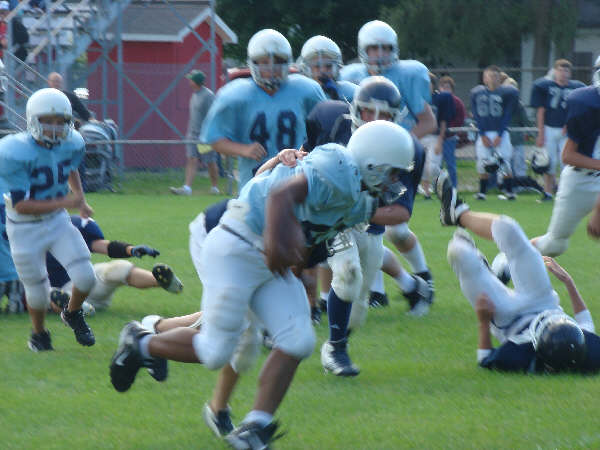 Bobcat Offensive Running Back Anthony Merchant surpasses the opponent leaving them dead in their tracks for one of several touchdowns this evening
(MyBayCity Photo)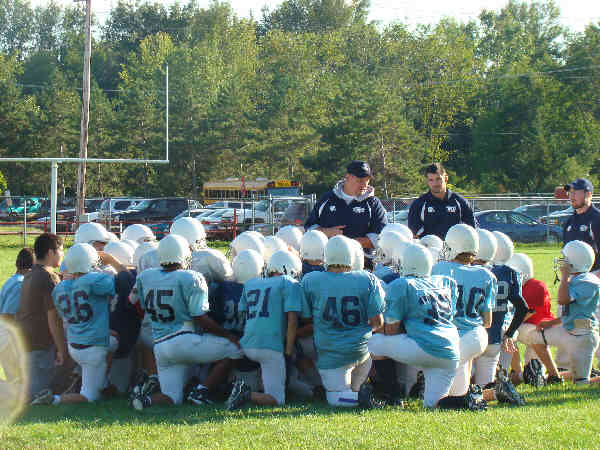 Post-game team huddle. Coaches impressed upon the players that now the other teams in this league are aware that they will have to play twice as hard to beat the Bobcat's this season!
(MyBayCity Photo)
John Glenn Bangor Bobcat's Game Schedule:
September 09: LEAGUE SCRIMMAGE in Millington 5:00 p.m.
September 23: Bobcat's vs. Millington 5p.m. HOME
September 30: Bobcat's vs. Bridgeport 5p.m. HOME
October 07: Bobcat's vs. Caro 5p.m. AWAY
October 14: Bobcat's vs. Garber 5p.m. AWAY
October 21: Bobcat's vs. Carrollton 5p.m. HOME
October 28: Bobcat's vs. Frankenmuth 5p.m. AWAY

MyBayCity.com And The Coaching Staff Would Like To Thank Harvey's Grill & Bar For Their Support As The Corporate Sponsor For Coverage Of The John Glenn Bobcat's. Be Sure To Show Your Support To Harvey's And Don't Forget To Mention You Saw Them On MyBayCity.com!

For Information On How Your Business Or Event Can Be Featured, Call Sales & Marketing Director, O.J. Cunningham At ((989) 892-8501 Or Email OJ@MyBayCity.com TODAY!
---
---
---
Send This Story to a Friend!
Letter to the editor
Link to this Story
Printer-Friendly Story View
---
--- Advertisments ---