Federal Omnibus Housing Bill May Include Funding for City of Bay City
Funds Would Be for Rehab of Reported 400 Foreclosed Homes in City
September 11, 2008 Leave a Comment
By: Dave Rogers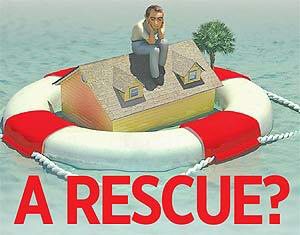 Omnibus Housing Bill may include funding for Bay City to acquire foreclosed homes.
The Omnibus Housing bill passed recently by Congress and signed by the President may include "neighborhood stabilization" funding for the City of Bay City to acquire foreclosed homes.
County Executive Thomas L. Hickner, who received a communication from the U.S. Department of Housing and Urban Development, said the funds may be appropriated based on the 400 homes in the city for which mortgages have been foreclosed.
Foreclosure filings nationally last month reportedly "increased 27 percent compared to the same month a year ago." Senate Democrats are urging Fannie Mae and Freddie Mac to immediately implement a 90-day foreclosure freeze on mortgages they hold.
"The flood of foreclosures is destroying dreams, sapping our economy of its strength and impacting most home values," said U.S. Sen. Car Levin, D-MI. "This landmark legislation will hopefully turn that tide and reverse those threats to America's well being."
Key provisions of "The Housing and Economic Recovery Act of 2008" (H.R. 3221) include:
Creation of "HOPE for Homeowners," a new program within the Federal Housing Administration (FHA), to provide refinancing options to distressed borrowers. It authorizes FHA to insure $300 billion in mortgages, and will help an estimated 400,000 homeowners with unaffordable loan terms obtain affordable, 30-year fixed rate mortgages.
Federal grants to help rehabilitating blighted neighborhoods. Michigan will receive nearly $170 million, which can be used to restore an estimated 6,000 properties. Inclusion of these neighborhood stabilization funds will help protect more homeowners from going "underwater."
New tax-exempt bond authority that will allow the Michigan State Housing Development Authority to help homeowners refinance adjustable rate mortgages. Providing refinancing options for homeowners in potentially solvent situations is an important component in the effort to reverse the current tide of foreclosures.
Tax credit of up to $7,500 for first-time homebuyers.
Enhanced disclosure requirements to safeguard against the future issuance of unaffordable mortgages.
Major regulatory reforms for the housing government-sponsored enterprises, Fannie Mae and Freddie Mac, which play a key role in the mortgage markets.
Jane DeMarines, executive director of the National Alliance of Community Economic Development Agencies (NACEDA), said: "We especially value the $3.9 billion in Community Development Block Grants (CDBG) funding for the purchase and resale of foreclosed properties to prevent neighborhood blight.
"These Neighborhood Stabilization funds will help to reverse the devastating impact on neighborhoods wracked by foreclosures. Additionally, tens of thousands of homeowners across the country may be spared foreclosure through new FHA expansion and programs."
According to NACEDA, an analysis by Credit Suisse Bank predicts an additional 1.4 million foreclosures will occur in the next two years, and possibly 6.5 million by 2012. The majority of these foreclosures are occurring in moderate and low-income neighborhoods.
"The housing bill recognizes this need with the Neighborhood Stabilization funding for cities and communities to deal with the long-term devastation of foreclosed properties," said Ms. DeMarines.
The bad news in the act, for both home buyers and real estate professionals, is that there are less incentives to purchase and the amount of the required down payment has been raised for FHA mortgages.
However, another element of good news is that first time home buyers using an FHA mortgage will get a tax credit of up to $7,500. The $7,500 is a maximum credit for those who file jointly.
The amount of the tax credit is figured at 10 percent of the purchase price of the home. For single taxpayers, the maximum credit is $3,750.
The credit actually is a dollar-for-dollar reduction in what the tax payer owes. It is repayable to the government at $500 per year over the next 15 years, or when the home sells.
A first time home buyer is defined as a buyer that has not owned a home in the last three years -- a restriction that also applies to any co-borrowers on the loan.
To qualify, the head-of-household need to have adjusted gross income of $75,000 or less to receive the credit. Those file jointly must have income of $150,000 a year or less.
Philip Rosenthal, a broker in Arizona, has written to fellow Realtors:
"I am very concerned and so should you be about (at least) one specific part of the Omnibus Housing and Economic Recovery Act, signed today by the President that Senators Chris Dodd (D-CT) and Richard Shelby (R-AL) authored."
As of October 1, 2008, the Act raises the down payment required for all FHA loans from 3 percent to 3.5 percent by the buyer, said Rosenthal, adding:
"No outside party will be able to contribute the 3.5 percent for the buyer's closing costs. No longer will grant programs or non profit programs like Nehemiah or AmeriDream be able to make the down payment.
Congressional Weekly states that the bill increases from 3 percent to 3.5 percent of the appraised value of a property the mortgagor's required cash (or equivalent) investment (down payment). It also prohibits any funds for such cash investment from: (1) the seller or any other person or entity benefiting financially from the transaction (seller-funded down payment assistance); or (2) any third party or entity reimbursed by any of such parties.
Rosenthal asserts: "This will eliminate over 50,000 sales of homes per year and will impact nearly 90 percent of all home buyers and home sellers in the nation. Plus, it will delay the rise in any appreciation your current home was likely to begin seeing again. Remember, housing is a long chain of events created by hundreds of buyers and sellers."###
---
---

Dave Rogers




Dave Rogers is a former editorial writer for the Bay City Times and a widely read,
respected journalist/writer in and around Bay City.
(Contact Dave Via Email at carraroe@aol.com)

More from Dave Rogers
---
Send This Story to a Friend!
Letter to the editor
Link to this Story
Printer-Friendly Story View
---
--- Advertisments ---