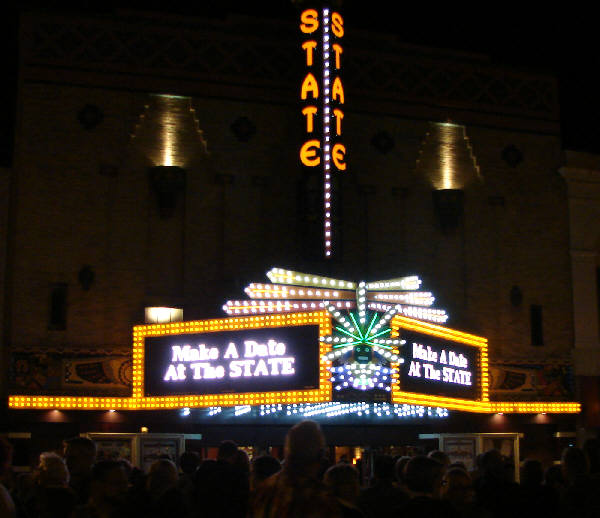 State Theater Marquee Unveiling SPECTACULAR
It was the 6th Annual Taste & Theatrics Event
September 14, 2008 1 Comments
By: Julie McCallum, Entertainment Editor
It was a fireworks spectacular
, Thursday evening September 11, 2008 for the State Theatre as they unveiled and lit up their new digital marquee.
It was the 6th annual Taste & Theatrics event at the State Theatre. Excitement and anticipation filled downtown Bay City.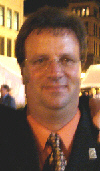 The night couldn't have turned out more perfect, for Mike Bacigalupo, State Theatre Executive Director.
Bacigalupo
said "The project was fun and exciting and the end result was nothing short of spectacular." Bacigalupo continued, "I appreciate all of the community support we had during the project and unveiling and the continued support throughout the year."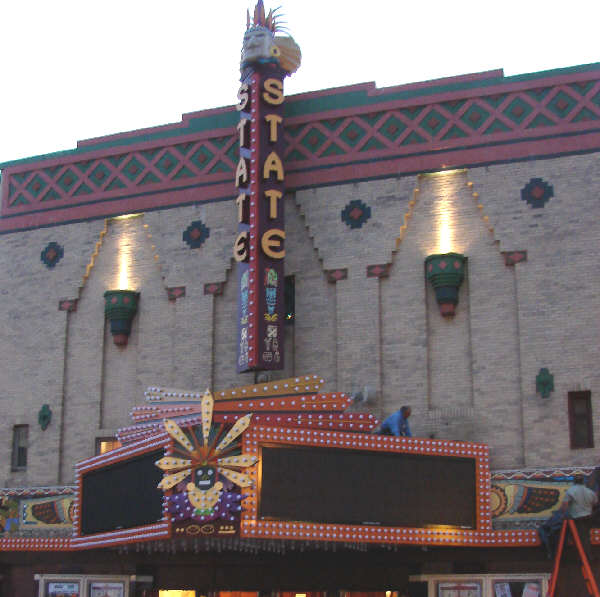 Eric Larson owner of Empire Signs, designed the new digital marquee. It was also the 100th year anniversary of the building.
Dale "Munchy" Muehlfeld and Jon Blegen of Empire Sign. Blegen admitted the last few days have been long. "The spectacular turn out to view the marquee will make it all worthwhile," Muehfeld said. "People will be surprised." Muehlfeld is the Owner Muehlfeld Builders in Frankenmuth.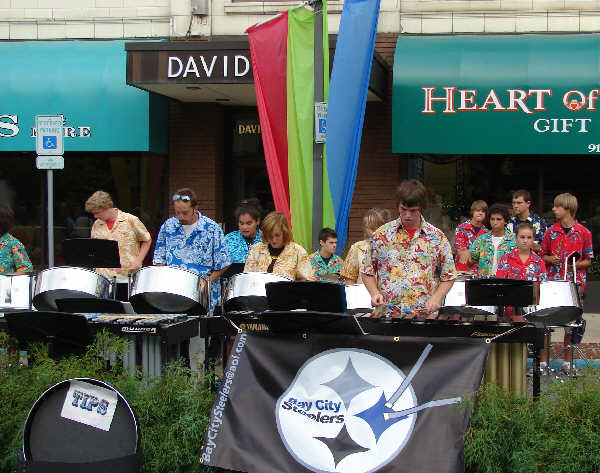 Central High School's Steel Drum Band, 'The Bay City Steelers' performed for guests on Washington Street.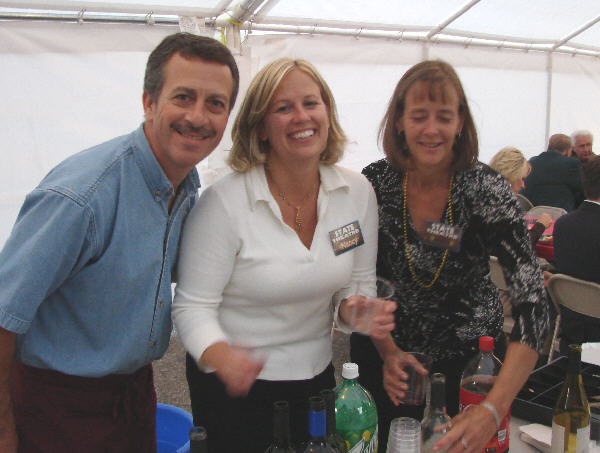 Ideal Party store Manager, Jim Campbell along with Nancy and Jan serve up the refreshments.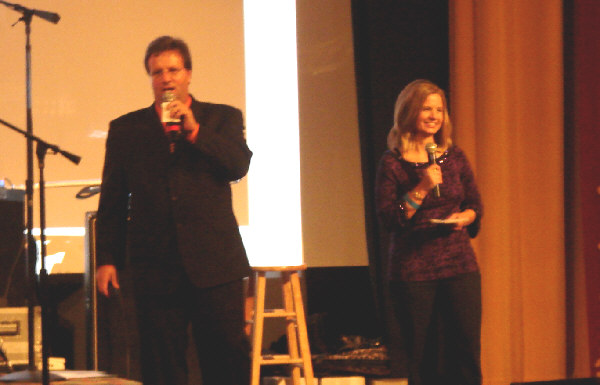 Bacigalupo and Jocelyn Connell from TV 5 hosted the event.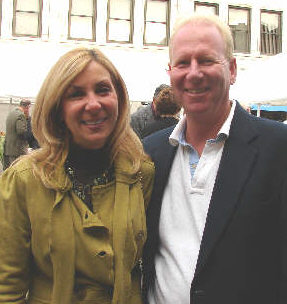 (Above Left)
Wendy Dore and Jim Kruszynski stop for a moment to visit with MyBayCity.
(Above Right)
Mr. & Mrs. Mike Seward smile for MyBayCity cameras.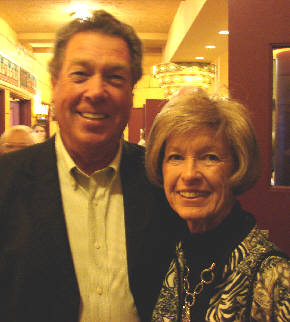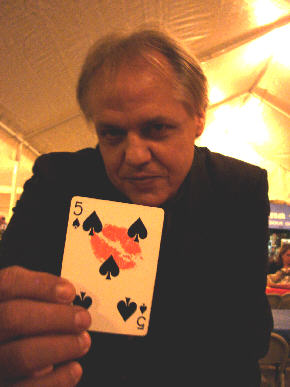 (Above Left)
Mr. & Mrs. Bob Darbee head into the State Theatre to enjoy the evening's concerts.
(Above Right)
Magician Tommy Anderson entertains the MyBayCity staff.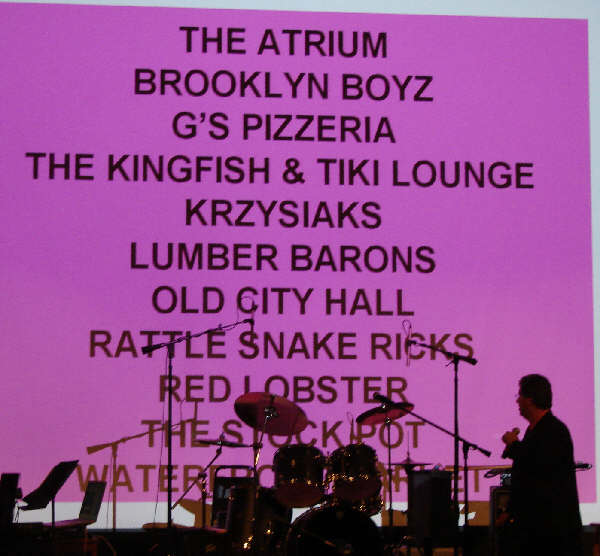 In front of the big screen, Bacigalupo lists the participating establishments.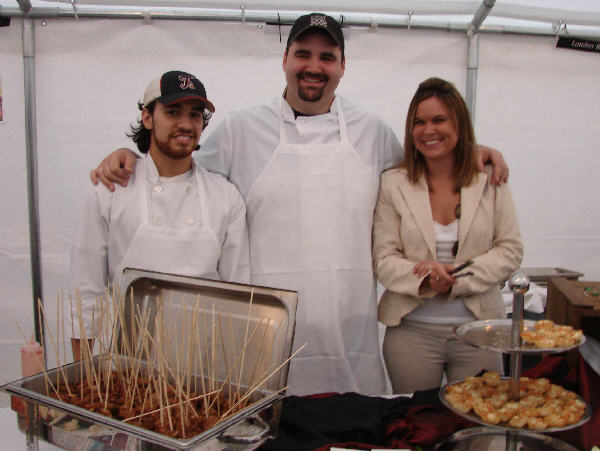 Lumbers Barons' was one of the restaurants that offered sample foods and desserts.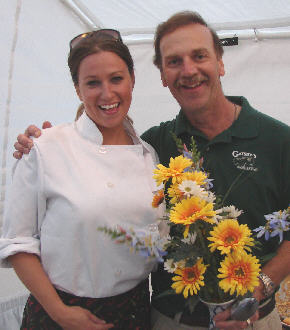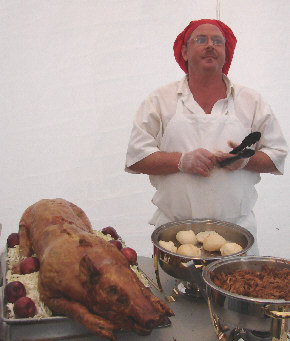 (Above Left)
Rick Rivette, (owner of Gatzbys, Mulligan's and Rattlesnake Ricks) and one of his top chef's Eryn Opelski.
(Above Right)
Holy Hog! Stockpot had this eye-appealing display.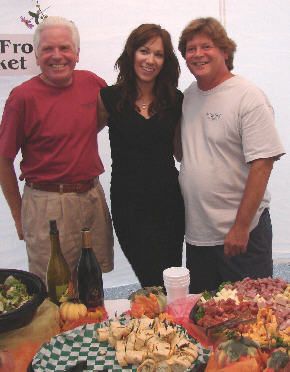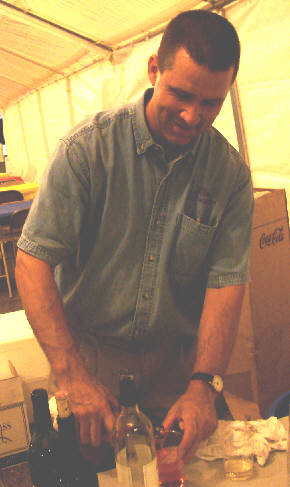 (Above Left)
Gregg Schultz and his team from Waterfront Market.
(Above Right)
Ideal Party Store owner Jerry Crete. Ideal Party Store supplied all the beverages for the event. Crete will be hosting a wine-tasting event at Studio 23 on October 9th from 7-9:00 PM. Old City Hall will be catering that wine event.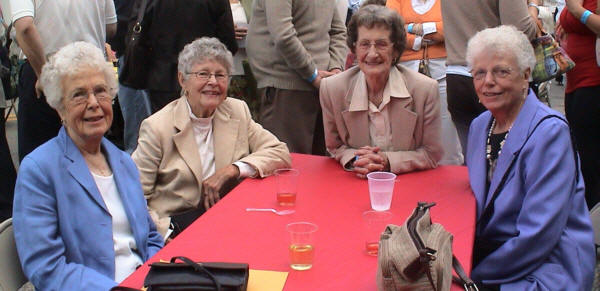 BAY CITY CENTRAL CLASS OF 1940 -- (L/R) Dolores Maillette, Rosemary Pope, Marie Hogan and Olive Schmidt were on hand for the State Theater Marquee unveiling. The girls all said they are all fans of MyBayCity. Ms. Maillette, a former editor of the Central High School "Centralia," says she keeps a close watch on MyBayCity columns for typographical errors. (She's very good at finding them).
(MyBayCity Photo by O. J. Cunningham)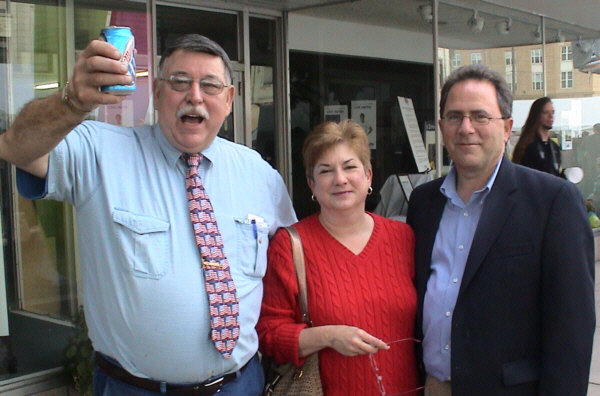 Don Krzysiak (Krzysiak's House Restaurant) makes a toast to salute the State Theater's New marquee. At Right is Tom Hickner with his wife, Nancy.
(MyBayCity Photo by O. J. Cunningham)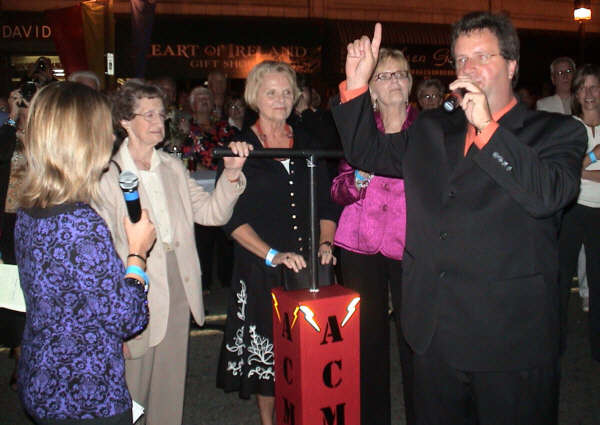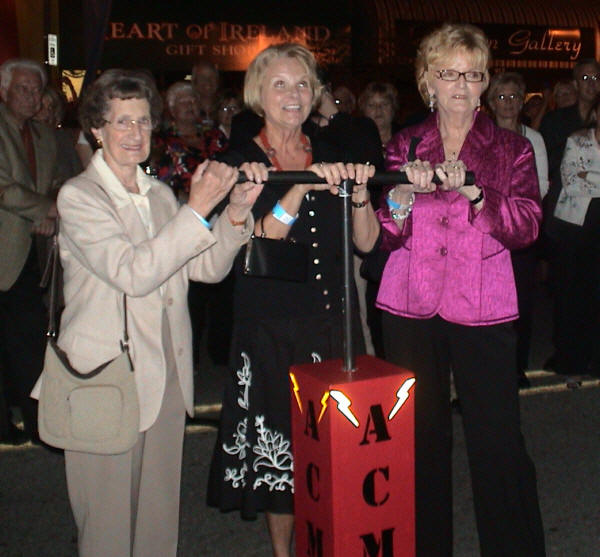 TOP PHOTO - State Theater Director, Mike Bacigalupo (finger raised) counts down 3-2-1 as winning ticket holders prepare to plunge the plunger and light the marquee. At left is WNEM News Anchor, Jocelyn Connell. BOTTOM PHOTO (L/R) Marie Hogan, Jeannie VanDerwill and Barb Savage get ready to "Light Up The Marquee."
(MyBayCity Photo by O. J. Cunningham)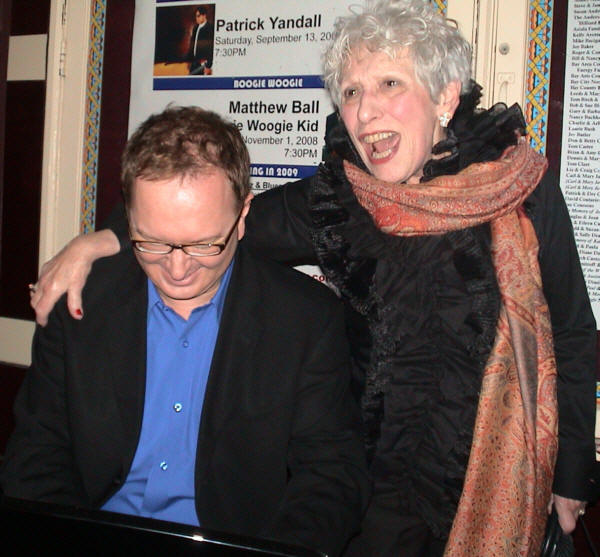 Kevin Cole and a "super fan" share a song outside the State Theater on Thursday night.
(MyBayCity Photo by O. J. Cunningham)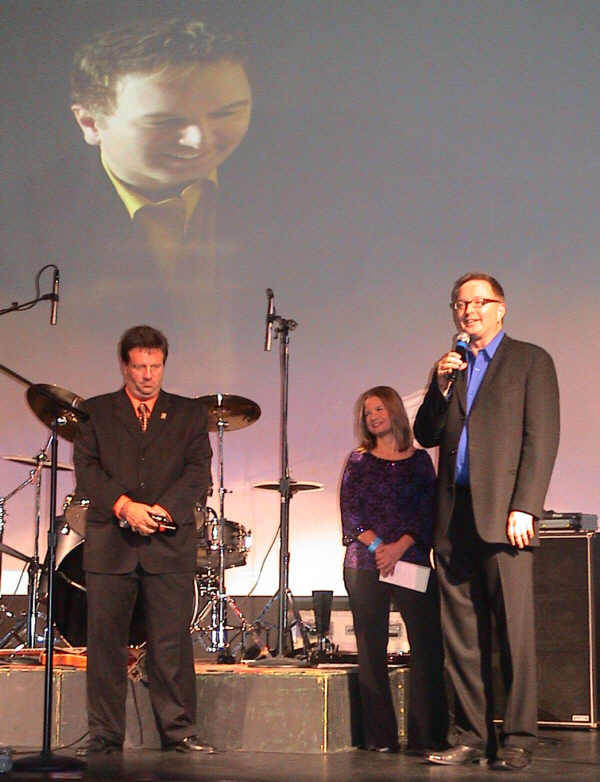 (L/R) Mike Bacigalupo. TV 5's Jocelyn Connell and Kevin Cole entertain the full house during the celebration at State Theater on Thursday.
(MyBayCity Photo by O. J. Cunningham)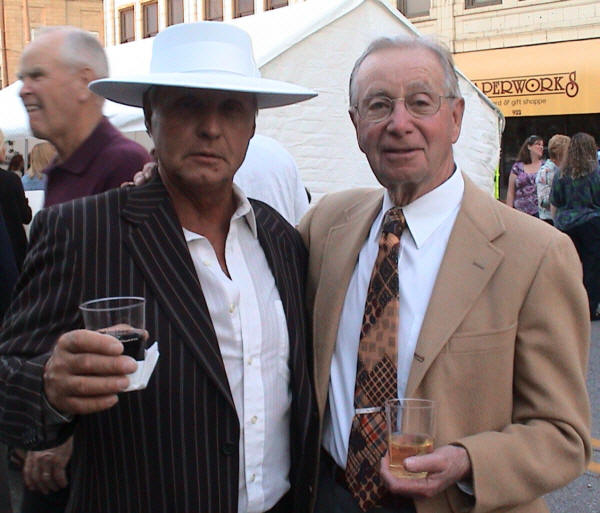 Bob Hirschfield (Right) and Rod DeLong share a drink and a toast to the State Theater
(MyBayCity Photo by O. J. Cunningham)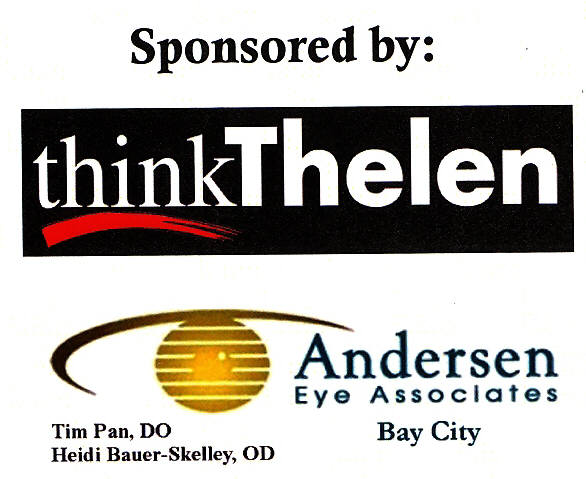 Bacigalupo thanked Thelen and Anderson Eye who sponsored the event.
---
"The BUZZ" - Read Feedback From Readers!
cindy Says: On September 14, 2008 at 10:50 PM

Looks great, the entire theater project looks great! Went to the Pat Yandell concert Saturday night. Had a wonderful time.
---
---
Send This Story to a Friend!
Letter to the editor
Link to this Story
Printer-Friendly Story View
---
--- Advertisments ---