Rotary's Generosity "Legendary," Says Pistons Great Ray Scott
Mom Unimpressed by Cage Feats, Finally Proud of Lutheran Layman of the Year
September 12, 2008 Leave a Comment
By: Dave Rogers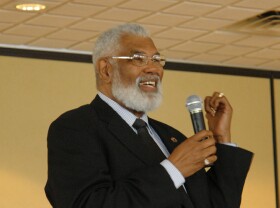 J. Ray Scott
Last Weeks program
September 9, 2008
J. Ray Scott
not only towers six foot nine inches tall, he is a pillar of the world of work for youth as development director of Lutheran Child and Family Services (LCFS) of Michigan.
Mr. Scott, introduced by Eric Jylha, spoke to the Rotary Club of Bay City last Tuesday and showered praise on the club for its support for the foster children placed by his agency through the donation of hundreds of "love bags," back packs, duffel bags and suitcases.
"The generosity of Rotary is legendary and you showed it extraordinarily in helping young people; it put a wonderful smile on their faces," he commented. "I get to see them, and that's a wonderful part of the job."
The young people being removed from abusive homes and placed in foster care often have nothing to carry clothes, and Bay City Rotary under leadership of past president Rob Clark helped remedy that situation.
Mr. Scott told a compelling life story through the device of trying to impress his mother with his accomplishments in sports. Mr. Scott grew up in Philadelphia where he attended Catholic schools.
He recounted how his father had died when he was eight years old and when his mother had to work he became a latchkey child, "a child of the streets," as he termed it.
"Wouldn't Dad be proud of me?" Scott recalled saying to his mother after he had become the Detroit Pistons' fourth round pick out of the University of Portland, Oregon, in 1961.
"Well, I guess so," his mother responded unenthusiastically, Mr. Scott recalled.
Every time he reached another milestone in sports, winning a championship with the Baltimore Bullets in 1966, coaching the Pistons and becoming NBA Coach of the Year in 1973-74, being admitted to the Michigan Sports Hall of Fame, he posed the same question to his mother. "Wouldn't Dad be proud of me, Mom?"
Same answer, "maybe."
Finally, after 23 years with Colonial Supplemental Insurance Co., Mr. Scott joined Lutheran Child and Family Services of Michigan as development director. In 2004, Mr. Scott was honored as "Lutheran Layman of the Year" for his work in aiding children through the agency in adoptions, foster care, consultation, family reunification and other services.
"Yes, Ray, I believe your Dad would be very proud of you," his mother finally said.
He said LCFS recently merged with Boys and Girls Republic, adding 85 kids in residential programs, and has expanded services to the Upper Peninsula.
The agency operates the Lutheran Home on Trumbull Avenue in Bay City where 22 teenage boys are housed. "We don't want kids incarcerated," he concluded, "we want them back in society as good citizens."
A former "street kid" from Philadelphia who has become one of the nation's outstanding social work executives is now helping hundreds of youths begin new lives and achieve the status of "good citizens." Yes, Dad would certainly be proud. ### 20080909-Luis-Flavio-Sales-4455.jpg
---
CLUB NEWS and ANNOUNCEMENTS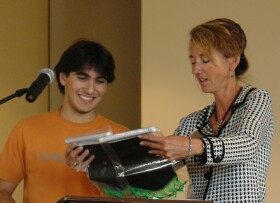 Luis presents Club Flags
from De Uberaba Brasil
to bay City Club President Deb Lutz
Welcome to
Luis Flavio Sales
from Uberaba, Minas Gerais, Brazil. Luis is Rotary's International Exchange student for this year. Currently living with Kevin Ayala's family, Luis is enrolled at John Glen High School where he, and three other exchange students, are on the soccer team.
Rob Monroe commented that the inbound exchange student program is very successful but the outbound program has not seen as much interest. "This is an extraordinary opportunity for young people", Rob said. He encourages everyone to spread the word to young people who might be interested in study abroad.
The district
Group Study Exchange
program is also soliciting applications for next year's visit to Thailand. The team will have one Rotarian as leader and the rest of the members are young non-Rotarian.
The club will participate in an
international project
by adopting a Mayan village in Guatemala as part of the "Make Dreams Real" Rotary Year Theme. $5,000 will be raised for the project.
Anne Trahan encouraged everyone to gather auction items for
International Night
. She also reminded members to consider becoming a patron sponsor.
The
Major Project
committee has received 18 proposals. These will be reviewed over the next few weeks then presented to the club.
The
Polio Plus Challenge
has now raised $13,000 from members. With other contributions the total is $17,820.
The
dictionary project
is well under way. The books have been received and labeled. Rotarians interested in delivering dictionaries and presenting them to the third graders should see Chuck Cusick to schedule a school.
Linda Heemstra reported that the
Books to Afghanistan
committee has selected some 1,400 books from those donated. More are coming in and are welcome. She anticipates our club will send 2,000 books.
---
Upcoming Programs
(See the official schedule at
RotaryBayCity.org
)
Sept 16 Michigan Petroleum Association President Mark Griffin will speak on the cost of fuel and how it is effecting consumers, jobbers and gas stations.


Sept 23 18th Annual River of Time. This is one of two time-line style historical encampments in the nation. 1,400 school children visit on Friday...free to the public on Saturday and Sunday. Hear why this event is so unique.


Sept 30 Details about the Adopt A Village international program. Chuck and Ann tell us about our connection to the people of Guatemala...and our chance to Realize a Dream.
---
Visit RotaryBayCity.org
---
---

Dave Rogers




Dave Rogers is a former editorial writer for the Bay City Times and a widely read,
respected journalist/writer in and around Bay City.
(Contact Dave Via Email at carraroe@aol.com)

More from Dave Rogers
---
Send This Story to a Friend!
Letter to the editor
Link to this Story
Printer-Friendly Story View
---
--- Advertisments ---