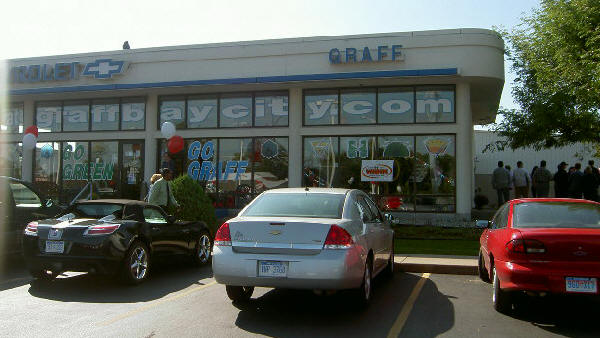 Hank Graff Chevrolet On Wilder In Bay City!
---
Mr. Hockey, Gordie Howe Visits Hank Graff To Help Raise Money!
WHNN Was Present Wednesday To Raise Money For The Just For Kids Foundation
September 21, 2008 Leave a Comment
By: MyBayCity Staff

Making a difference one child at a time is the mission of Maier & Associates. This charitable foundation's program, "Just for Kids", was designed to help kids in the Tri-City area who are in financial or material need. It is also designed to reward local children for their display of outstanding citizenship and Hank Graff of Bay City has been an avid supporter of this fabulous organization!
This event, featuring a visit to Hank Graff in Bay City by Gordie Howe precedes ten finalists that will be drawn and invited to the Maier & Associates Charitable Foundation Benefit Dinner held in October. The owners of the first eight tickets drawn will win $500.00 each. The owner of the ninth ticket will receive $1,000. Lastly, the owner of the final ticket drawn will be sliding into the driver's seat of slick, new 2008 Corvette!
Proceeds benefit the Just For Kids Foundation and the Johnny Burke Children's Foundation. You can purchase your ticket at Maier & Associates Financial Group in Bay City or Graff Chevrolet on Wilder in Bay City, or here at the Saginaw studio M-F from 5:30 a.m. until noon.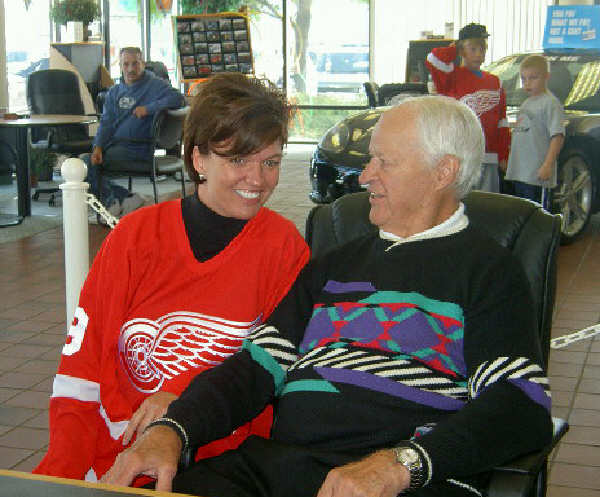 Graff General Manager, Lisa Kusey chats with Gordie at the Hank Graff Open House!
(MyBayCity Photo by Dolores Barron-Rogers)
Gordon "Gordie" Howe, OC (born March 31, 1928, in Floral, Saskatchewan) is a former professional ice hockey player from Canada who played for the Detroit Red Wings and Hartford Whalers of the National Hockey League, and the Houston Aeros and New England Whalers in the World Hockey Association. He is often referred to as Mr. Hockey, and is generally regarded as one of the greatest players of all time, being most famous for his scoring prowess, physical strength, and longevity.
Howe won six Hart Trophies as the league's most valuable player and six Art Ross Trophies as the leading scorer. He was the recipient of the first NHL Lifetime Achievement Award in 2008.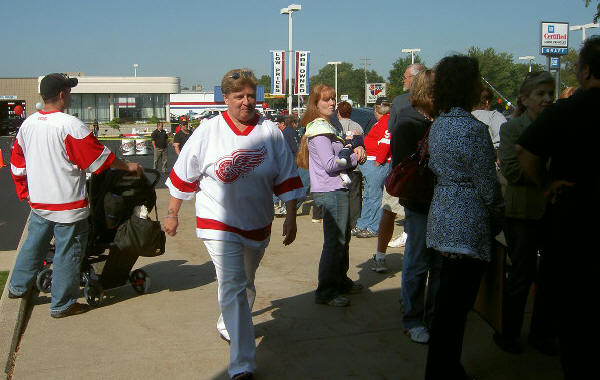 Deb Morse (in Red Wings jersey) approaches the Graff building in anticipation to see Red Wings great Gordie Howe.
(MyBayCity Photo by Dolores Barron-Rogers)
>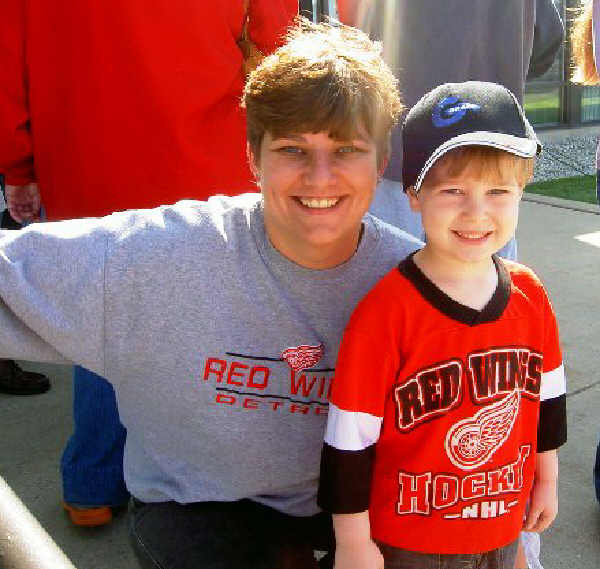 Dawn Joye Kotcher and Erek Scott Kotcher wait for the arrival of "Mr. Hockey"!
(MyBayCity Photo by Dolores Barron-Rogers)
Gordie Howe arrives at Hank Graff to meet & greet people of all ages this exciting day!
(MyBayCity Photo by Dolores Barron-Rogers)

Interesting Trivia About Gordie Howe:
Other nicknames for Gordie Howe include: Power, Mr. Everything, Mr. All-Star, The Most, The Great Gordie, The King of Hockey, The Legend, The Man, No. 9
Bart Simpson used a picture of Howe as part of a practical joke he pulls on Mrs. Krabappel in The Simpsons episode "Bart the Lover". At the end of the episode, Howe's career statistics are displayed on the screen.
At the height of Howe's career, a ballad was penned by a songwriter named Bob Davies called, "Gordie Howe is the Greatest of Them All".
Howe is a member of 11 different Halls of Fame.
His name and nickname, "Mr. Hockey", as well as his wife's nickname as "Mrs. Hockey", are registered trademarks.
His tough physical play also earned him the nickname "Mr. Elbows".
His Detroit Red Wings jersey is worn by the character Cameron Frye in Ferris Bueller's Day Off. Writer/Director John Hughes used this as a reference to his childhood growing up in Michigan.
The protagonist of Steven Popkes' short story "The Ice" is a promising collegiate hockey player who discovers that he is a clone of Gordie Howe.
Michael Vartan gives a speech about Gordie Howe in the movie Never Been Kissed.
The only person in hockey history to compete in six different decades at the professional level (i.e. NHL, WHA, IHL; 1940s-1990s).
Howe played a single shift for the Detroit Vipers of the International Hockey League in 1997-98.
There is a statue of Gordie Howe in downtown Saskatoon, Saskatchewan on the corner of 20th Street and 1st Ave. He is depicted wearing a Detroit Red Wings sweater. The statue has been relocated to Credit Union Centre.
Gordie Howe recorded only one "Gordie Howe hat trick", even though the hat-trick, which requires a player to score a goal, earn an assist, and participate in a fight in the same game, is named after him.[7]
Colleen and Gordie Howe have a middle school named after them, located in Abbotsford, British Columbia, Canada (Colleen & Gordie Howe Middle School).
Ska band The Planet Smashers wrote a song about Howe called "Uncle Gordie".
Howe took a signing bonus in his first season, it was a Red Wings letterman jacket.
Howe was an ambidextrous player, one who used a rare un-curved stick so he could shoot with either hand.
Bobby Orr regards Howe as the greatest player ever to play the game
The Canadian band Barenaked Ladies makes a reference to "Gordie Howe's Clothes" in the song on their album "Snacktime".
Howe appears in an episode of
Yes, Dear
when Mike O'Malley's character, Jimmy Hughes comes up with a list of goals he wishes to accomplish in his lifetime. One such wish is to "mix it up" with Gordie Howe. He is scheduled to play in a charity game with the hockey legend, but Gordie beats him up before the first puck is ever dropped.
For Information On How Your Business Or Event Can Be Featured, Call Sales & Marketing Director, O.J. Cunningham At ((989) 892-8501 Or Email OJ@MyBayCity.com TODAY!
---
---
---
Send This Story to a Friend!
Letter to the editor
Link to this Story
Printer-Friendly Story View
---
--- Advertisments ---