Home Foreclosures May Bring Federal Cash Windfall to Bay County
Up to $11 Million Predicted From Housing Bill for Local Home Renovations
September 21, 2008 Leave a Comment
By: Dave Rogers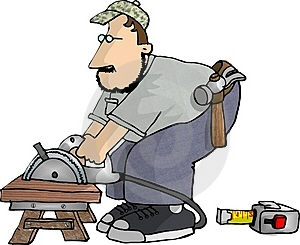 Contractors: Sharpen your pencils and get ready to fire up your power saws.
Contractors: Sharpen your pencils and get ready to fire up your power saws -- Big money is coming from Washington to rehabilitate foreclosed and abandoned homes in Bay City and Bay County.
The BAD NEWS - record number of 403 foreclosed homes in Bay County last year and a projected 500 plus foreclosures this year;
The GOOD NEWS is that the more foreclosures, the more money the local units of government are likely to receive.
Uncle Sam is poised to send at least $263 million to Michigan under terms of the Housing and Economic Recovery Act signed into law by President Bush on July 30.
The state grant is part of a nationwide $3.92 billion in emergency Community Development Block Grants for the acquisition and rehabilitation of foreclosed and abandoned homes.
County Executive Thomas L. Hickner speculated that local governments could receive up to $11 million based on the foreclosures but city officials have not commented on the projected windfall.
Several local business and government leaders privately have cited the local job market as a key to housing demand and foreclosures.
However, the flat housing market may be stimulated if the proposed $2.3 billion Consumers Energy expansion of the Karn-Weadock electrical generating facility goes ahead. The Legislature recently approved energy bills that may make the proposed project possible.
The Consumers project would bring about 1,800 jobs for seven years and 80 longterm jobs, company officials have estimated. Some of those workers obviously would be from out of the area and would require housing and hike local housing demand.
Spending money on the acquisition and rehabilitation of foreclosed property will likely be a subject of discussion at future city commission meetings. Whether there will be any market studies done to justify the home rehabilitations is uncertain.
The city commission finance and policy meeting on Oct. 13 at 6:30 p.m. will feature Brenda Christian, President and CEO, Bay Area Housing, Presenting an "Update on the Neighborhood Preservation Project," and a "Presentation on Proposed New Incentive for Senior Housing," by community development director Steve Black.
The HUD formula governing funding will be based on:
the number and percentage of subprime mortgages,
the number and percentage of mortgage defaults and delinquencies, and
the number and percentage of foreclosures.
Each state will receive at least 5 percent of the funds but how the money will be split between the state and local units is not yet clear.
Most of the county's foreclosures have been in the city, but no statistics have been released by city officials.
Mr. Hickner and Vicki Roupe, register of deeds, released annual statistics on foreclosures countywide going back to 1998:
1998 - 46;
1999 - 71;
2000 - 106;
2001 - 139;
2002 - 200;
2003 - 205;
2004 - 192;
2005 - 232;
2006 - 370;
2007 - 403.
This year through August the county has recorded sheriff's deeds for 362 foreclosures, an average of 45 per month, that would put the county on track for a 2008 total of 543 foreclosures if conditions remain constant.
The U.S. Department of Housing and Urban Development (HUD) has until Sept. 28 to set a distribution formula and will make funds available by Oct. 28. States and localities will have 18 months to use the funds "to purchase and redevelop abandoned and foreclosed homes and residential properties."
Other guidelines include:
States and localities must give priority emphasis and consideration to funding geographic areas with the greatest need, including areas with the greatest percentage of home foreclosures and subprime-financed homes and areas likely to face a significant rise in the rate of home foreclosures. States and localities receiving funding will be required to submit a plan for the use of funds that must be approved by HUD before they receive funds.
Eligible use of funds include:
Establishment of financing mechanisms including soft second mortgages, loan loss reserves, and shared equity loans;
Purchase and rehabilitation of abandoned or foreclosed homes for sale, rent or redevelopment;
Establishment of land banks for foreclosed homes;
Demolition of blighted structures; and
Redevelopment of demolished or vacant properties.
All fund must be used for families and individuals with incomes up to 120 percent of the area median; at least 25 percent of funds must be used for those with income up to 50 percent of the area median; homes must remain affordable for the longest period practicable; home purchase prices must be discounted from current market appraised value.
Profits generated within five years must be returned to the state or locality and used according to this program and funds may not be used for economic development benefiting private entities.
---
---

Dave Rogers




Dave Rogers is a former editorial writer for the Bay City Times and a widely read,
respected journalist/writer in and around Bay City.
(Contact Dave Via Email at carraroe@aol.com)

More from Dave Rogers
---
Send This Story to a Friend!
Letter to the editor
Link to this Story
Printer-Friendly Story View
---
--- Advertisments ---