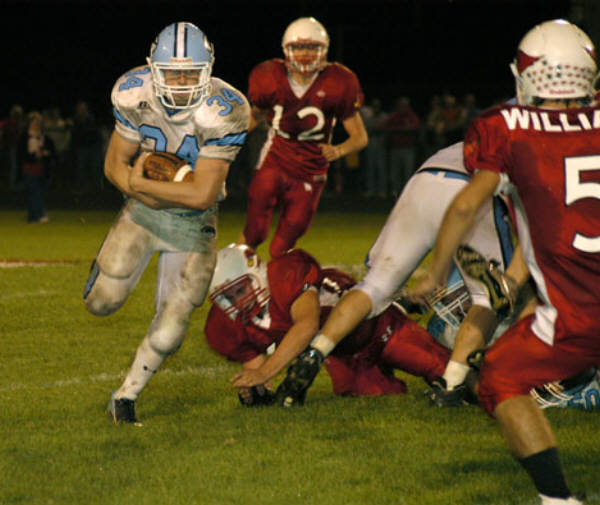 Garber's Andrew Aho looking for more yardage as he rushes for 196 yards against Millington. (MyBayCity Photo by John Keuvelaar)
---
Dukes Mistakes Lead to First Loss 20-19
Andrew Aho rushes for 196 yards on 36 carries
September 28, 2008 Leave a Comment
By: John Keuvelaar
When you play Millington, you know you are in for a tough physical game.
It is especially so when the game is at Millington as the whole town comes out to support their Cardinals who are very tough at home. Garber knows this and came ready to play. Despite outplaying the Cardinals for most of the game, it was the Dukes own mistakes that lead to their demise with fumbles, interceptions and key penalties.
"Clearly the better team did not win tonight," noted a clearly frustrated Coach Schwartz. "But that's football. (Millington) showed a lot of character tonight. They are a good football team."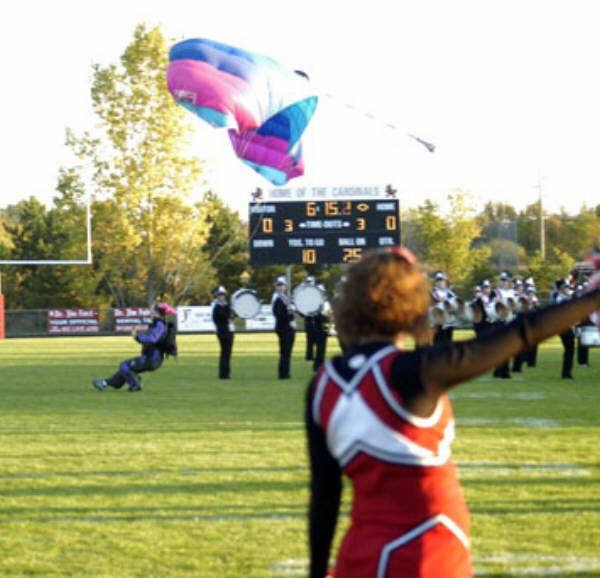 Always a good show at Millington as the skydiver delivers the game ball.
(MyBayCity Photo by John Keuvelaar)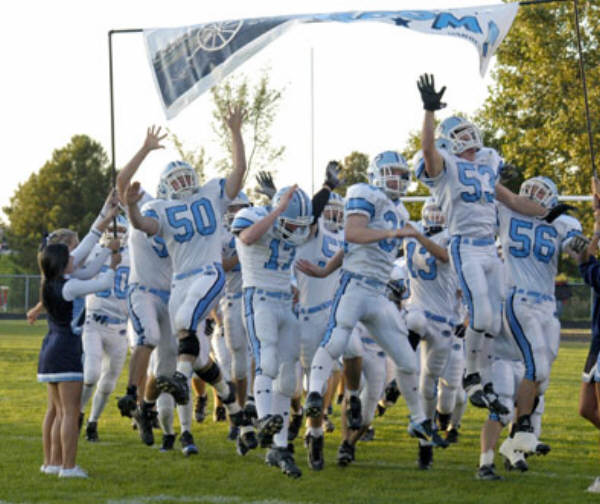 The Dukes came out flying high for the Millington match up.
(MyBayCity Photo by John Keuvelaar)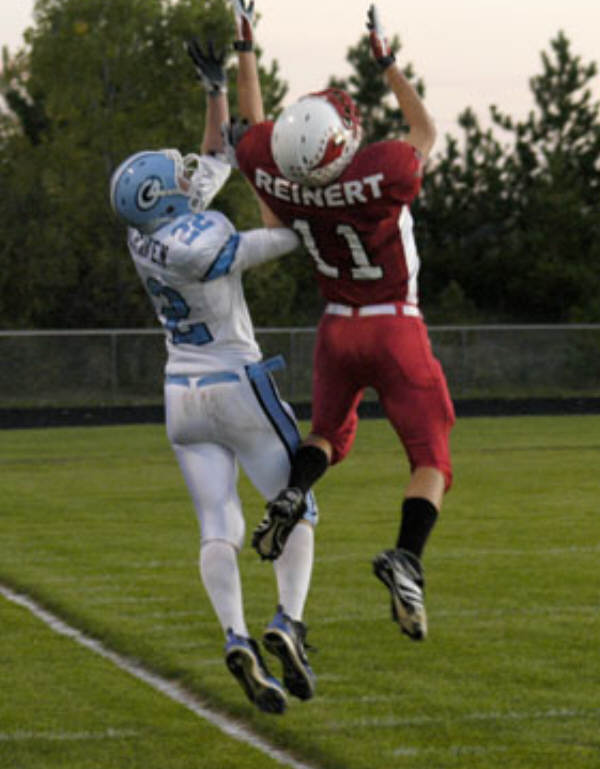 Garber's 22 Todd Walraven and Millington's 11 Tyler Reinert battle for the ball.
(MyBayCity Photo by John Keuvelaar)
Millington did show a lot of character, never giving in when they were unable to stop the Duke's Aho Express running game while not generating one themselves.
After Millington was unable to move the ball on their first possession, they punted giving Garber the ball on their own 20. From there, it was All Aboard as Garber fed the Cardinals a steady diet of Andrew Aho. The offensive line open holes allowing the strong running Aho to power the team down the field. Aho eventually scored as he broke it outside on a 5 yard run and reached for the end zone. Mike Schroeder kicked the extra point and the Dukes were on top, 7-0.
Millington's next possession didn't go much different as the Dukes continued to penetrate the line of scrimmage shutting down any running attack. After a Millington punt, Garber again moved the ball down field in methodical fashion to the Cardinal 15. But a fourth down pass fell incomplete and Millington took over on their 15.
Garber's defense insured that a good scoring drive didn't go to waste. After stopping a first down run, Millington looked to move the ball through the air. That is when #12 Lee Madziar hit Millington's QB #11 Tyler Reinert while he tried to pass causing the ball to flutter toward the receiver. #53 Shane O'Mara intercepted the pass and ran it in for a touchdown. With the extra point going wide, the score was 13-0.
Unable to mount a productive running attack, Millington took to the air to loosen things up. This allowed them to move the ball from their 30 to Garber's 30 before turning it over on downs.
Garber seemed to waste little time on this possession as Andrew Aho broke a 64 yard run for an apparent touchdown. But up popped one of Garber's costly mistakes as offsetting personal foul penalties occurred behind the run erasing what would have been a 3 touchdown lead and allowing Millington to go into half time down by only two scores.
For the first half, Millington had only mustered 8 yards rushing to Garber's 113, 97 by Aho himself.
"Big plays changed the game," noted Coach Schwartz. "We had a touchdown called back on a penalty, a pass almost intercepted that would have been a touchdown (but resulted in a Millington touchdown), a blocked punt, turnovers." That was the tale of the first half and the game.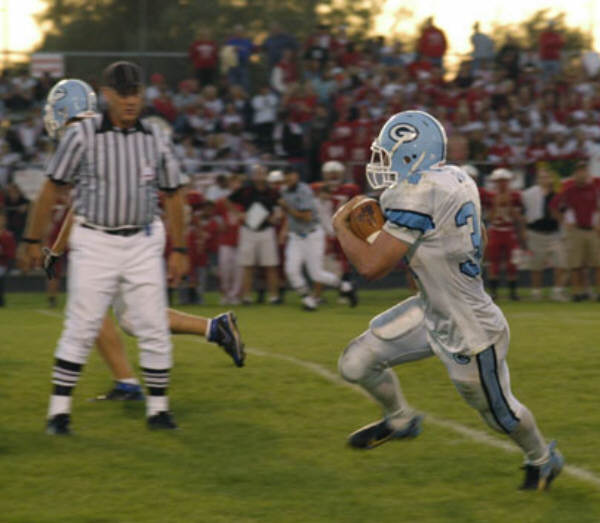 34 Andrew Aho found plenty of running room on this play.
(MyBayCity Photo by John Keuvelaar)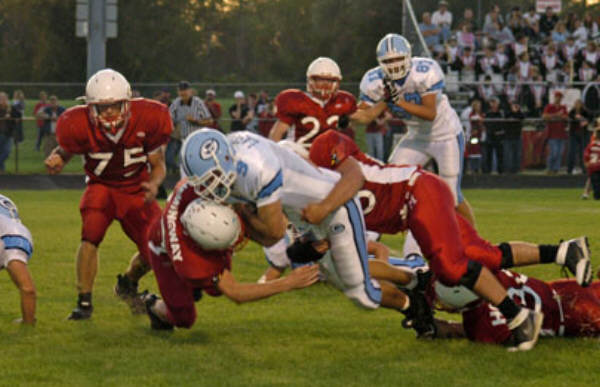 9 David Laskowski bowls over Millington's 12 Kyle Hemingway
(MyBayCity Photo by John Keuvelaar)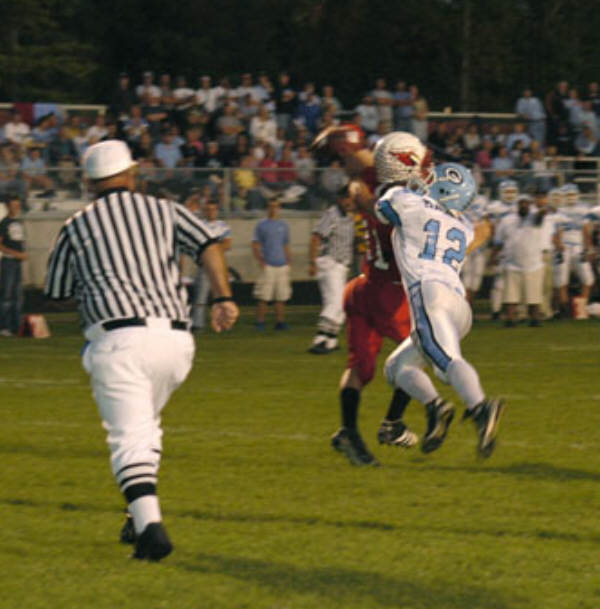 12 Lee Madziar puts the hit on QB Tyler Reinert that resulted in a Shane O'Mara interception and touchdown.
(MyBayCity Photo by John Keuvelaar)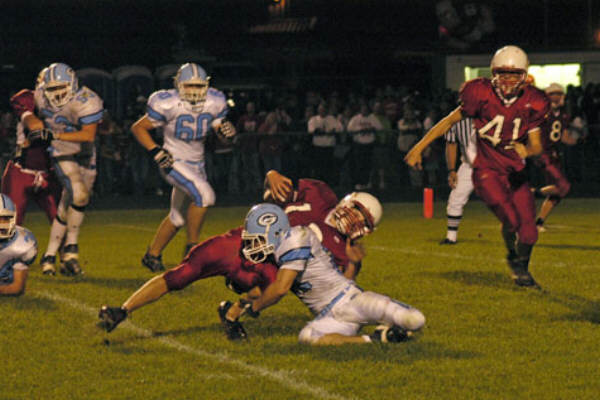 27 Jimmy Cornejo stops Kyle Hemingway short of the end zone.
(MyBayCity Photo by John Keuvelaar)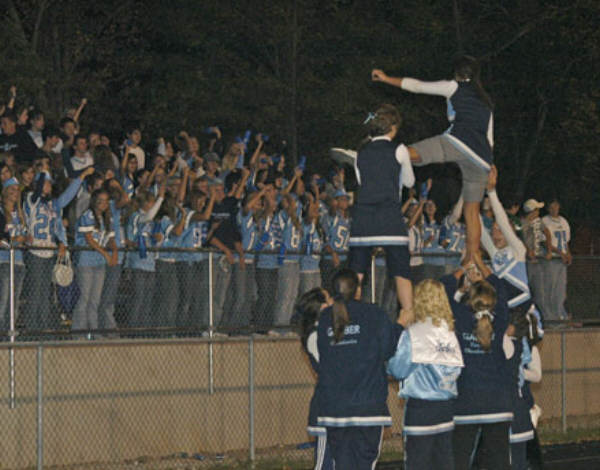 Cheerleaders go to great heights to cheer on the "Blue Crew"
(MyBayCity Photo by John Keuvelaar)
The second half started much the same with Garber taking the kickoff on their 31 and moving it right down the field. Then as Aho was driving a pile of tacklers down the field, Millington was clawing away at the ball and forced a fumble that they recovered on their own 43.
The Cardinals then went to the pass and rode the legs and arm of Reinert as he scrambled his way for big yardage. This scrambling loosened the Garber defense up and allowed Millington to mount a rushing drive.
Millington received their next big break when a sideline pass was almost intercepted. Aho stepped in front of the would be receiver with nothing but turf in front of him but was unable to haul in the pass. Next followed a controversial play in which Shane O'Mara got position in front of the Millington receiver thus breaking up the pass. However, he was flagged for interference. This gave Millington the ball on the three yard line and the resulting play was a 3 yard touchdown run by #12 Kyle Hemmingway. The extra point made the score 13-7.
Undaunted, Garber took the kickoff and started their next drive on their own 19 moving the ball much as before. But on fourth and an inch, a fumbled handoff at the Garber 40 gave the ball back to the Cardinals in good field position.
Reinert then scrambled his way to the 26 and soon the Cardinals were on the 15 looking for score number two. The Garber defense rose up stopping the Cardinals and taking over on downs. But now it was Millington's defense's turn to finish off a scoring drive. Stopping the Dukes with sack and forcing a punt, #22 Ryan Ill blocked the punt and the Cardinals pounced on it in the end zone giving them a 14-13 lead.
Ruffled, Garber looked for a quick strike on second down when Hebert threw a bomb to Cornejo on a route down the sidelines. But #5 Josh Williams went high in front of Cornejo for the interception at the Millington 36.
Now it was Millington's turn to strike quick as #12 Kyle Hemmingway took the ball off right tackle and ran 60 yards for a 20-13 Millington lead.
While many teams would have mentally collapsed, Garber didn't. The Dukes went right back on the attack mixing Aho running with a nice pass over the middle for 16 yards to #84 Mike Schroeder to keep the drive going. Three more Aho rushes had the Dukes on Millington's 13 when Hebert hooked up with Schroeder again on a nice dump pass over the middle for a Garber score making it 20-19.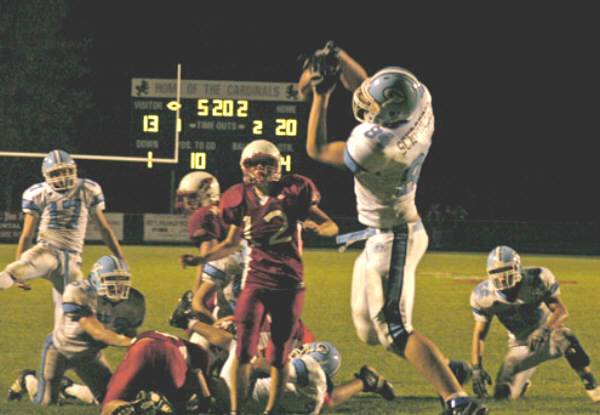 The scoreboard tells the story as 84 Mike Schroeder hauls in this touchdown.
(MyBayCity Photo by John Keuvelaar)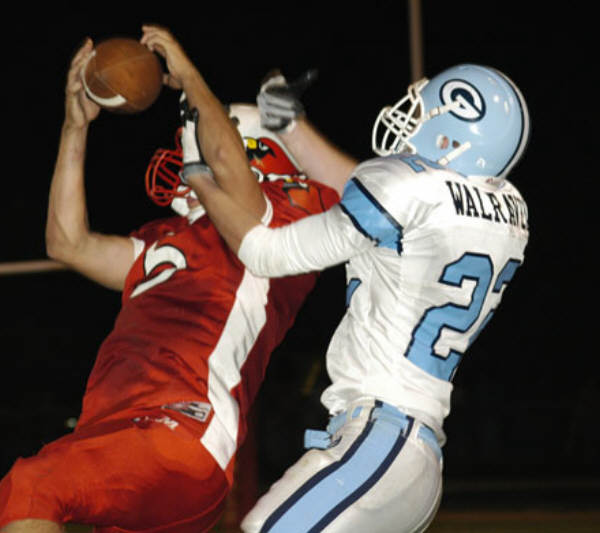 Millington's 5 Jason Williams makes the game saving interception over Garber's Todd Walraven.
(MyBayCity Photo by John Keuvelaar)
Garber went for the lead by attempting a two point conversion. Hebert rolled right but good coverage by Millington resulted in an incomplete pass and Garber was down by one.
The Duke defense did its job forcing Millington to go three and out giving Garber the ball at their 45 with 3:26 remaining. Garber got right back on the Aho Express and moved the ball down the field. But with time running out, Garber tried for that quick strike as Hebert looked for #22 Todd Walraven down the right sideline.
The pass was slightly short allowing the Millington defender to leap in front of Walraven for an interception and the final turnover.
For the night, Garber amassed 285 yards of offense. 219 yards were rushing with Andrew Aho rushing for 196 yards on 36 carries. Hebert was 4-9 passing for 65 yards. Millington had 201 total yards with 157 of it rushing and 44 passing.
Garber's next game is Homecoming where they will host Caro.
---
---

John Keuvelaar




John Keuvelaar is a college student at Midwest Photography Workshops and Delta College.

More from John Keuvelaar
---
Send This Story to a Friend!
Letter to the editor
Link to this Story
Printer-Friendly Story View
---
--- Advertisments ---