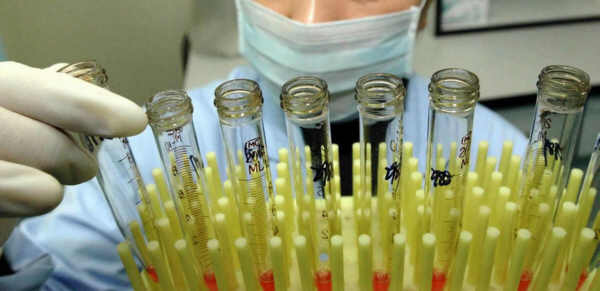 Only Michigan and two other states presently ban research on human embryos.
---
Stem Cell Research Proposal
Aimed at Economic Development Plus Research
Opposing Groups Conducting Active Campaigns on Little-Understood Issue
October 5, 2008 1 Comments
By: Dave Rogers
If Proposal 2008-02 on the Nov. 4 ballot passes, it will provide constitutional protection to embryonic stem cell research in Michigan.
Opponents are running television ads charging that the cost of such research will be great while supporters claim there will be no cost to taxpayers.
A local representative of a non-profit citizen's group, Jane F. Smith, of Hampton Township is making the case in the Bay County area for stem cell research. Ms. Smith, retired employee of the Michigan Department of Human Services, has been making presentations to groups that are interested in the topic of stem cell research. She can be reached at 894-0519.
"We will present the facts necessary so each individual can form his/her own opinion about stem cell research," said Ms. Smith. "As a 501(c) (3) nonprofit charitable organization MCSCRC does not and cannot express support for any piece of legislation or political petition related to stem cell research."
Proposal 2 does not provide state funds for embryonic stem cell research, but would not prohibit use of state funds or ban the legislature from appropriating funds for research.
Supporters say approval of the plan may make Michigan more hospitable to the life sciences industry and lead to greater investment in Michigan universities and research institutions.
Only Michigan and two other states presently ban research on human embryos.
"This restrictive policy could influence the location decisions of scientists and biomedical companies," said. If the proposal passes, it will put Michigan with the other nine states that have laws to specifically permit human embryonic stem cell research.
The proposed constitutional amendment would expand use of human embryos for any research permitted under federal law subject to the following limits:
the embryos --
-- are created for fertility treatment purposes;
-- are not suitable for implantation or are in excess of clinical needs;
-- would be discarded unless used for research;
-- were donated by the person seeking fertility treatment.
The plan would provide that stem cells cannot be taken from human embryos more than 14 days after cell division begins.
It would prohibit any person from selling or purchasing human embryos for stem cell research.
The plan also prohibits state and local laws that prevent, restrict or discourage stem cell research, future therapies and cures.
The group opposing Proposal 2, Michigan Citizens Against Unrestricted Science and Experimentation, has spent about $3 million according to campaign finance reports filed with the Michigan Secretary of State's office. Major contributions were from the Michigan Catholic Conference and Right to Life of Michigan.
Cure Michigan, the supporting group, raised $2.2 million between Jan. 1 and Sept. 18, most costs related to getting the issue qualified for the ballot.
Major contributors to Cure Michigan were the Karmanos Cancer Institute, Quicken Loans Chairman Dan Gilbert and the A. Alfred Taubman Restated Trust.
Another group conducting a strictly informational campaign, Michigan Citizens for Stem Cell Research and Cures, says many scientists believe studying these cells will lead to more effective drugs and an understanding of human development, disease development and birth defects.
In addition, stem cell research also may lead some day to possible treatments for chronic diseases, ranging from heart disease to Alzheimer's, diabetes to Parkinson's, and even spinal-cord injuries.
"Stem cell research is a relatively new area that has provoked one of the nation's fiercest political and ethical debates," states the Michigan Citizens group. "Even the most passionate advocates of this research concede that it is impossible to predict with certainty how long it may take to find new treatments using stem cells. Within the scientific community, however, there is little dispute about the need to pursue stem cell research in order to solve important medical problems."
According to the advocacy group, Michigan, under its current laws on stem cell research, runs the risk of falling behind other states in this vital area of medical research. The group asserts:
"One way Michigan can attract and create new jobs is to promote research in stem cells and other life sciences. The federal government projects that biotech and pharmaceutical companies will hire 12.5 percent more people by 2012. Estimates show that new investments in life sciences with a single state could result in 7,000 new jobs directly related to the biotech industry and 15,000 total new jobs. This would produce an estimated $307 million more in state revenue."
The group statement continues: "Passage of the proposal will end the state's prohibition of research on human embryos and allow researchers to derive new human embryonic stem cell lines in Michigan. It will not alter Michigan's current law that bans human cloning for reproductive and therapeutic purposes.
"While the research is permitted in all 47 states that do not have a law prohibiting it, passage of this proposal would insert into the State Constitution the intent to allow for research on human embryos and the derivation of embryonic stem cells in the state.
"The life sciences industry consists of the type of high paying jobs that Michigan is hoping to attract. However, it must be noted that Michigan already has some investment in the life sciences industry (e.g., the University of Michigan has a Center for Stem Cell Biology and an Exploratory Center for Human Embryonic Stem Cell Research). Passage of this proposal may simply make it easier to attract investment and jobs in the life sciences sector."###
---
---

Dave Rogers




Dave Rogers is a former editorial writer for the Bay City Times and a widely read,
respected journalist/writer in and around Bay City.
(Contact Dave Via Email at carraroe@aol.com)

More from Dave Rogers
---
Send This Story to a Friend!
Letter to the editor
Link to this Story
Printer-Friendly Story View
---
--- Advertisments ---