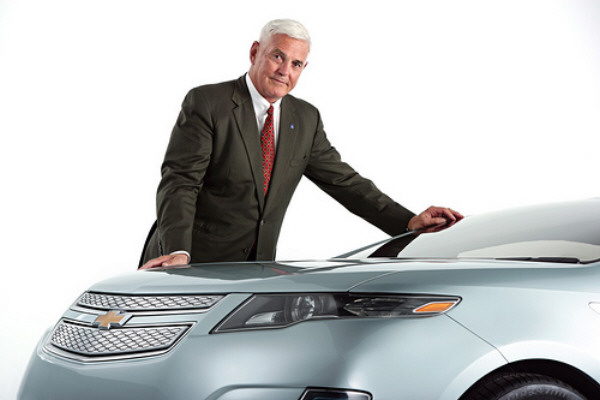 GM vice president Bob Lutz with the prototype electric-powered Chevy Volt. Lutz has revealed the car will have a photo voltaic roof to boost battery power with sunlight.
---
Bay City General Motors Plant Seen Getting Boost From Chevy Volt Project
Tax Incentives From Michigan Economic Development Corporation A Key
October 10, 2008 Leave a Comment
By: Dave Rogers
"We've placed a huge priority on getting the Volt to production as soon as possible." --Tony Pasawatz, Vehicle Line Director - E-Flex Systems and Chevy Volt, General Motors Corp.
State incentives to encourage General Motors to develop and produce the new electric-gasoline hybrid Chevrolet Volt in Michigan may soon give a positive shot to the General Motors PowerTrain plant employment in Bay City.
An announcement is expected yet this month on details of the projected expansion of the one million square foot Bay City plant on Woodside Avenue.
Local business and government officials are hopeful that more positive information on the project will be revealed Tuesday, Oct. 28 when James Epolito, CEO of the Michigan Economic Development Corporation (MEDC), speaks at the Rotary Club of Bay City's noon meeting in Lumber Barons banquet hall, 804 E. Midland St. (Guests are welcomed by contacting a Rotarian.)
Developments as now projected seem sure to include the Bay City GM plant in production of the Volt, the car said vital to the survival and potential growth of the U.S. auto industry as well as impacting the need to reduce dependence on foreign oil.
"I cannot conceive of a more significant development for the future of Bay City than that of the local plant's projected involvement in the Volt," said Mayor Charles Brunner. "Success of this project will be a tribute to the work of a GM retention committee on which I am proud to serve and the facilitation of the Bay Area Chamber of Commerce and Bay Future, Inc., our public-private economic development partnership." (See "Bay City's GM PowerTrain Positioned for Expansion with 100% Tax Exemption," MyBayCity.com Aug. 1, 2008.)
The Bay City plant, that once had employment as high as 4,500, now is operating at the 400 worker level including about 275 in the production area. The plant, formerly the National Bicycle Works, was acquired by an infant Chevrolet Motor Company in 1916 and absorbed into General Motors Corporation two years later. It has been a mainstay of the local economy for 90 years.
The local GM plant is the city's largest taxpayer, bringing in about $1 million a year, and nets Bay County about $800,000 annually.
Besides the new electric-powered Volt, the total project would include additional advanced energy and conventional fuel vehicles and components.
According to Fred Hollister of Bay Future, Inc., pending company approval, GM is considering expanding facilities in Detroit-Hamtramck, Pontiac, Bay City and Warren and building a new facility in Flint.
The project is expected to retain a total of 14,380 jobs in the state and 3,723 direct jobs at GM.
The proposed $838 million project includes upgrades to the Detroit-Hamtramck assembly plant, Pontiac Metal Center, Bay City Components Plant and the GM Technical Center in Warren.
Bay Future says the project would also include the construction of a new facility on a brownfield site in Flint. The Michigan Economic Development Corporation (MEDC) is working closely with the company as it weighs Michigan against competing locations in North America.
Based on the MEDC's recommendation, The Michigan Economic Growth Agency (MEGA) approved a state tax credit worth approximately $122.5 million over 15 years and a brownfield tax credit valued at $10 million in an effort to win the company's investment.
The cities of Flint, Pontiac and Bay City have approved tax abatements to support the project. Bay City's incentive of a 100 percent tax break for 50 years on new equipment is considered one of the most attractive ever offered by a community.
GM project managers state: "The extended-range electric vehicle that is redefining the automotive world is no longer just a rumor. In fact, its propulsion system is so revolutionary, it's unlike any other vehicle or electric car that's ever been introduced. And we're making this remarkable vision a reality, so that one day you'll have the freedom to drive gas-free."
Chevy Volt is designed to move more than 75 percent of America's daily commuters without a single drop of gas. That means for someone who drives less than 40 miles a day, Chevy Volt will use zero gasoline and produce zero emissions.
Unlike traditional electric cars, Chevy Volt has a revolutionary propulsion system that goes beyond the power of the battery. It will use a lithium-ion battery with a variety of range-extending onboard power sources, including gas and, in some vehicles, E85 ethanol to recharge the battery while you drive beyond the 40-mile battery range. And when it comes to being plugged in, Chevy Volt will be designed to use a common household plug.
Said Tony Pasawatz, Vehicle Line Director - E-Flex Systems and Chevy Volt General Motors Corp.:
"We have devoted significant resources to this project: Over 200 engineers and 50 designers are working on the Volt alone, and another 400 are working on related subsystems and electric components. That's how important we think this is, and that's how much stock we place in the future of extended-range electric vehicles like the Chevy Volt."
"Although we haven't said exactly when the Chevy Volt will come to market, we've set our internal targets to complete the vehicle by the end of 2010. The specific date depends on the results of rigorous battery testing that's going on right now."
"We place a great deal of importance on comprehensive testing of lithium-ion battery cells and packs (which are new to automotive applications) over time and in varying conditions...in both labs and vehicles. So we intend to extensively test the Volt battery to ensure it meets our quality, performance and safety expectations.
"We've placed a huge priority on getting the Volt to production as soon as possible. Typically, we would develop the battery and propulsion technology BEFORE we kicked off a production program. But the Volt is being developed with a strong sense of urgency."
Michigan's U.S. Senators, Carl Levin and Debbie Stabenow, last July announced a $6 billion federal program to help the automakers retool for cars of the future. Recently Sen. Levin said:
"American auto companies are facing huge challenges. They are facing a sputtering global economy; the economic downturn and credit market crisis here at home; and the new fuel economy standards that Congress enacted last year.
"The future viability of America's auto companies depends on whether they can produce advanced technology vehicles that will reduce our consumption of oil and greenhouse gas emissions and ultimately save consumers money at the gas pump.
"The funding for these retooling loans in the Continuing Resolution -- which is intended to be fully repaid and not cost the taxpayers anything beyond the administrative costs -- will help our companies stay competitive in the global marketplace and ensure that these technologies enter the market place and continue to be manufactured in America."
On July 31, U.S. Senators Debbie Stabenow, (D-MI) a member of the Senate Democratic Leadership, and Carl Levin (D-MI) announced the inclusion of $6 billion to provide low-interest credit to automobile manufacturers for retooling older factories in the new stimulus package. The legislation also allocates $300 million for the research and development of advanced batteries right here in the United States. The provision is part of a second economic stimulus package announced July 30.
The new legislation, designed to revitalize the economy, came as Michigan's unemployment rate leads the nation at 8.5 percent and as automakers are announcing the elimination of thousands of jobs.
"This critical line of credit and funding for advanced batteries, would not only create good-paying jobs, but would help an industry racing to create the next generation of automobiles that will free us from our dependence on foreign oil," said Stabenow. "At a time when the credit crisis and rising gasoline and energy costs continue to plague our economy, this investment can?t come soon enough."
"I believe it is critical that the federal government provide assistance for retooling our existing manufacturing facilities and for the development of the advanced battery technologies that will be required to support plug-in hybrids and other advanced vehicle technologies," said Levin, the co-chairman of the Senate Auto and Auto Parts Caucus, adding:
"The reality is that our domestic auto manufacturers are competing against foreign countries -- not just foreign companies -- and this federal funding would start to reverse that trend and help to decrease our dependence on foreign oil."
The retooling provision provides up to $6 billion in low-interest credit to American automakers to finance the retooling of existing manufacturing facilities, apparently including the Bay City plant. These facilities can then be utilized to produce the next generation of alternative fuel and advanced technology vehicles, such as hybrids, plug-in hybrids, advanced diesel and fuel cell vehicles.
The second economic stimulus includes an additional $300 million to help domestic manufacturers produce advanced batteries. This funding will help resolve problems in developing long-term, cost-effective storage systems, the biggest hurdle to bringing plug-in hybrid or pure plug-in vehicles to the marketplace, said the Michigan senators. ### ###
---
---

Dave Rogers




Dave Rogers is a former editorial writer for the Bay City Times and a widely read,
respected journalist/writer in and around Bay City.
(Contact Dave Via Email at carraroe@aol.com)

More from Dave Rogers
---
Send This Story to a Friend!
Letter to the editor
Link to this Story
Printer-Friendly Story View
---
--- Advertisments ---