Economic Development Study, Coalition Executive Director Planned
City Summit Shows Cooperation, Progress as "Action Plan" is in the Works
October 20, 2003 Leave a Comment
By: Dave Rogers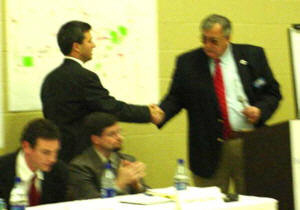 City Commission President Robert Katt welcomes Representative Joe Rivet, D-Bay City, to the recent city economic development "summit" at the Community Center.
A $100,000 study by a consulting firm is taking shape as the Bay County response to a need for economic development to address a worsening recession.
Meanwhile, job losses are mounting at area industries and businesses and the tri-countyunemployment rate is climbing.
Completion of a study outlining a direction for growth in Bay County and the hiring of an executive director to lead the effort is probably eight months to a year away, according to local officials.
The study may be funded by $50,000 allocated for economic development by Bay County and matching funds from the Michigan Economic Development Commission.
An organizational effort begun more than a year ago by County Executive Thomas L. Hickner and Chemical Bank-Bay City President Dominic Monastiere appears to be yielding fruit in a public-private coalition for economic development.
Revitalized local government cooperation is emerging with leadership from City Manager Robert Belleman, City Commission President Robert Katt, County Commissioner Brian Elder and County Financial Analyst Robert Redmond. Also, Jeff Mayes, Bangor Township supervisor, is helping to weld together townships to support the economic development effort and State Rep. JosephRivet, chairman of the Economic Development Subcommittee of the Michigan House, and State Sen. James Barcia are providing coordination on the state level.
MEDC's Jay Schwedler, community assistance team specialist, MEDC area representative Brenda Flory, and a representative of Lt. Gov. John Cherry, D-Flint, attended a recent public sector forum at the Community Center, which approximated a local economic development "summit" meeting.
Meanwhile, the news from Lansing is not good, and little help is expected from Washington, which is preoccupied with funding military operations and rebuilding in Iraq.
State Sen. Buzz Thomas, D-Detroit, says legislators have been informed by the Senate Fiscal Agency that revenue estimates are downfor the current fiscal year and down nearly a billion dollars for next year. Even more staggering, are the job loss statistics. Michigan accounts for 3.3 percent of the nation's workforce; however, since 2001 23.3 percent of the nation's job losses have come from the state.
Recent news reports show that since January 2001, the U.S. economy has lost 3.3 million private sector jobs, including 2.5 million in manufacturing. Unemployment has risen to more than 8.9 million people. It is the largest sustained job loss since the 1930s. Michigan alone lost more than 168,000 jobs.
In March 2001, 6,650 Saginaw County residents were unemployed, according to reports in The Saginaw News. That number had climbed to 9,775 by June, the latest figures available for the county from the state Department of Career Development, office of labor market information.
In the Tri-Counties, unemployment in August reached 7.9 percent. Individually, Saginaw County tallied 9.4 percent, Midland County, 5.4 percent, and Bay County, 7.2 percent. State unemployment rates peaked at 9.5 percent in January of 1992.
"As lawmakers and the governor now have to deal with another billion dollar budget deficit, on top of the two billion dollar deficit from lastyear, the time has come for a reassessment of our state tax policy." Sen. Thomas stated, "It is obvious we must create new jobs in our manufacturing sector. This most recent Senate Fiscal Agency report underscores the need for a new direction in state policies necessary to promoting manufacturing growth."
Gov. Jennifer Granholm has launched a "Manufacturing Matters" initiative, but, again, long range development does little to address the present need for jobs.
Unemployment is a hot issue in the Legislature. The House and Senate are trying to agree upon a bill to benefit those currently unemployed. The proposed bill would increase the maximum weekly benefits from $300 per week to anywhere from $315-415 per week, depending on the amount of dependents.
The Senate and House have not yet been able to agree upon a bill. ``It's important to reach a quick compromise on the issue. Every day we delay is another that families struggle to make ends meet,' said Lt. Gov. and Senate Minority Leader Cherry.
It's pretty obvious that there aren't as many jobs, report college seniors struggling to find full-time post-college employment.Programs such as Americorps and Teach for America are filling up fast. Grad schools are turning people down at a higher rate as well.
The job search is definitely becoming more difficult, agreed Bonnie Speyers, Assistant Director of Calvin College's Career Services. For example, Companies have reduced their number of employees and are looking for people who can multi-task, leaving students fewer options, she said.
The current unemployment rates do not just affect full-time jobs, but part-time and summer jobs as well.
---
---

Dave Rogers




Dave Rogers is a former editorial writer for the Bay City Times and a widely read,
respected journalist/writer in and around Bay City.
(Contact Dave Via Email at carraroe@aol.com)

More from Dave Rogers
---
Send This Story to a Friend!
Letter to the editor
Link to this Story
Printer-Friendly Story View
---
--- Advertisments ---