National Public Policy Response Urged to Halt Plunge in Teen Employment
Students at Tuscola Technology Center Interviewed by 85 Volunteers
November 9, 2008 Leave a Comment
By: Dave Rogers
Many of the students at the Tuscola Technology Center have tried to get summer or part-time jobs but found few available.
A group of retired Bay City school administrators was among 85 volunteer interviewers last Thursday helping students sharpen skills to acquire jobs.
"We really appreciate all the help the volunteers give us," said Principal Steve Ley. "This program gives the kids a much better idea of what it is like out in the workplace."
Officials, counselors and teachers -- as well as students -- at the Tech Center confirmed what national reports have indicated: the job market for teens is very slim right now.
The Center for Labor Market Studies, Northeastern University, Boston, reports the weakening job market, now showing the national unemployment rate at 6.5 percent, has continued to take a severe toll on employment opportunities of teens and young adults across the country.
Officials of the Center for Labor Market Studies testified before Congress that the summer job market for teens would be extremely weak and forecast a seasonally adjusted teen summer employment rate of only 34.2 percent, which would have marked a 60 year historical low teen employment rate.
The Center produced a report "The Collapse of the National Teen Job Market and the Case for An Immediate Summer and Year Round Youth Jobs Creation Program," prepared for the U.S. House of Representatives, Committee on Labor, Health, Human Services, and Education, Washington, D.C., March 2008.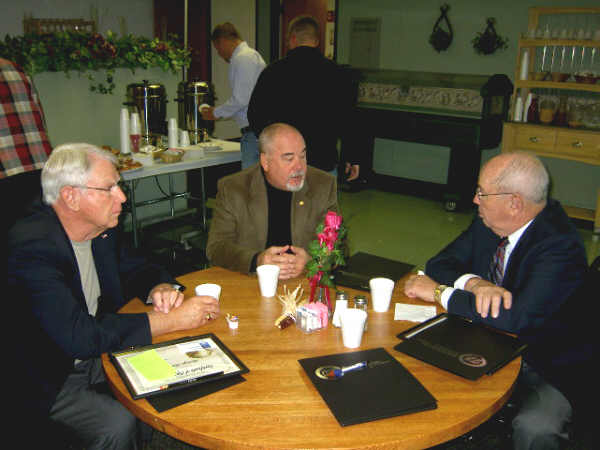 Retired school administrators, from left, George Stevenson, Tom Broka and Al Bryant, await orientation at Tuscola Tech Center interview day for vocational students.
(MyBayCity Photo by Dave Rogers)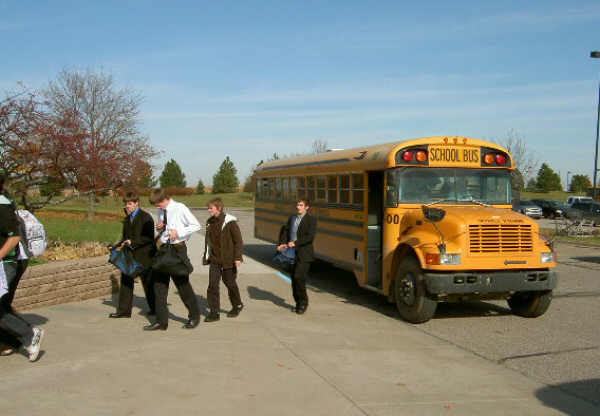 Tuscola Tech Center students pile off buses from nine different districts for half day of work-related education.
(MyBayCity Photo by Dave Rogers)
The report states: "With the recent release of the August 2008 employment data for teens by the U.S. Bureau of Labor Statistics, we can now examine how the nation's teens fared in the labor market this past summer, how successful teens in various gender, race-ethnic, and household income groups were in obtaining some type of employment, how steep the declines in teen summer employment rates have been since the end of the national labor market boom in 2000, and how severe the labor underutilization rates of teens have been. The case for an immediate national public policy response to boost teen employment prospects over the next year is clear, the Center commented:
"Billions for financial bail outs, but not one cent for employing the nation's youth." "A deep darkness has descended upon the nation's youth labor market over the past eight years, and very few national political leaders have stood up to light a candle. All of the interventions to boost teen employment prospects have come at the local and state level including Boston, Chicago, Los Angeles, New York City, and the states of Minnesota and Massachusetts.
"The national government has failed to provide any monies to put youth back to work either year round or during the summer despite several bills introduced in the Senate by Senator Murray of the state of Washington (Senate Bill 2755) and Rep. James Clyburn of South Carolina (House Bill 5444).
"A fiscal stimulus of between $150 and $200 billion was enacted in the late winter to boost consumption spending, and multiple billions were authorized this late spring to provide extended unemployment insurance benefits to adults for doing nothing. The Federal Reserve has just provided $85 billion for the private sector insurance firm AIG, but the federal government has provided not one dollar for youth.
"We earlier argued that the fiscal stimulus would do nothing to put America's teens back to work but would provide a substantial economic shot in the arm for OPEC and China through imports of gas and clothing/ household items at the Walmarts of America and their ilk.
"Unfortunately, pessimistic projections were proven to be more than accurate. Teen employment rates declined after the stimulus went into effect with no end in sight. Given the deep continued weakness in teen job markets, declining payroll employment levels across the country, and the extremely high levels of joblessness among young (16-17), Black and Hispanic, and low income teens, we call upon the U.S. Congress to immediately enact a jobs stimulus bill to put the nation's teens and young adults (20-21) back to work starting this Winter and reaching a peak during the summer of 2009.
"At least $3 billion would be appropriate for distribution to states and local Workforce Investment Boards to help place teens and young adults in jobs in the private for profit, nonprofit, and government sectors. Funds appropriated under the act (the Youth Jobs Opportunity Act of 2008) can be used for each of the following purposes.
"Hiring a staff to develop unsubsidized jobs for youth in the private, for profit and nonprofit sector and provide on-site support and followup services.
"The payment of partial wage subsidies to private for profit firms for the employment of target youth during the January-May period and the summer months of 2009. Firms would make good faith efforts to retain such youth at the end of the subsidy period.
"The creation of subsidized jobs for teens and young adults in the nonprofit and public sectors with specific employment and skill attainment goals.
"The provision of academic and vocational skills to youth employed in the summer and year-round program. This instruction can be provided either at the worksite or in offsite classrooms.
The goal is to place between 400,000 and 500,000 teens into jobs between January and May and to have no less than 1 million primarily low income youth employed during the summer of 2009."
National labor market conditions have weakened considerably since the early winter of 2008. Since December 2007, nonfarm payroll employment (seasonally adjusted) has declined for eight consecutive months, falling by 605,000 over this eight month period.
All of the net decline in wage and salary employment has taken place in the private sector where jobs have declined steadily since November 2007, falling by 772,000 over this nine month period. In response to these job declines, overall unemployment has risen, and the national unemployment rate (seasonally adjusted) jumped sharply, now at 6.5 percent.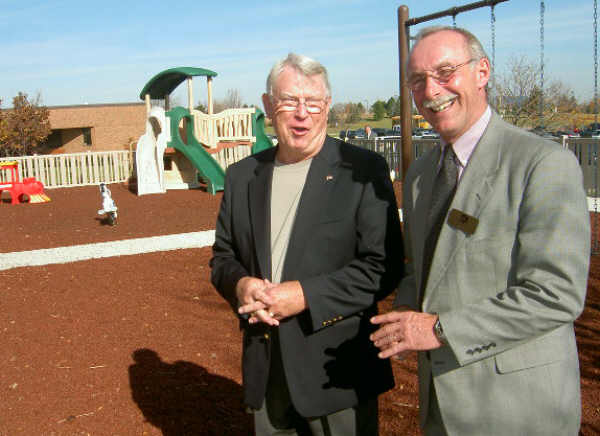 George Stevenson confers with Steve Ley, right, principal of Tuscola Tech Center, Caro, as he shows off new child care playground built by Tech Center students in seven days.
(MyBayCity Photo by Dave Rogers)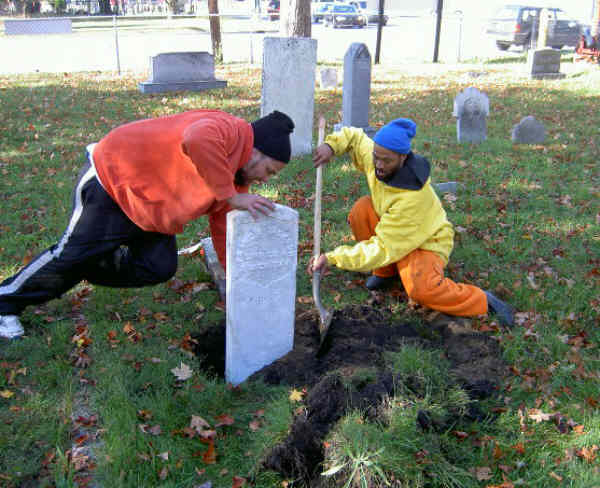 Twins Johnny and Freddie Walker from Bay City found some part-time summer work helping Friends of Historic Pine Ridge Cemetery install new headstones of Civil War veterans received from the Veterans Administration.
(MyBayCity Photo by Dave Rogers)
###
---
---

Dave Rogers




Dave Rogers is a former editorial writer for the Bay City Times and a widely read,
respected journalist/writer in and around Bay City.
(Contact Dave Via Email at carraroe@aol.com)

More from Dave Rogers
---
Send This Story to a Friend!
Letter to the editor
Link to this Story
Printer-Friendly Story View
---
--- Advertisments ---