Bay City's Carbone Lorraine, World Leader in Three Industry Areas, Booming
High Tech Materials Firm Banks on Solar Energy Irreversible Trend
October 26, 2008 Leave a Comment
By: Dave Rogers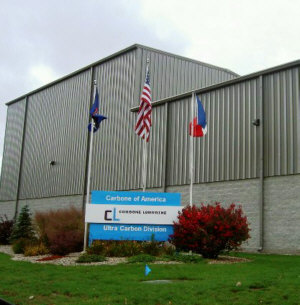 Carbone Lorraine Ultra Carbon Division, 900 Harrison St., Bay City.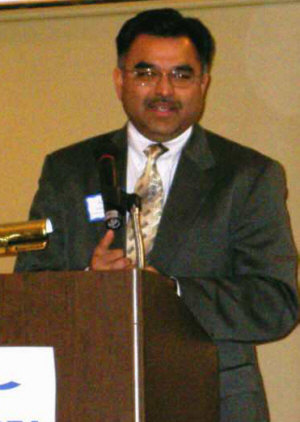 Sohail Qamar, general manager of the Bay City plant.
Solar energy is powering a part of Bay City's industrial future.
Solar is project to shine here both through Dow Corning and a firm with roots here from the post World War II era. (See MyBayCity.com Aug. 14, 2005, "Atomic Energy Contract Put Bay City Firm in Graphite Purification Business.")
Carbone Lorraine, Ultra Carbon Division, 900 Harrison St., is part of an international firm that is a leader of graphite solutions and electrical components.
The local firm employs about 130 persons and recently completed an $11 million expansion of its plant.
General manager of the local plant is Sohail Qamar, an MBA graduate of Ohio State University in 1998.
Carbone, headquartered in Paris, France, is expecting demand for graphite to double by 2012. The firm will grow 20-30 percent in the near future by focusing on products related to renewable energy, officials predict.
Carbone Lorraine has recently signed two major contracts with unidentified customers in the solar energy industry:
- The first covers the isostatic graphite needs of one of the major producers of polysilicon, the basic raw material required to manufacture solar panels. The contract is worth a total of around $60 million over four years.
- The second covers the supply of graphite systems to a major manufacturer of equipment for the solar industry. It is worth around $25 million and runs for 13 months.
These two contracts are in line with the Group's policy of strengthening its partnerships with leading customers in its target markets. They also show the new determination of certain major players to secure their purchases of graphite equipment over the long term.
"These two major contracts will underpin Carbone Lorraine's positioning in the solar segment, which is enjoying very rapid growth," says Claude Cocozza, chairman and chief executive officer of Carbone. "This highly demanding industry's customers appreciate Carbone Lorraine's extremely pure graphite, the very large size of the components delivered, which provide them with economies of scale, and the location of our production workshops at the heart of the US, European and Chinese markets."
Carbone Lorraine specializes in the implementing of high technology materials in demanding industrial environments and in the development of systems, which are fundamental to the smooth operation of the motor and the protection of electrical equipment.
With over 85 percent of its sales internationally, the Group holds leadership positions in all of its occupations.
Advanced Materials and Technologies: - No. 1 worldwide in anti-corrosion equipment in graphite;
- No. 2 worldwide in high temperature applications of isostatic graphite;
Electrical Applications: - No. 1 worldwide in brushes for electrical motors;
Electrical Protection: - No. 1 worldwide in fuses for powerful semi-conductors;
- No. 2 worldwide in industrial fuses.
Carbone Lorraine is one of the first companies to have developed the industrial applications of carbon and graphite around the world over a century ago.
Carbone Lorraine has 6,500 employees in 40 countries, including a dozen plants in Europe and other facilities in Africa, Mexico, Canada, South America, Australia, Scandinavia and China.
Besides the Ultra Carbon Division in Bay City, Carbone has plants or labs in Greenville and Midland, Michigan, Wooster, Ohio, Oxnard, California, Gonzales, Louisiana, Newburyport, Massachusetts, Boonton, New Jersey, Walnut Grove, Mississippi, and St. Marys, Pennsylvania.
Carbone Lorraine has embarked on the process of transforming itself into a growth company over the past four years predicated on four growth drivers, i.e. energy efficiency, Asia, innovation and acquisitions, said Mr. Cocozza, adding:
"Furthermore, the increase in global demand for energy, together with the threat posed by global warming, has triggered a powerful and irreversible trend towards the development of renewable energies. This trend has created an exceptional opportunity for Carbone Lorraine."
The firm has a goal to become the leader in graphite for the solar industry. Graphite is a key consumable in the production of silicon, the material used to manufacture solar cells. Given the growth projections for solar cell production, the Group anticipates a near-doubling in demand for graphite by 2012.
These investments will be topped up by organic growth and acquisitions in the processing of graphite and other materials related to the solar industry, which will strengthen the Group's offering of high value-added equipment.
Carbone Lorraine is targeting sales of $160 million to $180 million by 2012 in the solar segment, compared with $12 million in 2007.
Wind energy already accounts for a very large proportion of the generating capacity installed each year in the United States and in northern Europe. Carbone Lorraine already possesses an extensive range of products including brushes, slip-ring assemblies for current collection and signal transmission systems. The Group has recorded very substantial growth in these markets for several years. It recently decided to expand its development and production capacity serving Europe and Asia.
La Compagnie Lorraine de Charbons pour l'Electricité was set up in the Moselle region of eastern France in 1891. It originally manufactured electric motors, dynamos and street lamps before producing coal for electric lighting purposes. Le Carbone, which was founded in 1892 in the Parisian region, produced brushes for electric motors. In 1893, Charles Street, an engineer at Le Carbone, discovered and patented a carbon graphitation process making it possible to manufacture graphite synthetically.
Carbone Lorraine SA was formed in 1937 from the merger of both companies. Introduced to the Paris Stock Exchange when it was created, Carbone Lorraine is now listed on the Premier Marché exchange.
###
---
---

Dave Rogers




Dave Rogers is a former editorial writer for the Bay City Times and a widely read,
respected journalist/writer in and around Bay City.
(Contact Dave Via Email at carraroe@aol.com)

More from Dave Rogers
---
Send This Story to a Friend!
Letter to the editor
Link to this Story
Printer-Friendly Story View
---
--- Advertisments ---