New Local Poet, Adrienne Lewis, Releases Chapbook "Coming Clean"
"Soft Spots" of Poet Belie Hard Realities of Life, Words to Rock Readers
October 30, 2003 Leave a Comment
By: Dave Rogers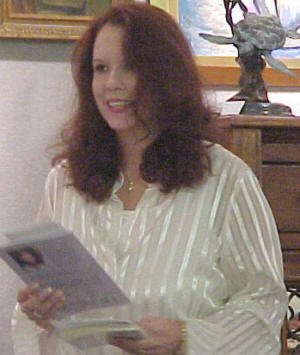 Adrienne Lewis reading her book of poetry, "Coming Clean," at the A&J Gallery, Fourth and Washington in downtown Bay City
Adrienne Lewis has embarked on an unusual career for a recent university graduate. She is a poet.
Well, she also is a professional grant writer, co-editor of the Paradidomi Review and a columnist for MyBayCity.com. But in her role as poet she was introduced to the Bay City literary scene at a reading introducing her book of poetry, "Coming Clean," at the A&J Gallery, Fourth and Washington.
The 40-page edition is the latest to be published by Mayapple Press, a Saginaw mini publishing house
(www.mayapplepress.com)
run by Dr. Judith Kerman, professor of English at Saginaw Valley State University.
"It is not often I offer to publish a student's honors paper," commented Dr. Kerman, introducing the budding poet at the gallery on Wednesday, Oct. 29. A small but appreciative crowd gathered amidst an amazing variety of art, from baroque religious stained glass to paintings of cartoon characters, offering something for almost everyone.
The young Saginaw resident and recent graduate of SVSU's interdisciplinary honors program, read from her new collection, some of which she described as "works in progress," indicating an abiding sense of perfection not uncommon in the personas of successful writers.
"I guess what I'm presenting to you are my soft spots," said the poet after delicately reading one particularly sensitive piece.
Critic Gerry LaFemina writes of the book: "The poem as a form of prayer is one of poetry's earliest tradition, and in Coming Clean, Adrienne Lewis has written a collection of prayers that, although looking toward the sacred, never turns its back on the profane, on the gloriously human. These are strong lyric poems, an impressive debut."
"Adrienne writes perceptively about both childhood and adult dangers, about fears and longings, about sinning and finding grace," commented Larry Levy, another commentator for the book's back cover.
Levy is certainly on point. Mrs. Lewis, the wife of a police officer, tackles rape, her mother's cancer, infidelity, sibling rivalry and death in 30 short poems with titles like "Scarlet Letter," "Offended," "Apostasy," and "Scar Tissue."
Much of her poetry is powerful stuff, rife with criminal, religious and sexual symbolism. An example: "Girls were attacked that summer in the nearby mall parking lot: he hid under cars, slit their ankles so they couldn't run away..."
In the course of her work as a grant writer, Mrs. Lewis met Sr. Mary Epple, a Sister of Mercy who works at St. Mary Parish. This friendship resulted in a poem in the collection, "Grand Silence," reporting on the ancient practice of the nuns of abstaining from conversation from 6 p.m. until morning.
"The silence was so they could talk to God undisturbed; sometimes she wishes she still observed it," recounted Adrienne.
Adrienne is a fan of Wonder Woman, a fictional miracle worker in satin tights, an affinity which betrays a burning ambition to rise above the hum drumnity of small town life in mid-Michigan.>br>
Readers of her work will realize that she has already achieved that goal.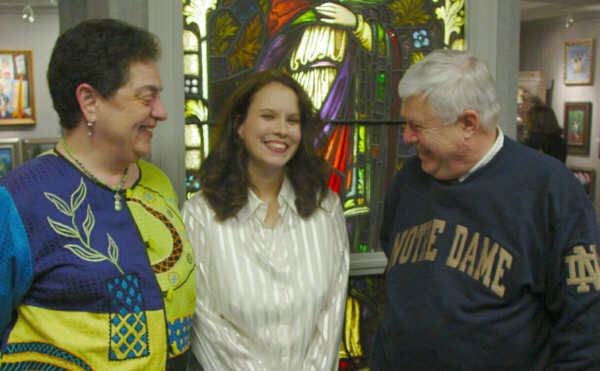 Adrienne Lewis at the introduction of her book at the A&J Gallery with Dr. Judith Kerman and gallery co-owner Dr. James Letson.
---
---

Dave Rogers




Dave Rogers is a former editorial writer for the Bay City Times and a widely read,
respected journalist/writer in and around Bay City.
(Contact Dave Via Email at carraroe@aol.com)

More from Dave Rogers
---
Send This Story to a Friend!
Letter to the editor
Link to this Story
Printer-Friendly Story View
---
--- Advertisments ---