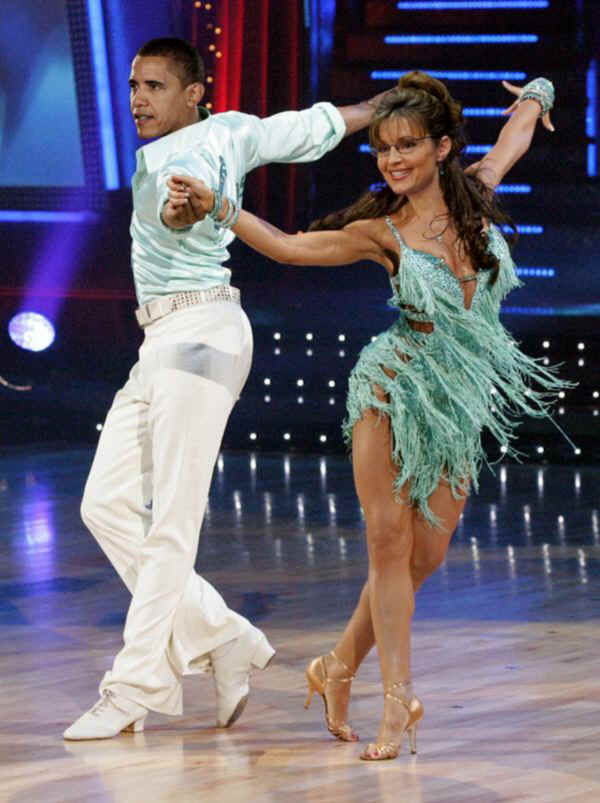 Obama and Palin Cavort During Recent Stumping Trip Through Bay City.
---
Intern Program Working Out Really Well at MyBayCity
Young workers go the extra mile to provide "exclusive" photo coverage
October 30, 2008 1 Comments
By: O. J. Cunningham
It's really great to get to work with some of these young photographers that are working at MyBayCity as photograph interns.
This recent photo (above), taken by one of our young foreign exchange student interns (IGOR) is clearly "exclusive coverage" of Obama and Palin as they danced the night away (Probably at the DoubleTree) during a recent campaign tour through Michigan.
Two things are obvious about the above photo (to me):
(1) The young people of the technology generation have a step up on old-timers around here like Dave Rogers and Julie McCallum. These news professionals (as IGOR e-mailed me last night) were not even aware that Palin or Obama were in town . . . let alone all gussied up and performing at the DoubleTree.
(2) It's wonderful to see Dems and GOP candidates reaching out to one another during the last weeks of a somewhat negative campaign -- and put aside differences for the sake of the common good.
My hat is off to Obama and Palin. And to Igor (I've got to learn IGOR's Last name.)
Great Job IGOR! I'm hoping this photo gets picked up by the Associated Press -- It'll be a big day for MyBayCity if that happens.
Heyyyyyyyyyyyyyyyyyyyyy!
Wait a cotton-picking' minute . . .! I just thought of something . . .
I hope this here picture is the real thing.
How embarrassing for MyBayCity if it was a "fake" . . .
What if that's really Tina Fey?
I'm gonna take a chance. I trust IGOR completely -- Whatever his last name is.
---
Columns Article 3228
"The BUZZ" - Read Feedback From Readers!
jchowell Says: On November 03, 2008 at 07:10 AM

Yep, they were here in Oscoda, too! They were seen getting out of a flying saucer over on the beach. They did a tango at the pavillion and then went a got a burger at McDonald's. You should have seen the look on people's faces when the saucer pulled-up to the drive-through window.
Some folks said it was a miracle but I think it was a Big Mac with Fries.
---

O. J. Cunningham




O. J. Cunningham is the Publisher of MyBayCity.com. Cunningham previously published Sports Page & Bay City Enterprise. He is the President/CEO of OJ Advertising, Inc.

More from O. J. Cunningham
---
Send This Story to a Friend!
Letter to the editor
Link to this Story
Printer-Friendly Story View
---
--- Advertisments ---