The Bay City State Theatre Presents 'Another Night of Vaudeville'
Thursday, November 13, 2008 at 7:00 PM
October 30, 2008 Leave a Comment
By: Mike Bacigalupo - State Theatre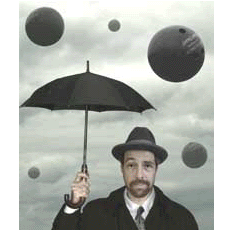 'Another Night of Vaudeville'
The Bay City State Theatre Presents 'Another Night of Vaudeville' Thursday, November 13, 2008 at 7:00 PM
The Great Kaplan:
DAVID KAPLAN, virtuoso juggler, magician, inventor, musician, deadpan physical comedian, brings his one-man variety show to the State Theatre Bay City. Inviting the audience into the humor is the focus of the show. Whether he's juggling bean bag chairs, playing a melody on 'concert balloon', or defying the laws of physics with a bowling ball, Kaplan's preposterous blend of dazzling skill and shameless gimmickry is sure to amaze and amuse.
Notable shows include a recent performance as guest 'balloonist' with the Columbus Symphony Orchestra and network television appearances on ABC TV's 'The View' and "The Statler Brothers Show" on TNN. David has headlined internationally on major cruise lines, from Bermuda to the Mediterranean to Tahiti. Kaplan has also opened shows for numerous renowned performers including Steven Wright, Dennis Miller, David Spade, Leon Redbone, David Brenner, Harry Blackstone Jr., and the Smothers Brothers. Since the early eighties, David has delighted audiences of all ages with his highly original act.
Inspired by the antics of Keaton, Sellers, Victor Borge and the illustrious Maxwell Smart among others, Kaplan delivers a most unique and hilarious spectacle. Kaplan's greatest talent may lie in his uncanny ability to appeal to a wide cross-section of the audience. Spectators, young and old visit a wonderfully strange world they will not soon forget. David resides in Columbus, Ohio, with his wife and two children.
Bob Bloenk:
With a little bit of this and a whole lot of that, you're in for one unforgettable night when Bob hits the stage! Bob unique blend of comedy, music, and audience participation will have you laughing 'til your sides ache.
Gene Anderson
discovered magic at age eight when an uncle showed him a coin trick. He was captivated then, but he became truly hooked the day he first heard applause for his own performance. Magic has held a life-long passion for him ever since, and he has now performed magic professionally in 21 countries on six continents.
Gene was awarded seven first-prize trophies in magic competitions for stage, comedy, close-up and originality, he has been on the covers of GENII and THE LINKING RING magazines, and he was nominated for two Academy Awards by the Academy of Magical Arts in Hollywood. He is a past board member of the International Brotherhood of Magicians, the world's largest magical organization, and he is proud to be one of only six performers honored as lifetime members of the Magic Circle of Norway. Among his many magical writings, his book "Newspaper Magic," now in its eleventh printing, is one of the best selling ever! Gene is also a professional speaker, and he often incorporates a bit of magic into his speaking presentations.
Gene earned a doctorate in chemistry from the University of Texas at Austin and he did post-doctoral research in electron diffraction at the University of Oslo in Norway.
La Voz
is an extra-curricular contemporary a capella ensemble from Herbert Henry Dow High School in Midland, Michigan. The group was formed in the fall of 2004 and won the Showmanship trophy at the National Championship of High School A Capella competition in Chicago, Illinois. The ensemble has continued to place in regional competitions and has received additional trophies for Showmanship and Outstanding Soloist. The ensemble performs vocal jazz and selections from the contemporary a cappella repertoire. They are under the direction of Shirley J. Vincent-Rose also of Midland.
The Xylophone Player
John Hill holds BME and MM degrees from Central Michigan University. He has been teaching band for Holly Area Schools since 1998 and, in 2003, was awarded a "Teacher of the Year" citation from WDIV and Oakland County. Prior to working in Holly, John taught in Muskegon for 4 years, where he co-directed the MHS Jazz Lab I who performed in Ann Arbor for the Mid-West Conference in 1996. He has been an adjunct percussion teacher at the University of Michigan-Flint since 2003, and has also been on the adjunct faculty of Mott Community College since 2006.
John is currently performing with several of Michigan's top jazz groups, society bands and orchestras including the New Reformation Dixieland Band, Bijou Orchestra, Paul Keller Orchestra, Dave Bennett Quartet, The Diamonds and the Steelheads. In recent years John has performed with the Steelheads at the Detroit International Jazz Festival and the Syracuse (New York) Jazz Festival. He has taught several summer music camps such as; the University of Michigan-Flint Summer Music Academy, Blue Lake Fine Arts Camp, the Alma College/Hohner Institute of Percussion Camp, and the Jim Lee Fine Arts Camp.
In 2007 and 2008 he adjudicated the Central Michigan University Jazz Festival. In 2007 he adjudicated the Thornapple Valley Jazz Festival and in 2008, not only judged the festival but was also the guest conductor of the High School All-Star Band and was a featured performer at the festival. During his college years, he recorded several CD's with the Robert Hohner Percussion Ensemble on the DMP Label, and performed at the North Sea Jazz Festival in the Netherlands with CMU's Jazz Lab I.
The Fiddler
Come see another great act by Andy Rogers.
Tickets are $10.00 Adults and $5.00 Students
Buy Tickets On-Line
---
---
---
Send This Story to a Friend!
Letter to the editor
Link to this Story
Printer-Friendly Story View
---
--- Advertisments ---