2nd Half Western (INCLUDE)
November 1, 2008 Leave a Comment
By: John Keuvelaar
Following half time adjustments, each team always looks to make a statement. With Traverse City Central receiving the ball, naturally it was to get back into the game on the scoreboard. Starting from their 31, QB Mack Sovereign made a pump fake, ducked a rusher and looked deep. But you don't give Lucas Kozuch that much time to rush the quarterback as he nailed Sovereign with a statement hit knocking the Trojans back to their 23. This resulted in a three and out and Western had it's turn to make an offensive statement.
Starting from their 41, Gwizdala went, where else, up the middle for 11 yards to the Trojan 48. A flanker screen to Corey Arnold moved the ball to the 39. On fourth and one, Osentoski faked the hand off and hit well covered Justyn Witzgall down the middle with a nice touch pass to the 5. Osentoski made a very athletic play when he took it up the middle and stopped short of the goal line was able to break the goal line plane with the ball and another Warrior touchdown making it 26-7 with 7:11 left in the third quarter.
Traverse City then went to some trickery as they attempted a half back pass. But Sam Penkala would have nothing of this as he blew through blockers sacking the would be passer for a 10 yard loss. Having been forced out of their ball control offense, the Trojans were forced to pass. Knowing this, the Warrior defensive line took over and put heavy pressure on the QB all night. They forced another three and out.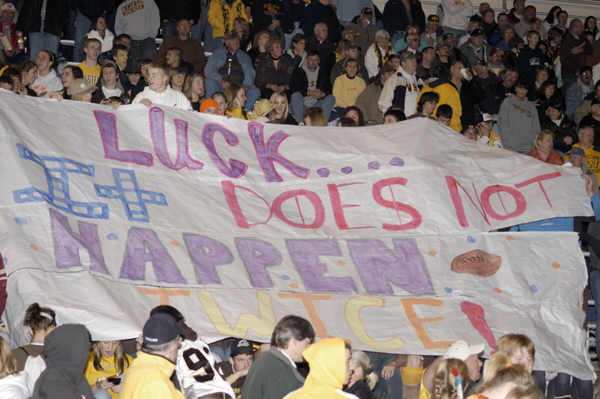 Warrior fans wanted to make the message clear.
(MyBayCity Photo by John Keuvelaar)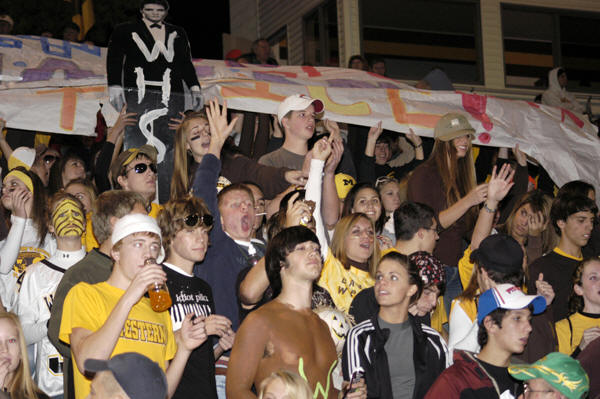 They were pumped all night.
(MyBayCity Photo by John Keuvelaar)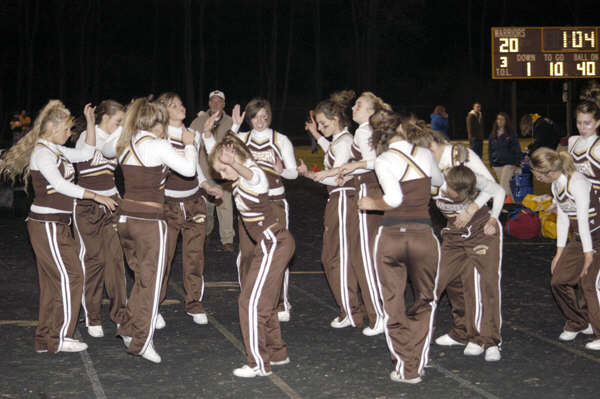 The cheerleaders were dancing to the bands toons at half time.
(MyBayCity Photo by John Keuvelaar)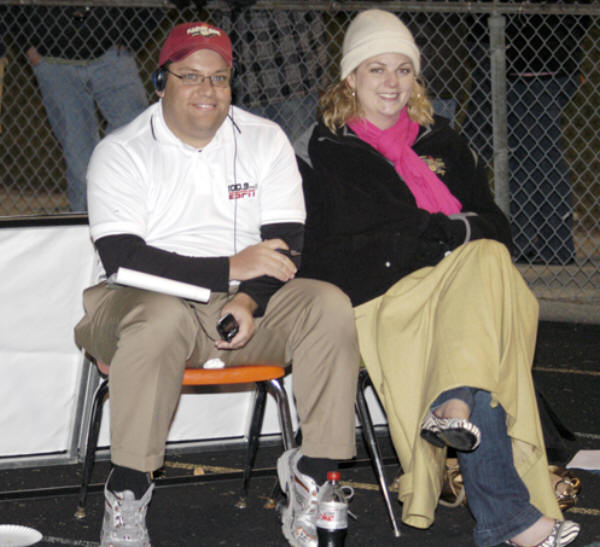 While ESPN was there, that doesn't look like Chris Berman.
(MyBayCity Photo by John Keuvelaar)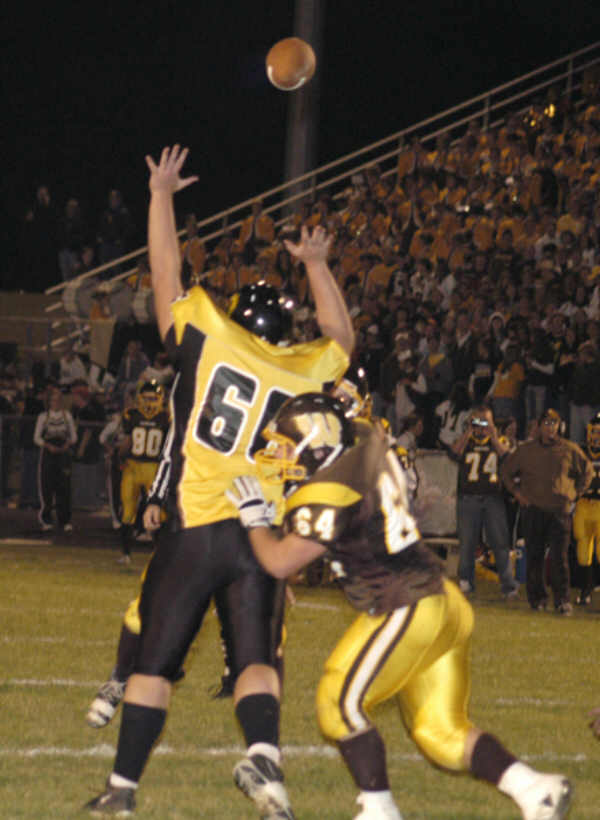 Scott Osentoski (hidden by 66) launches a pass over Kyle Taelman (66) as Kris Wozniak (64) moves this mountain.
(MyBayCity Photo by John Keuvelaar)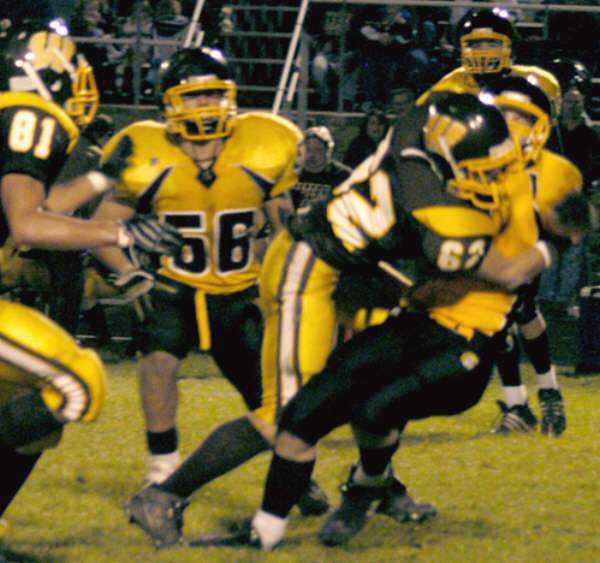 Sam Penkala (62) says NO! to this half back pass.
(MyBayCity Photo by John Keuvelaar)
Following the punt, Western took Justin Gwizdala out of the game. "Gwizdala is still hurting so we held him out in the second half. He could have gone back in if we needed him and this allowed others to get some work in," noted Coach Eurick. The Trojans didn't mind as Gwizdala had already gained 112 yards. But Mr. Osentoski was still there. He hit Kevin McCann with a nice strike to the 39. The Trojans defense stiffened and Western turn it over on downs at the TC 32.
Knowing Traverse City had to pass, the Western line took over. Hard rushes forced quick passes and another three and out. On the punt, a bad snap was fumbled and Western had the ball on the 15. On the very next play, Western gave the ball back on a fumble and a game ending disaster was avoided.
The Trojans adjusted to the rush by going to roll out passes but it was too little too late as the Western defense bent but didn't break. Traverse City marched the ball to the 4 but a fourth down shuffle pass was fumbled and a score was stopped.
TC soon got the ball back and marched back down. A middle screen to Mike Helm good for 26 yards put the ball on the 14. A seven yard slant pass to Zack Zoelinger put it on the 7 where Alex Fancy finished things off fighting his way into the end zone from the 2. A failed two point conversion left the final score at 26-13.
Traverse City mustered one more rally when a snap sailed over Osentoski's head and was recovered by TC at the Western 35. A Dan Alba interception in the end zone ended that threat and the game.
Scott Osentoski finished the night throwing for 103 yards on 8 for 9 passing including a two point conversion. Evan more impressive, for the second straight week filling in for the injured Matt Grew he directed the Warrior attack with extreme precision. "He's been the backup (quarterback) for the last two years. He knew his role and has really stepped in here. He is a two way player. He's played defense for us. He's done an outstanding job," beamed a happy Coach Eurick.
Western now plays a familiar foe in Midland High at Western next week for the District crown. Time of that game to be announced.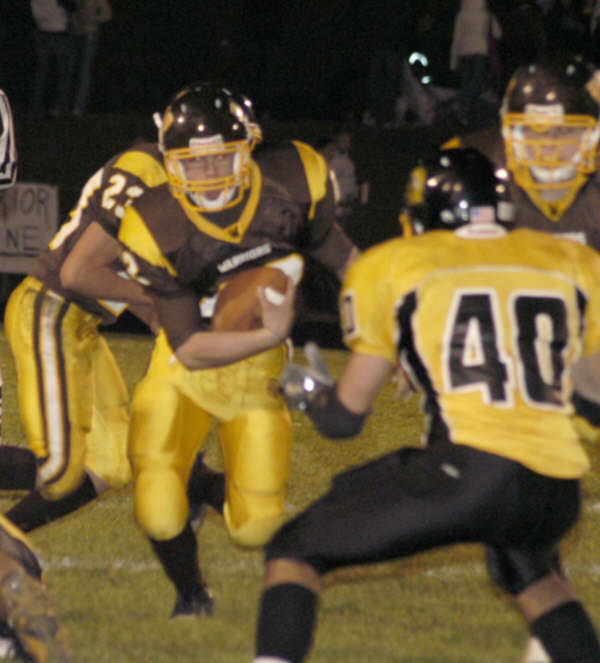 Joe Hanisko (22) finds running room to his liking.
(MyBayCity Photo by John Keuvelaar)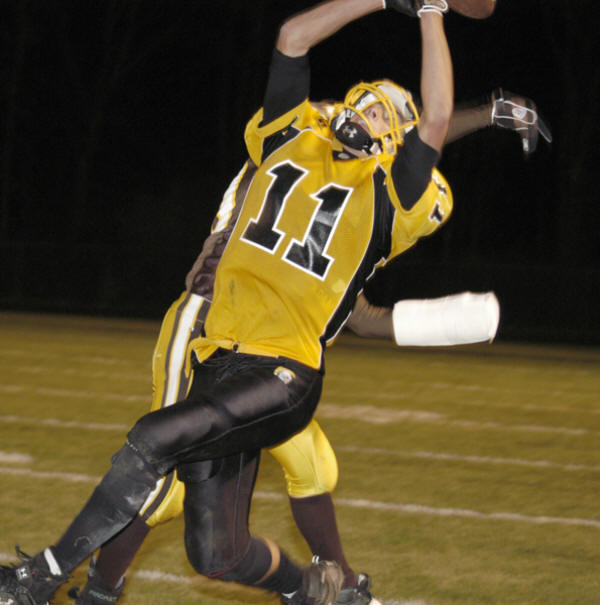 Just off of Zach Zodliner's (11) finger tips.
(MyBayCity Photo by John Keuvelaar)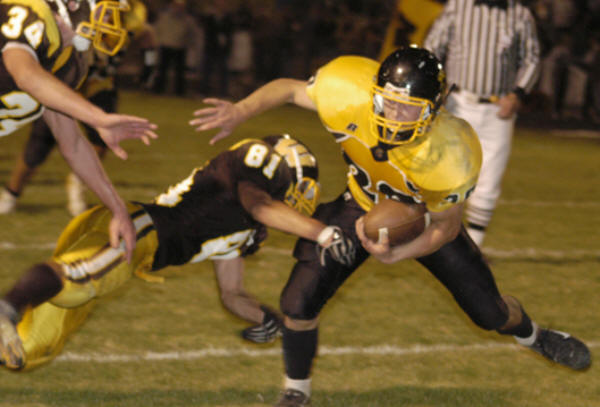 Jacob Borysiak (20) is about to be nailed by Justyn Witzgall (81) and Casey Foley (34).
(MyBayCity Photo by John Keuvelaar)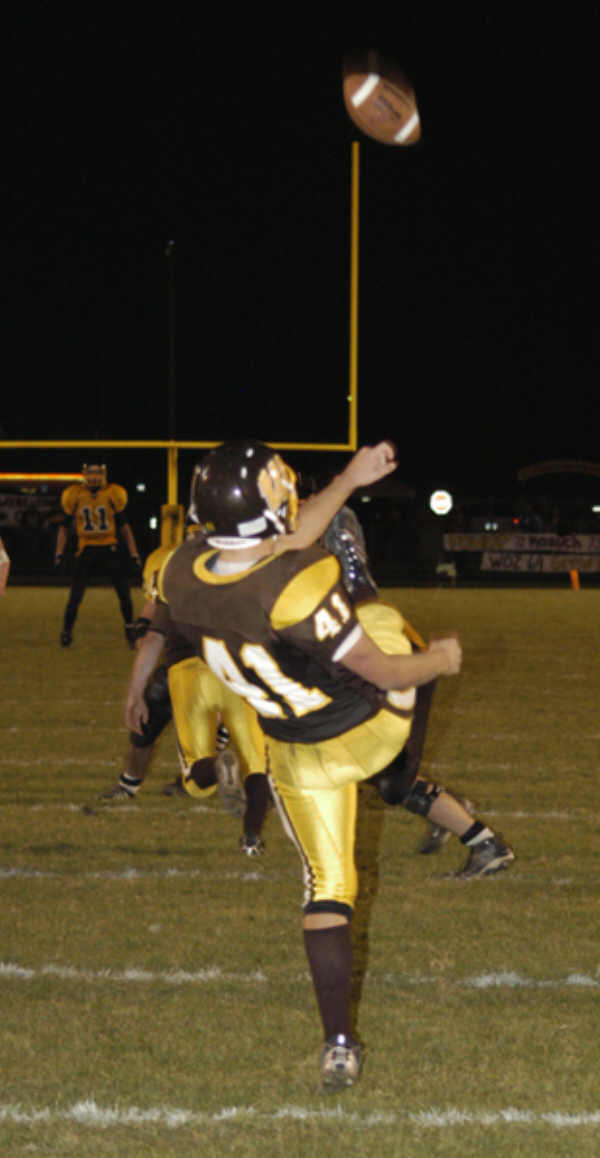 Corey Arnold (41) gets them out of trouble again, this time with his foot.
(MyBayCity Photo by John Keuvelaar)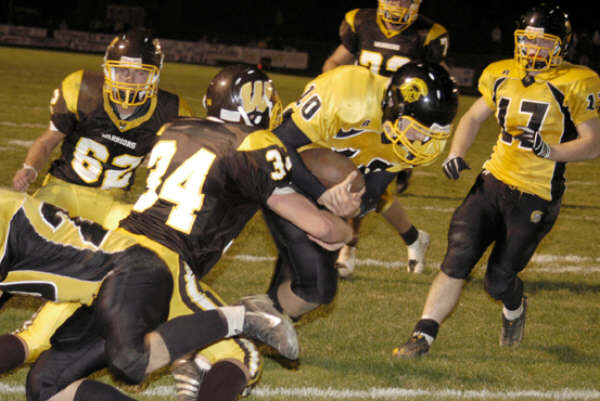 Mark Sovereign (10) took a pounding all night with this blow being delivered by Casey Foley (34).
(MyBayCity Photo by John Keuvelaar)
---
---

John Keuvelaar




John Keuvelaar is a college student at Midwest Photography Workshops and Delta College.

More from John Keuvelaar
---
Send This Story to a Friend!
Letter to the editor
Link to this Story
Printer-Friendly Story View
---
--- Advertisments ---