Quanicassee River Dammed by Beavers, May Have to Be Dynamited
Farmers Complain of Drainage Problems Caused by Busy Pair, Trapper Called
November 9, 2008 Leave a Comment
By: Dave Rogers
What happens when a 50 foot river that drains farmland is dammed by a pair of busy beavers?
Farmers contact the drain commissioner, who in turn contacts a trapper to eliminate the troublesome semi-aquatic rodents.
Ron Mitrzyk of RNT Wildlife Control, 4364 S. Mackinaw Road, recently got the call from Bay County Drain Commissioner Joe Rivet, grabbed his traps (he calls them snappers) and waders and headed for the river.
In a few days Mitrzyk had "snapped" a pair of busy beavers, a 65-pound male and a slightly smaller female, both well nourished, with orange teeth and broad tails characteristic of the animal.
The beavers over the summer had constructed a 15-20 foot wide dam totally spanning the muddy Quanicassee, effectively raising the water level on the south side and slowing the runoff flow toward Saginaw Bay.
Dam building is common procedure for beavers who are attempting to improve their habitat with higher water. Beavers are known for building dams, canals, and lodges (homes). Dams are built to provide still, deep water to give them a haven against predators, and to allow more efficient floating of food and building materials.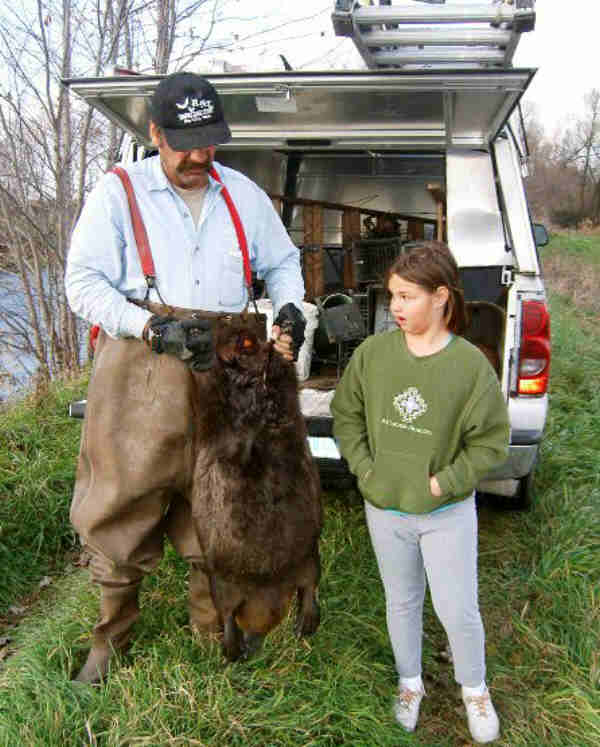 Claire Anderson, 9, of Bay City, gasps as she views huge female beaver, trapped the previous day, displayed by Mitrzyk. Note orange teeth from constant chewing of wood. Male beaver trapped earlier by Mitrzyk weighed 65 pounds and provided tasty eating to the trapper and wife.
(MyBayCity Photo by Dave Rogers)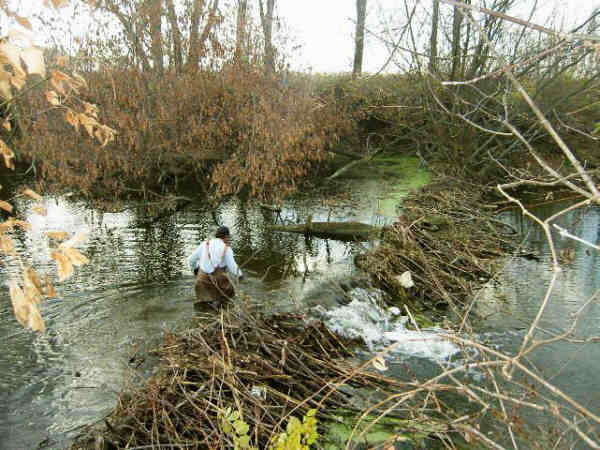 Mitrzyk wades into river to release limbs beavers have placed on huge dam on Quanicassee River. Dam spans the river, perhaps 50-60 feet across and may have to be removed by blasting. Kits, of which sign was spotted earlier, were nowhere in sight, perhaps devoured by coyotes, Mitrzyk theorized.
(MyBayCity Photo by Dave Rogers)
Experts say: "Beaver dams can be disruptive; the flooding can cause extensive property damage, and when the flooding occurs next to a railroad roadbed, it can cause derailments by washing-out the tracks, or when a beaver dam bursts and the resulting flash flood overwhelms a culvert. This disruption is not limited to human geography; beavers can destroy nesting habitat for endangered species, and often destroy mature trees for which they have no use."
The Merritt Township pair whose work was recently discovered had stripped out patches of corn owned by Cotter Road farmer Larry Schumacher, had eaten some of the corn and used the stalks to build a winter retreat on the muddy west bank of the river.
"See, there," said Mitrzyk, pointing to a pile of sticks and corn stalks. "They will climb up under that feed pile and stay the winter where they have pushed mud to form a den."
Unfortunately, this pair of busy beavers had to be eliminated to end the drainage problems causing farms in the area. With the river backed up by the dam, farms would not drain properly during harvest time for sugar beets, corn and other crops. Trucks would find it impossible to complete the harvest in muddy conditions.
Farmers dismantled part of the dam to let the river flow northward but officials are considering whether dynamiting may be necessary like it was at another beaver dam last May on the same stream.
As Mitrzyk's wire-haired Jack Russell terrier Shelby watched, and barked, from the truck, Mitrzyk removed a pesky raccoon from one of the beaver traps. The raccoon had stumbled into the lure intended for a beaver. Mr. Dark Eyes, snapping at the trapper, was humanely released, dived into a pile of brush, quickly emerged and scurried north to rejoin his family hardly worse for wear.
The nettlesome beavers ended up in the Mitrzyk family pot in their historic 1890s farmhouse on Mackinaw Road in Monitor Township. "They taste a lot like beef," commented the trapper, and this writer agrees. In fact it is a fine tasting meat once the cook has boiled the wild taste out.
"You will get beaver at a lot of wildlife dinners and it is one of the more popular dishes," said the veteran trapper.
His work of the past week or so on the river is a welcome departure from shooting pigeons at industrial plant, fogging yellowjackets, tracking down mouse havens in homes, smelly skunk work and other aspects of one of the most interesting occupations.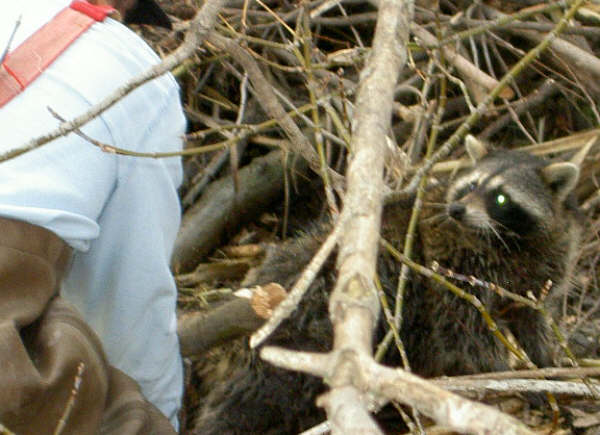 Unhappy raccoon is freed from beaver trap set near dam on Quanicassee River by Ron Mitrzyk of RNT Wildlife Control. Mitrzyk caught male and female beavers who dammed the Quanicassee River, causing drains to back up and hampering farm drainage. Raccoon tried to bite the trapper but was freed and hobbled away to mend his foot.
(MyBayCity Photo by Dave Rogers)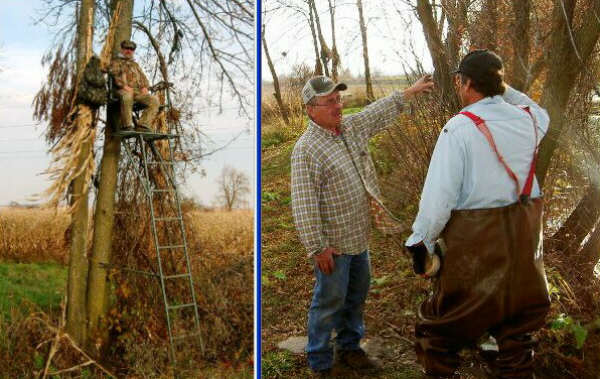 Camouflaged Ernie Cramer of Sebewaing finds a sunny Indian Summer fall day perfect for deer hunting from a stand near a cornfield at a farm along the Quanicassee River near Munger. Cramer's son farms near Russell Road, he said -- Farmer Larry Schumacher, who tills 700 acres along Cotter Road, tells trapper Mitrzyk how beaver dammed river to the south last spring, requiring dynamiting and how local farmers have partially opened river by dismantling some of the huge newer dam that was built this fall by the industrious rodents.
(MyBayCity Photo by Dave Rogers)
---
---

Dave Rogers




Dave Rogers is a former editorial writer for the Bay City Times and a widely read,
respected journalist/writer in and around Bay City.
(Contact Dave Via Email at carraroe@aol.com)

More from Dave Rogers
---
Send This Story to a Friend!
Letter to the editor
Link to this Story
Printer-Friendly Story View
---
--- Advertisments ---