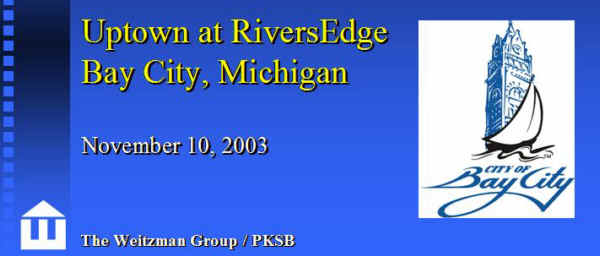 RiversEdge May Feature Marinas, Ship Displays, Park, Housing
---
RiversEdge May Feature Marinas, Ship Displays, Park, Housing
Consultants to Complete Planning, Cost Estimates by End of January
November 15, 2003 Leave a Comment
By: Dave Rogers
      Bay City's new "destination attraction," Uptown at RiversEdge, a 43-acre site on 2,000 feet of riverfront at Columbus Avenue and Water Street, may have:
      One or even two marinas and a maritime theme to create a "port of call" venue;
      A former Presidential yacht, the "Honey Fitz," or a Navy destroyer, the USS Edson, on display;
      Restored and "adaptively re-used" historic buildings, which may be industrial incubator, research and development or laboratory centers;
      A park and a museum or other "cultural entertainment" center; and
      "Mixed-use" housing, including rentals, at a cost of $150,000 to $300,000 per unit to help meet a huge market for the 75 percent of local families earning less than $75,000 per year.
      RiversEdge will definitely have revenue-producing units such as commercial offices, retail, restaurants, a farmer's market, to pay for the development. Cost estimates are now being compiled.
      It will not have a casino.
      Those aspects of the planning emerged from an extensive interim report by the Weitzman Group, consultants, to the City Commission's finance and policy meeting recently.
      The consultants expect to presenta market study for use by the Urban Land Institute in the second phase of planning by early December and final feasibility study, plan alternatives and a comprehensive site design by the end of January.
      Pencil sketches of several potentialdesigns for the site were unveiled by Mark Troen and Sherida Paulson of the consulting group.
      The sketches showed three different concepts laid out on a grid continuing the line of Water Street, maintaining the present river's edge line and incorporating flood plain areas into proposed marinas.
      Goal of the project is to raise Bay City's share of tourist dollars flowing into Michigan from its present three-tenths of one percent per year, about $5 million, to the $200 million or so drawn annually by similar cities such as Kenosha, Wisconsin.
      It may take 15 to 25 years, as was the case in Wisconsin, said Paulson, adding: "These are long-term venues, but it can be done in Bay City. However, she noted: "A regional initiative with major destination use is required to seed future phases of development. Housing is critical and aggressive marketing is needed."
      The new Doubletree Hotel/Conference center with 150 rooms needs to be linked to the RiversEdge project. The 55 hotels that Mackinaw City boasts and the 750 hotel rooms in Frankenmuth, are facilities which drive tourism, she said. A broadened tax base, job creation and increase in population will be possible if Bay City is successful in creating a new civic and cultural focal point at RiversEdge, the consultants said.
      "You need to create excitment and year-round activities which are family oriented," said Paulson, to "leverage civic investment to create private investment."
      Like Frankenmuth, Mackinaw City, Port Huron, Grand Haven, Traverse City, Kenosha and Racine, Wisconsin, Bay City has the potential to "capture substantial tourist dollars," she said.
      All those cities have developed waterfront projects with strategies that could be used here, said Paulson.
      In the case of Kenosha, work began on the tourism aspect after American Motors closed its headquarters and factories there in 1976 when it was taken over by the Chrysler Corporation. Kenosha's attraction centers around a marketplace and museum but "its history is nowhere as unique as Bay City," said the consultant.
---
---

Dave Rogers




Dave Rogers is a former editorial writer for the Bay City Times and a widely read,
respected journalist/writer in and around Bay City.
(Contact Dave Via Email at carraroe@aol.com)

More from Dave Rogers
---
Send This Story to a Friend!
Letter to the editor
Link to this Story
Printer-Friendly Story View
---
--- Advertisments ---