Bangor Junior Bobcats' Football Season Comes To A Close
2008 Season is 'One to be Remembered'
November 10, 2008 Leave a Comment
By: John Keuvelaar

For those who have followed the Bangor Bobcats all season, what a wonderful ride. We have seen young boys, some playing for the first time, become young men. They have learned through team work and hard work that good things can be accomplished.
What better way to celebrate the end of a season then through good food and good conversation?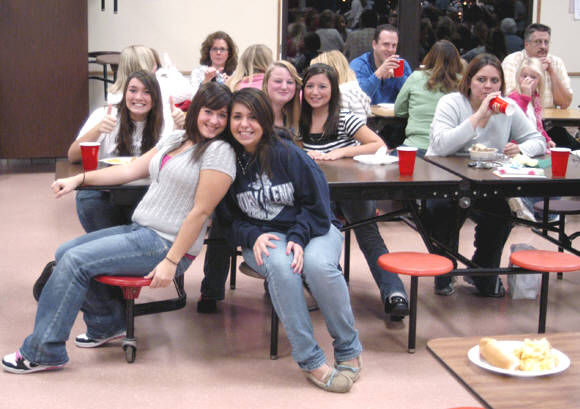 Bangor cheerleaders were just as passionate about the game as the players! Throughout the season, every point earned a push up by these spirited girls!
(MyBayCity Photo by John Keuvelaar)
One of the key components to this successful season was the support of the parents. We are not only talking the verbal support at home, but the emotional support by attending practices and games. Coach Dobbins noted that four of the six teams they played called him to comment about Glenn's great team support. Looking around the cafeteria during the season-end banquet, you could see that support.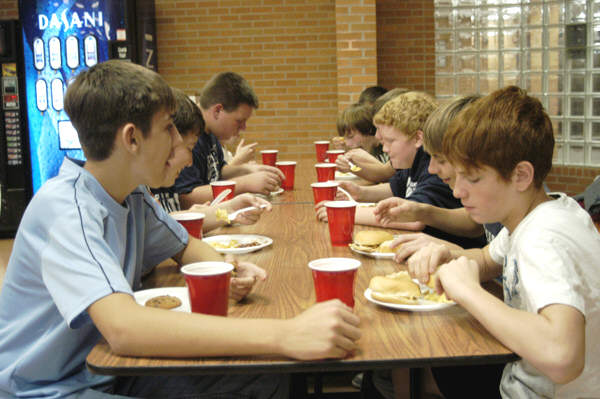 Bangor players talk to one another as they eat the food the parents dished out.
(MyBayCity Photo by John Keuvelaar)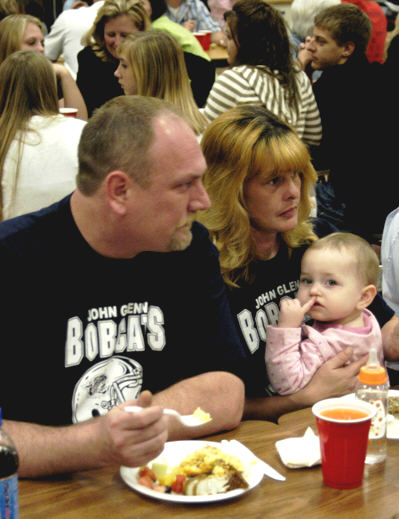 Family and friends come to support the team as they come to the end.
(MyBayCity Photo by John Keuvelaar)

The banquet gave Head Coach Dobbins the opportunity to personally thank those unsung heroes that make him "look so good" -- the assistant coaches. The Bobcat coaches set out to create an atmosphere whereby some the John Glenn's former players could give back to the organization. This years assistant coaches are Coach Neitzel (D-backs), Coach Dumbler (Offensive line), Coach Walker (Defensive nose guard and tackles), Coach Graves (Special teams, quarterback and running backs), Coach Kain (Offensive Coordinator) and Coach Dobbins (Head Coach/Defensive ends and linebackers.)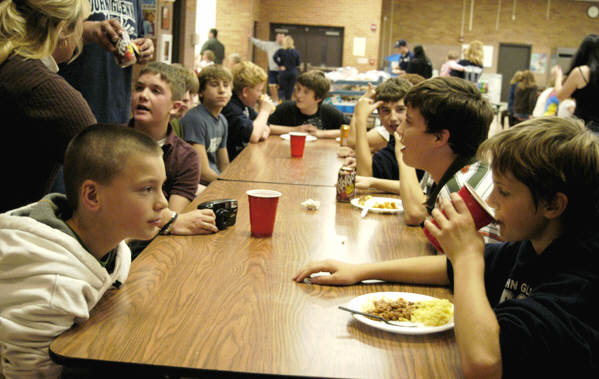 Fellow Bangor players discuss what they would say was the most memorable moment of their 2008 season.
(MyBayCity Photo by John Keuvelaar)
Coach Dobbins announced that an agreement has been made with Garber Jaguars. Beginning in 2009, as part of the rivalry between John Glenn and Garber High School, the Bangor Junior Bobcats and the Garber Jaguars will play each other on the same week under the lights. This will be a special treat for both teams.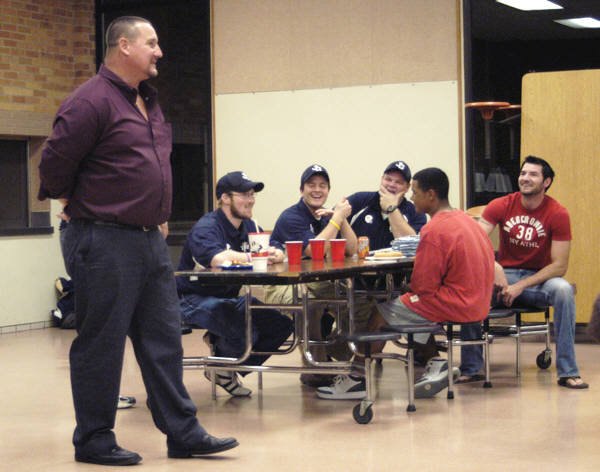 Coach Dobbins talks about events that came with the season as the other coaches chuckle.
(MyBayCity Photo by John Keuvelaar)
Through all the hard work, the wins and losses, it was the time they spent together, working hard toward a goal that gave the lasting memories.
Asking a few players what was their favorite memory of this season, this is what they said: "Beating Garber, beating Bridgeport, the whole season, running hills." Alex Winchell commented, "My favorite memory was the first games. It was my first game playing football. That is what I will remember most."
Josh Grimmer noted, "Beating Garber."
"This entire experience was something I will take with me throughout my life, what an opportunity for all of us to play under these coaches, in this league," added Logan Pijaszek.
Andy Wall thought it was "Getting an interception against Garber" and Kyle Blair agreed, "It was getting an interception against Caro, and beating Garber."
While many others picked beating Garber as their number one moment, Alex Delgado felt it was "the whole season." So it was clear, the memories will last a long time -- special moments with their friends.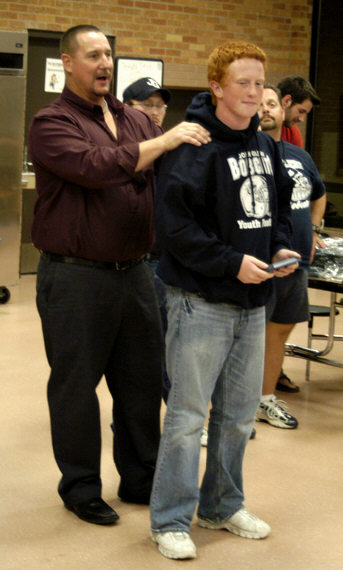 Dobbins speaks highly of the players he has coached and says goodbye to the ones that will move on to High School freshmen football. Pictured is Jacob Lyday, who will be heading to High School next year!
(MyBayCity Photo by John Keuvelaar)

---
---

John Keuvelaar




John Keuvelaar is a college student at Midwest Photography Workshops and Delta College.

More from John Keuvelaar
---
Send This Story to a Friend!
Letter to the editor
Link to this Story
Printer-Friendly Story View
---
--- Advertisments ---