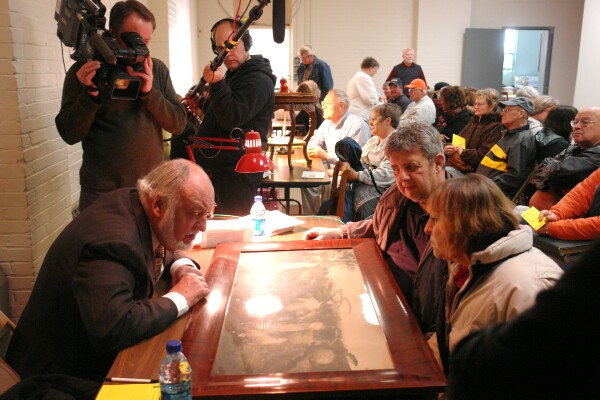 Ernest DuMouchelle appraises painting for Lugene and Virgil McGuire
---
Bay County Historical Society Holds Appraisal Fair
Second annual event to be subject of Q-TV program in March
November 22, 2008 Leave a Comment
By: Stephen Kent
Saturday found the Bay County Historical Museum packed with people as the Historical Society presented its second annual Appraisal Fair. An hour before closing time patrons had bought $5 tickets to have over 300 items appraised by professionals. The Appraisal Fair is a fund raiser for the Museum with proceeds going toward various projects.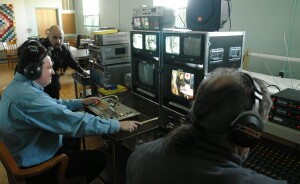 Q-TV control room in Quilt Guild room
This year's event will be the foundation for a historic program produced by Delta College's Q-TV, to be aired March 2. "The show will focus on the Bay Area. We'll use the Appraisal Fair segments to talk about local history" said Eric Jylha, Director of Development for the Museum.
Jylha went on to say that a number of very interesting and significant historic pieces had been brought in. "We got two printed plans for one of the early shipyards. One was on paper and one on linen. As antiques they were valued at $250 to $350, but for the historian they were much more. On the back of one plan was written instructions for building one of the boats that the area is famous for." The person who wrote the instructions added a note saying "Don't lose this. It's the only copy!"
"We also saw a number of local brewery items, some great original paintings and drawings from the shipping ear, and a unique Bay City souvenir cup featuring City Hall." said Jyhla. "The highest value I've seen so far was a painting valued at $8,000 to $12,000. I've also seen a few bubbles burst when items just weren't that valuable." He noted that people learned some valuable lessons on care of their old pieces, in particular not to try to clean their antiques without advice.
Other items of interest included an original Pullman train car blanket, old books, furniture, toys and clothing. One person had an example of the first talking pull toy, a Mickey Mouse that said "Mickey" when pulled on the floor. Someone brought in a mechanical toy featuring boxers in a ring. It was in the original box and had been bought from an estate where there had been no children. The toy and box were in perfect condition and were valued at $800.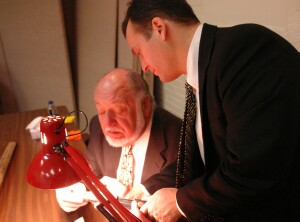 Ernest and Robert DuMouchelle
Appraisers included Ernest and Robert DuMouchelle from the well known
DuMouchelle
Fine Art Auction gallery in Detroit. Each of the appraisers had a computer connected to the Internet. Ernest DuMouchelle said that the Internet has changed his business dramatically. "We were hesitant at first, but over the last few years the Internet has become essential to our business." He went on to say that the Internet makes a once local business an international one. "We had a piece of Mexican art that might bring a few thousand dollars. But it turned out to be very desirable in Mexico and thanks to the Internet it sold for ten times what we might have expected."
Professional appraisers subscribe to Internet services that the average person cannot access. "We can find just about anything that's every sold at auction", said DuMouchelle. "Before the Internet we would carry a library of books to an event like this."
"The event has been a success" said Museum Curator Ron Bloomfield. "We've seen about the same turnout as last year but we've had more items appraised."
Appraisers for the event were Ernest and Robert DuMouchelle, Scott Morse for Sports Memorabilia, Don Clark for Photographs and Postcards, Judy Campbell for Pottery, Earthenware and general items, and Rick Schmidt for Brewery Items.
---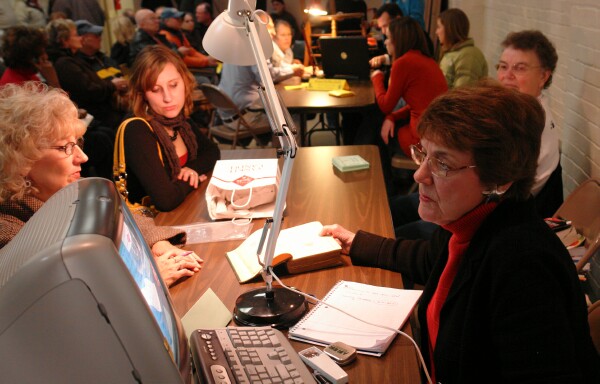 Judy Campbell researches a book on the Internet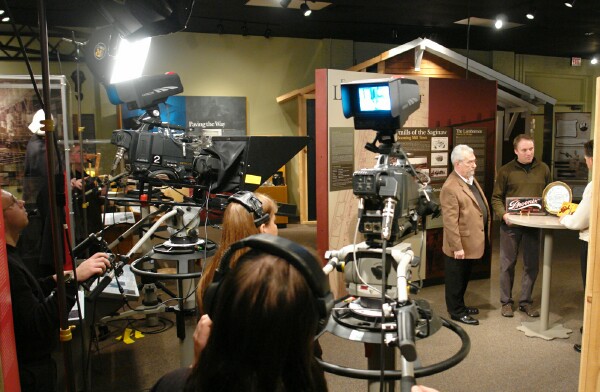 Main gallery converted to a TV studio where Eric Jyhla interviews guests and appraisers.


---
---

Stephen Kent




Steve Kent and his family have lived in Bay City for 40 years. He is VP of Technical Services at MMCC which produces MyBayCity.Com. Kent is active in many Bay City civic organizations.

More from Stephen Kent
---
Send This Story to a Friend!
Letter to the editor
Link to this Story
Printer-Friendly Story View
---
--- Advertisments ---