'In God We Trust'
Forwarding Emails Get So Old
December 7, 2008 Leave A Comment
By: Julie McCallum,
Senior Staff
Do you get tired of forwarded junk emails?
I have a separate email account that is just full of these, that I just never have time to read nor, do I want to waste my time with them.
1 out of 10, I might get a kick out of and if that is the case . . . I might forward it on . . . but normally I do not participate in the forwarding of emails.
In the last month or so I have, and continue to receive old 'forwarding' emails with the rumor claiming that the motto
'In God We Trust'
has been omitted from the one newest dollar coins.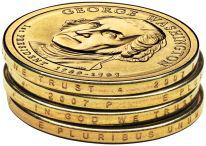 To set the story straight . . .
the new Dollar U.S. Coins were issued in February 2007. Yes, that was over a year ago. It's my understanding, an unknown number of new one-dollar George Washington coins were misprinted without the motto 'In God We Trust' and went into circulation and were distributed.
The total run was approximately 300 million -- these did have the religious inscription on them.
However, what is different is that the inscription can be found on the side of the coins. Washington was imprinted on the first distribution, and other presidents since then have been imprinted on the one dollar coins.
The Religious inscription first appeared on a United States coin in 1864, but 'In God We Trust' did not become the official U.S. national motto until after the passage of an Act of Congress in 1956.
Whether it was intentional on that first run . . . who knows? . . . Thats another blog.
So if you receive a forwarding email concerning this topic . . . Do Not 'forward' it (to me) . . .
---
Columns Article 3321
---
---
Send This Story to a Friend!
Letter to the editor
Link to this Story
Printer-Friendly Story View
---
--- Advertisments ---