Delphi Ahead of the Curve as Governor Eyes Manufacturing Revival
Michigan Firm in Alliance Aiming to Dominate Global Automotive Aftermarket
December 12, 2003 Leave a Comment
By: Dave Rogers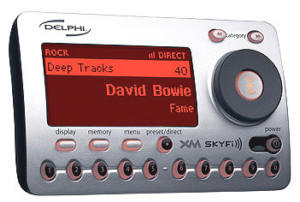 Delphi's nationwide tour displaying the industry's first portable satellite radio, now winding up, also sports the very first in-dash radio, made by Delphi in 1936.
      The state of Michigan's manufacturing base was top news recently, as Gov. Jennifer Granholm meets auto industry and union leaders in Detroit to explore how to revive the lagging business sector.
      A ray of hope comes from Delphi Corporation, a firm with a strong presence in the tri-county area. Delphi is launching a drive for global dominance in the automotive aftermarket that could have employment benefits locally and in Michigan.
      The manufacturing outlook may not be all bad, if we look close enough, although about 170,000 manufacturing jobs were lost in Michigan over the past three years, among 2 million vanishing jobs in the nation, some signs are definitely on the positive side.
      For instance, Gov. Granholm last Thursday was on hand to laud a $240 million investment in the Ford Motor Co. Wayne assembly plant expected to save hundreds of jobs. The governor also officially opened the new state Department of Labor and Economic Growth (DLEG), headed by former Lansing mayor David C. Hollister. The new bureau will consolidate all workforce and economic development functions in a "one-stop shopping" concept.
      And the Institute of Supply Management (ISM) announced the manufacturing sector nationally enjoyed its best month since December, 1983. ISM reported the manufacturing employment index rose above 50 percent, indicating growth, following 37 consecutive months of decline.
      "The momentum is coming from continued strength in new orders and production as the indexes are presently at very lofty levels," said Norbert J. Ore, ISM director, of Georgia-Pacific Corp.
      Mr. Ore will be a key national newsmaker Tuesday in New York when ISM hosts its 6th Annual Economic Summit.
      Business leaders and observers have been fearfully watching manufacturing competition in the Far East, especially China, while hoping the U.S. will keep pace through advanced technology and productivity.
      One indication of U.S. manufacturing vitality comes close to home here in the Saginaw Valley: at Delphi Corporation (NYSE: DPH), the world's largest automotive supplier. After disappointing third quarter projections, Delphi has exploded with an amazing series of upbeat business developments.
      In October, Delphi headed to market with the first exhaust catalyst technology designed to meet higher California automotive aftermarket emission standards.
      The firm's award-winning web marketing program sports eight new product lines and a 40 percent expansion in existing lines.
      Delphi's partnership with XM Radio (NASDAQ: XMSR) is completing a nationwide tour highlighting its SKYFi (TM) first all-portable satellite radio system, retailed by Sears and other top marketers, and named by Bloomingdale's as its radio pick for the "What's Hot" 2003 guide.
      More than 1.2 million factory-installed and retail satellite radios have been shipped by Delphi, which two years ago this month wasthe first to install satellite radio for a limited number of original equipment applications.
      Delphi also is just out with a stunning breakthrough, its Delphi Mobile Navigation (GPS) system, a hand-held, full visual interface device with voice prompts, large icons and alphanumeric display; it retails for $899.
      Delphi and CARDONE Industries of Philadelphia have announced a business alliance aimed at attaining global leadership in remanufactured vehicle electronics.
      First, Delphi will market CARDONE's remanufactured engine control computers (ECC) and mass air flow (MAF) sensors; then the alliance will move into anti-lock brakes (ABS) controls, body controls, cruise controls, power steering controls, suspension controls and transmission controls.
      "Through this alliance, Delphi will claim a global leadership position in remanufactured vehicle electronics in the independent aftermarket, mirroring its position on the OE (original equipment) side," said Francisco A. (Frank) Ordonez, president, Delphi Product & Service Solutions and vice-president, Delphi Corporation.
      Delphi is not neglecting the Asian market, however. The firm recently announced a $40 million investment in two new technical centers in China and Korea and six technical centers in the Asia Pacific region, supporting both OEM and aftermarket sales and service.
      Delphi sales in China appear headed for a 40 percent hike this year while they increased over 30 percent in 2002, the second straight year of 30 percent growth in an Asia Pacific market producing $1.1 billion annually for the firm.
      A big part of Delphi's future may be in camera-based vision systems to help drivers avoid accidents. The firm is developing personal safety system, prioritizing areas where sensors and cameras can help improve driving and safety.
---
---

Dave Rogers




Dave Rogers is a former editorial writer for the Bay City Times and a widely read,
respected journalist/writer in and around Bay City.
(Contact Dave Via Email at carraroe@aol.com)

More from Dave Rogers
---
Send This Story to a Friend!
Letter to the editor
Link to this Story
Printer-Friendly Story View
---
--- Advertisments ---