Brad Light Tells Rotary How, Why Local Firm Builds Houses for Russia
Moscow Aims to Convert Poor Apartment Dwellers to Middle Class Citizens
December 14, 2008 Leave a Comment
By: Dave Rogers
Last Weeks Meeting - December 2, 2008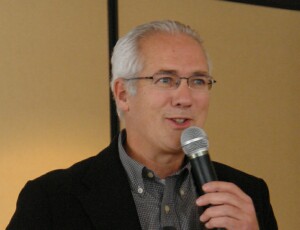 In the near future container trucks will pull up in front of General Housing Corp., 900 Andre St., and begin loading materials for modular homes.
This load of five homes will not be headed for Keokuk or Peoria. Or even Toronto. It will be bound for Moscow, Russia.
And the homes will not just be one order shipped to a foreign country. They will be the start of a project aimed at exporting an entire industry from Bay City, Michigan, to Russia.
Brad Light, chairman of the board of General Housing, told Bay City Rotarians last Tuesday of the firm's new business connection with the Communist country.
Mr. Light was introduced by program co-chair Ed Keating, who noted that the speaker had previously worked for Burroughs Corp. and Holley Carburetor. Since the firm was founded in 1982 it has built about 5,000 houses, including the riverfront units at Jennison Place.
What is the motive of Russian leaders to bring American style housing to that country?
The population of Russia is 99 percent poor and lives in huge apartment complexes identified according to the regime during which they were built, i.e., the Stalin era, Gorbachev regime, etc.
Russia has seen four different types of government in the past 100 years, a very unstable situation in comparison the Constitutional basis of the United States that has been in place for 232 years.
"The ruling class seeks stability in its ability to rule, therefore it wants to establish a viable middle class," Mr. Light explained. "The key to the middle class is property --homes-- and jobs. Modular homes are the perfect solution in providing both housing and jobs."
Moscow has a population of 15 million and many of the apartment buildings are poorly maintained and crumbling. There is a need for better housing of a different type.
The Russian economy is based primarily on export of natural resources, mainly oil and timber. "There is not a lot of labor added," Mr. Light commented.
Through Russian representatives in Chicago, General Housing was contacted and Mr. Light traveled to Russia to evaluate production facilities.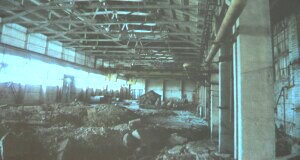 On three trips he looked at aging factories right out of the early days of the Industrial Revolution (slides revealed buildings similar to Bay City's 80-year-old Industrial BrownHoist abandoned hulks on the riverfront.)
Finally Mr. Light discovered a three-year-old plant that had never been used and it is being set up to build modular houses.
A deal was struck in which General Housing will design a product and production line, equip the factory, train Russian personnel and provide building materials.
Although some of the GHC homes have names with a local flavor, like Essex, Auburn and Richville, the Russians have designed their own catalog and advertisements for homes that will be built there.
The local firm will export five homes, three two story and two ranches. The shipment is being assembled now at the firm's facility on Wilder Road and after Christmas it will be loaded in containers for trucking to ships in either Philadelphia or Montreal.
"They are interested in doing this throughout Russia and the Ukraine," said Mr. Light. "The project has turned into some nice business for us."
He commented: "The people are outstanding, real, nice, warm. They look like all of us."
Major challenges were finding ways to negotiate and to get paid, he said. "Russia is the ultimate 'check is in the mail' bureaucracy," he explained. "Their negotiation technique is based on intimidation and takes a lot of time."
Those problems have been worked out and soon the suburbs of Moscow will begin to look like any American subdivision community.
And the innovation of the U.S., personified in General Housing Corp. of Bay City, Michigan, will help the Russians achieve the goals stated 20 years ago by then Russian Premier Mikhail Gorbachev: glasnost ("openness"), perestroika ("restructuring"), demokratizatsiya ("democratization"), and uskoreniye ("acceleration" of economic development). ###
---
CLUB NEWS and ANNOUNCEMENTS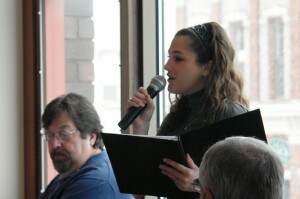 Leo Najar accompanied Hannah Thelen, daughter of Rotarian Joe Thelen, as she previewed a number she'll perform with the Bijou Orchestra at their Holiday Pops concerts this week.


Rotary Concert: The board approved March 26, 2009 as the date for the Lee Newton Rotary Concert. The event will be held at the State Theater this year.


Blood Drive: The board also agreed to sponsor a Red Cross Blood Drive event in conjunction with a future meeting. The approximately 6 hour event will be open to the public and will span the Club's regular meeting.


Rotary Homecoming: Rob Clark announced the February 3, 2009 meeting as Rotary Homecoming day. Past members and prospects will be invited to this special meeting.


$6,000 to be donated! The board approved using $6,000 of the previously earmarked Million Trees project to local use via the Angel Food Ministries. $600 per month for one year will be send to the project, which will be administered by the local United Way.


Membership: The next new member orientation will be held January 7, 2009 at the Stein House.


Vocational Days will be March 3 and 24. Pinconning schools will be added this year so that will mean more students. Contact Griff or Ralph for more information. You can download the form from the club web site.


Golf Outing: Tim Holsworth reported that the golf outing has been scheduled for June 1, 2009.

---
Upcoming Programs
(See the official schedule at RotaryBayCity.org )
Dec 16: The new "green" DEQ building at the foot of Johnson St. Speaker Tim Diebolt, Michigan Dept. of Environmental Quality will discuss the building's features and will comment on wind power on the bay.


Dec 23: Annual Holiday Program lead by our own Maestro Leo Najar.


Jan 13: City of Bay City Rehabilitation programs Bay Area Housing's Neighborhood Preservation Program and the City of Bay City Redevelopment Dept. team up to talk about rehab loans, preserving neighborhoods, and general rehab programs in our beautiful City.

---
Visit RotaryBayCity.org
---
---

Dave Rogers




Dave Rogers is a former editorial writer for the Bay City Times and a widely read,
respected journalist/writer in and around Bay City.
(Contact Dave Via Email at carraroe@aol.com)

More from Dave Rogers
---
Send This Story to a Friend!
Letter to the editor
Link to this Story
Printer-Friendly Story View
---
--- Advertisments ---