Santa Visits Local Foster Children
North Euclid Church of God is the venue for this year's DHS Christmas Party
December 19, 2008 Leave a Comment
By: John Keuvelaar
Recently Santa paid a visit to many of our local foster care children and their foster families. While he came bearing gifts, the joy and good cheer was spread by the children themselves with a little help from the Bay County Department of Social Services.
The North Euclid Church of God was the venue for this years DHS foster children Christmas party. It was time to truly celebrate the friendships and special relationships these children have shard with each other and their special foster parents. It was also a time to Give Thanks to the many foster parents who have opened their homes, their lives and their arms to give love, support and comfort to our children in need.
These children have come into need of care most often by way of neglect or abuse by their natural parents. They came into need of a safe place to live, to be happy and to learn to enjoy being their age without caring for their own siblings or parents and to have someone provide loving care to them. For some of these children, this is their new home. For others, it is a temporary home while their natural parents work on their own lives hoping to be reunited as a family.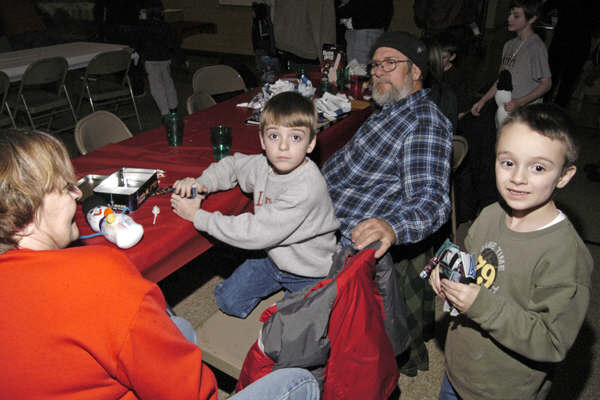 Some of the boys get together and play together with their newly acquired toys.
(MyBayCity Photo by John Keuvelaar)
For the DHS workers who have labored all year helping these families, it was a time to see these children experiencing peace and joy in their lives. It was a time to see the good work they have done and a happy reminder that their efforts are worthwhile.
For many of these children, their stories may be sad. But nights like this one show the goodness each one possesses. For them, it was a party for and about them. It was about good pizza provided by PJ's on State Street. It was about meeting friends they have made while being in foster care.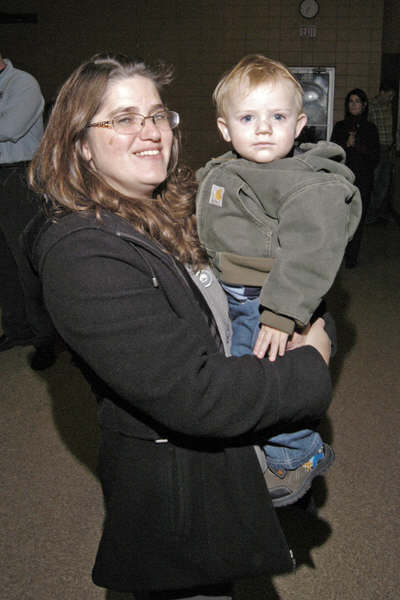 Local attorney Maureen Fitzgerald gets ready to bring her son to Santa.
(MyBayCity Photo by John Keuvelaar)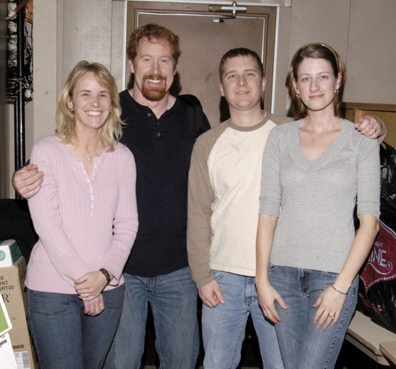 Group of people whom helped give out presents to the children.
(MyBayCity Photo by John Keuvelaar)
The night was made even more special when Santa arrived. While he didn't drive his sleigh with reindeer tonight, okay a Jeep with a plow on front, no one seemed to mind. The children, big and small, lined up anxiously to sit on Santa's lap. To their delight, nobody walked away with a lump of coal as the ALL were good boys and girls.
To help preserve this evening's memories, each child who sat on Santa's lap left with their own photo provided by Koov's Photography. It was so inspiring to hear how each child was more anxious about their "brother" and "sister" receiving a picture than they were about their own.
This evening was full of such happy raw emotion. These are truly blessed children and the foster parents and workers deserve special blessing for their caring work. For everyone present, their holiday became brighter and happier.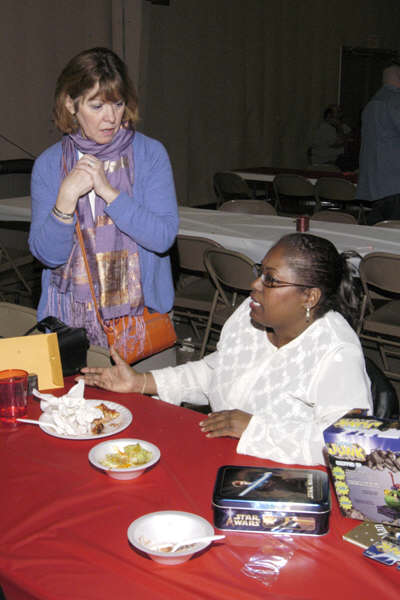 Judge Tighe came to interact and see how the foster parents are doing.
(MyBayCity Photo by John Keuvelaar)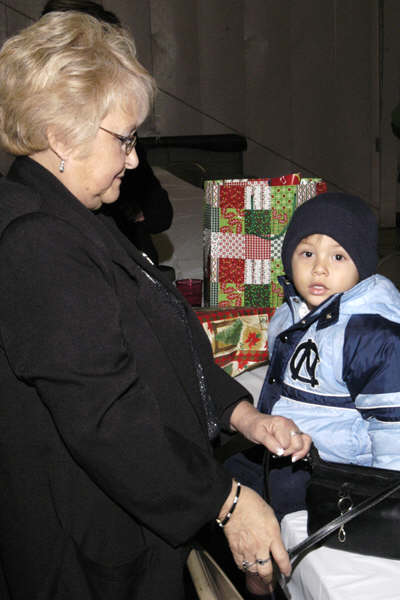 A grandmother prepares to take her grandson home after the activities start to draw to a close.
(MyBayCity Photo by John Keuvelaar)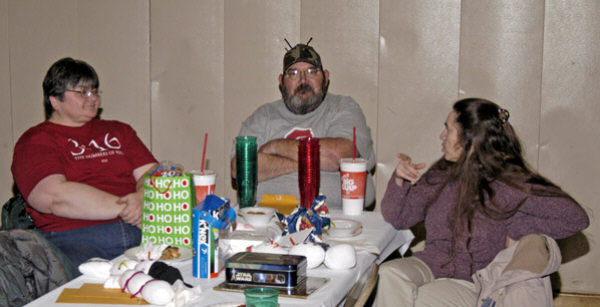 Parents relax and talk to each other while the kids play. b>
(MyBayCity Photo by John Keuvelaar)