Future of Bay City Mall Said Tied to Finance Restructuring, Fraud Lawsuit
Retail Picture Could Change Drastically Depending on Sales, National Events
January 2, 2009 4 Comments
By: Dave Rogers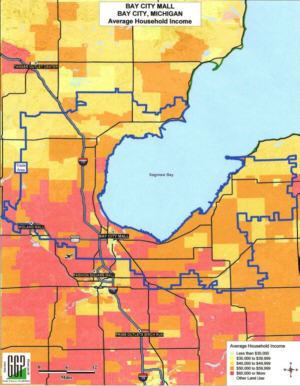 Bay City Mall market area is shown on map that also depicts average household income in the area.
The firm that owns Bay City Mall, General Growth Properties (GGP), struggling to avoid bankruptcy, has been hit by a major lawsuit charging securities fraud.
GGP stock has dropped 98 percent from its peak in March 2007 of $43.83 to a recent quote of $1.29 per share. The company is a publicly traded Real Estate Investment Trust (REIT).
Rumors are flying about the future of the mall here and other GGP properties that include Birchwood Mall in Port Huron and Centerpointe Mall in Grand Rapids.
The local mall appears to be thriving and does not have many vacant stores. A vacancy level of 17 percent of square footage is said to be perilous for such properties. However, malls generally can stay in business if 30-40 percent of its stores remain open, retail experts said.
Commercial real estate sources here predicted that the GGP financial problems will not affect the Bay City Mall. Even if the firm goes bankrupt, the local property will likely remain open and perhaps could be sold to another management firm.
The International Council of Shopping Centers (ICSC) has forecast that 3,100 stores would close in the first half of 2009, an official noting "this is going to go down as the worst season in history as far as retail sales." Sales during the Christmas season were reportedly down 19.7 percent in apparel, 26.7 percent in electronics and appliances and 34.5 percent in luxury goods.
ICSC predicted 148,000 retail stores would close in 2008 and 73,000 would be shuttered in the first half of 2009.
National news reports earlier this week quoted the hedge fund Pershing Square Capital Management as "betting the No. 2 U.S. mall owner (GGP) will file for bankruptcy." Pershing reportedly has exposure to about a quarter of GGP stock.
On Dec. 24 the law firm of Pomerantz Haudek Block Grossman & Gross LLP, of New York City, filed a class action lawsuit in the U.S. District Court of the Northern District of Illinois against GGP and certain officers of the company.
The class action suit, the law firm said in a news release, was filed on behalf of purchasers of common stock of GGP between April 30 and October 26, 2008.
The complaint alleges "the defendants made false and misleading statements or failed to disclose material adverse facts about General Growth's business and financial condition."
"The complaint specifically alleges that defendants:
Failed to disclose that GGP would not be able to refinance billions of dollars of debt that was coming due in late 2008 and early 2009;


That this was a direct result of the company's inability to access debt financing;


That company executives such as the Chief Financial Officer and President had received loans from from the CEO's family trust in violation of the company's code of business conduct and ethics;


That the company lacked internal controls; and,


That as a result of the foregoing, defendants' statements about the company lacked a reasonable basis."

GGP operates more than 200 regional shopping malls in 44 states, including the Bay City Mall at Wilder Road and State Street in Bangor Township.

GGP has almost $30 billion of assets on its books and is carrying about $27 billion of debt, according to news reports. The company reportedly has fired its chief financial officer and has put some of its malls up for sale.

GGP issued a news release on its website Dec. 12 announcing completion of about $896 million in mortgage loans, with maturities ranging from five to seven years. Regarding other mortgage loans of $814 million, the company said it "is continuing discussions with its syndicate of lenders for a further extension of these two mortgage loans, with no assurance that the company will obtain these further extensions."

Pershing Square officials were quoted as saying GGP's problems are based in difficulty refinancing maturing debt in frozen markets. The hedge fund officials reportedly believe stockholders in GGP will not lose if the firm goes bankrupt since its assets are worth more than their liabilities.

Another large firm, CBL Malls & Lifestyle Centers, owns Fashion Square Mall and Midland Mall, along with Meridian Mall in Okemos. CBL, based in Chattanooga, Tennessee, has 158 properties including 87 malls. Its recent stock price was $6.50.

---
"The BUZZ" - Read Feedback From Readers!
mgaken9517 Says: On January 05, 2009 at 07:46 AM

Good story. We keep hearing about the mall, and now we know.
Mall Supporter says: On January 07, 2009 at 08:41 PM

I can assure the public, the Bay City Mall is NOT closing. Rediculous rumors running around town are not only disrespectful but untrue.

Actually, with the economy in the shape it is in not to mention the state of Michigan being #1 folks (reported nationwide today) for unemployment rates, we are fortunate to still have the opportunities the mall brings our community.

Be thankful, be gracious and be vigilant. Do everything you can as a resident of this community to keep it going strong. Remember the old days when you had to look out for "you and yours" ... well folks, those days are here for Bay City and it's future. Shop, spend and speak the truth...
donida Says: On January 11, 2009 at 01:33 PM

It is a sad time for all of us to see the leaders of business have been so corrupt and misleading. It all boils down to the lack 0f Truth in favor of Greed.
When will it end? In my opinion when leaders of all types work for the Country that has given them the oppertunity to do just what they are doing and have done. Line their pockets at the expense of others.
Hilliker123 Says: On January 24, 2009 at 10:40 AM

So is the Bay City Mall really not closing?!?!?!?!?!
---

Dave Rogers




Dave Rogers is a former editorial writer for the Bay City Times and a widely read,
respected journalist/writer in and around Bay City.
(Contact Dave Via Email at carraroe@aol.com)

More from Dave Rogers
---
Send This Story to a Friend!
Letter to the editor
Link to this Story
Printer-Friendly Story View
---
--- Advertisments ---