How 'Bout Those Gators & Not So Saintly Tim Tebow
Bob Stoops Blew It & Announcers Were So Annoying About Tebow
January 11, 2009 Leave a Comment
By: O. J. Cunningham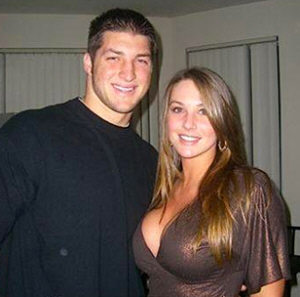 Florida QB Tim (Almost a Saint) Tebow got flagged for a taunting personal foul late in the game. (Maybe he's not as perfect as announcer portrayed him.)
Maybe it was because I had bet on Oklahoma (and +4 points) Thursday night, but . . . by the end of the game, I had just about had it with the Fox broadcast team of Thom Brennaman and Charles Davis.
Good Grief . . . Just how much Tim (Nectar of the Gods) Tebow Tea should one have to swallow before up-chucking into submission.
I'm sure Tebow is a great guy . . . most team leaders are. But we also got to see the "first really bad thing" Tebow ever did as a football player (yeah, right) when he picked up a 15-yard penalty late in the game for TAUNTING an Oklahoma defensive secondary player. (Even Tebow couldn't live up to the on-going canonization process being spewed all night by the Fox announcers.)
AS FOR THE GAME -- The teams were evenly matched. It was the arrogance of Bob Stoops that cost the Oklahoma Sooners their National BCS Title in 2009.
On two (yes two) separate occasions, Stoops went for the Touchdown on 4th down and short . . . when in each instance, he should have taken the points by kicking the field goal.
Each of these Oklahoma failures (to convert) tipped the momentum pendulum in favor of Florida. And in the final analysis, this momentum swing was the deciding factor that kept Florida in the game and led to their eventual win.
Take a lesson Stoops. Keep those emotions in check. Take the points. You will never see a professional (NFL) coach turn his back on the chip-shot three-point field goal just to "make a point". (UNLESS THEIR RECORD IS 0-15 AND THEY HAVE "NOTHING TO LOSE")
WHY??
MOMENTUM.
SIMPLE AS THIS -- Oklahoma kicks the field goal and dances off the field with the success of the score. "All Right," the defense and special teams yell as they take the field to get the ball back for their successful offense.
Florida is saddled with the "moral victory" of having held Oklahoma to a field goal. But "kissing your sister" in THAT instance is nowhere near the Florida defense's euphoria of getting the ball back from Oklahoma without points scored.
And Stoops chose this path of self-immolation twice. And it cost him and Oklahoma the BCS National Championship -- And me, well it cost me a few bucks, too.
OTHER TIDBITS FROM THE GAME . . .
Florida's Major Wright impales Oklahoma's Manny Johnson Click Here for the HIT


And we got to meet Britany Raymond, a physiology and kinesiology student and member of the Florida Cheer Squad (Link is from CNNSI -- Sports Illustrated). Click Here fto meet Britany

And just a bit off the subject . . .


A song to think about as we begin the 2009 New Year -- Click Here for Stand by Rascal Flats

Here's the lyrics if you want to sing along . . . I know for a fact that this is Britany's favorite song.



"Stand" -- by Rascal Flats

You feel like a candle in a hurricane
Just like a picture with a broken frame
Alone and helpless
Like you've lost your fight
But you'll be alright, you'll be alright
[Chorus:]
Cause when push comes to shove
You taste what you're made of
You might bend, till you break Cause its all you can take
On your knees you look up
Decide you've had enough
You get mad you get strong
Wipe your hands shake it off
Then you Stand, Then you stand
Life's like a novel
With the end ripped out The edge of a canyon
With only one way down
Take what you're given before its gone
Start holding on, keep holding on
[Repeat Chorus] Every time you get up
And get back in the race
One more small piece of you
Starts to fall into place
[Repeat Chorus]



---
---

O. J. Cunningham




O. J. Cunningham is the Publisher of MyBayCity.com. Cunningham previously published Sports Page & Bay City Enterprise. He is the President/CEO of OJ Advertising, Inc.

More from O. J. Cunningham
---
Send This Story to a Friend!
Letter to the editor
Link to this Story
Printer-Friendly Story View
---
--- Advertisments ---