Age-Old Dr. Mudd Case Takes New Twist in Post 9/11 Military Tribunals
Great-Grandson Thomas B. Mudd Explains Dilemma to Civil War Round Table
January 23, 2004 Leave a Comment
By: Dave Rogers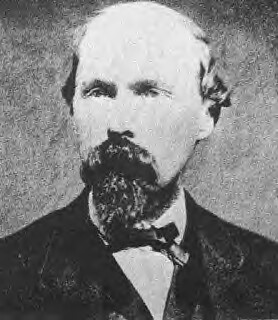 Dr. Samuel Mudd, accused Confederate collaborator, in Library of Congress photo.
Dr. Richard Mudd of Saginaw, who died at age 101, fought long battle to clear grandfather's name.
      In a strange twist of fate, the Mudd family of Saginaw may continue to be blocked from clearing the name of their relative, Dr. Samuel Mudd, because of U.S. Government policy in the wake of the 9/11 terrorist attacks.
      Thomas B. Mudd,great-grandson of Dr. Samuel Mudd, told the 7th Michigan Cavalry Civil War Round Table recently: "If they say Dr. Mudd was improperly tried then they would never be able to try any terrorist in a military court."
      History brands Dr. Mudd asan "enemy combatant," the same designation used for seven other alleged conspirators in the assassination of President Abraham Lincoln and for terrorists charged with complicity in the 9/11 attacks.
      As enemy combatants, Dr. Mudd and the others in the Lincoln case were tried by a military tribunal. He missed hanging by one vote, while four others were executed. One was Mary Surratt, the first woman ever executed by the U.S. government.
      "The Army would have to admit they murdered Mary Surratt to exonerate Dr. Mudd," said Thomas Mudd, who said there was little evidence that Mrs. Surratt was involved in the assassination.
      The Mudd case not only seems to go on and on, it has new life and vast new implications in our system of justice as a result of the connection with 9/11. The case may yet be impacted by the U.S. Supreme Court, which agreed Jan. 9 to hear argument in the case of Yaser Esam Hamdi, a presumed American citizen captured in Afghanistan in 2001.      
A recent article entitled: "Dr. Mudd and the Military Tribunals: Here We Go Again," was published in the National Law Journal. Author Eugene Fidell, a partner in a District of Columbia law firm and president of the National Institute of Military Justice, says the findings of the U.S. Court of Appeals in the Mudd case could "shed some light" on the Bush administration's plans for the military tribunals.
      Thomas Mudd says Dr. Samuel Mudd did not know it was Lincoln assassin John Wilkes Booth whose broken leg he was treating. Booth, an actor, used his knowledge of disguise to change his appearance with false whiskers. Also, Booth did not talk during the treatment and his 12 hour stay in Dr. Mudd's farm home in Maryland, he said,so the doctor had no way to tell his patient had been Booth.
      Thomas Mudd called the case about his great-grandfather "the most studied of anything in U.S. history." Revisionist authors have attacked Dr. Mudd in several recent books, among them "His Name Is Still Mudd" by noted Lincoln scholar Dr. Edward Steers Jr., and "Come Retribution," by Dr. James O. Hall.
      The Civil War Round Table will meet again Feb. 18 for a presentation by Bob Bouquette and Paul Davis on the gunboat USS Michigan, involved in foiling a Confederate plot on the Great Lakes. On March 17 Len McInerney will present "The Irish in the Civil War." All presentations are held at 7 p.m. in the Lincoln Center of Bay Regional Medical Center, 820 S. Lincoln Ave.
      The Civil War Round Table will hold its annual Civil War Dinner April 29, with Dr. William Anderson, director of the Michigan Department of History, Arts and Libraries, as main speaker. The event will raise funds for historic preservation projects in Bay County.
      For additional information contact Dee Dee Wacksman, 892-1136.
---
---

Dave Rogers




Dave Rogers is a former editorial writer for the Bay City Times and a widely read,
respected journalist/writer in and around Bay City.
(Contact Dave Via Email at carraroe@aol.com)

More from Dave Rogers
---
Send This Story to a Friend!
Letter to the editor
Link to this Story
Printer-Friendly Story View
---
--- Advertisments ---