'Branding' Summit Meeting Jan. 29 Responds to Negative Manufacturer Survey
Perceived Union Dominance in Bay County a Myth, BCGA Statistics Show
January 24, 2004 Leave a Comment
By: Dave Rogers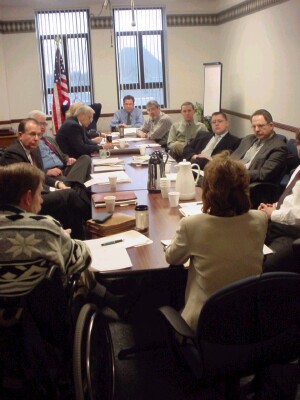 County Executive Tom Hickner presides at economic development planning session leading to Vision Tri-County survey.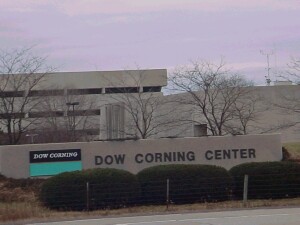 Dow Corning headquarters in Williams Township where 1,250 are employed in high tech industries and research.
      The top reason manufacturers would not consider an expansion or investment in the tri-county (Bay, Midland, Saginaw) area was because the area has a unionized workforce.
      That was one of the main findings of a survey of 800 manufacturers statewide by Brogan and Partners, Detroit, a national consulting firm, in a recent report to Vision Tri County. The $30,000 report was funded by contributions of $10,000 from each county. In the case of Bay, $8,000 was contributed by the Bay Area Chamber of Commerce Foundation and $2,000 by the Bay Economic Development Corporation (BEDC).
      The Brogan report states: The image of Bay County is essentially a blank slate with 43 percent of respondents having no image or nothing that comes tomind when asked about Bay County."
      "The good news is we're conveniently located in the State with a low crime rate, affordable housing, good schools, first class medical care, a skilled workforce and an amazing quality of life," local meeting planners say.
      The findings of the Brogan survey have galvanized local leaders to call a summit meeting entitled "Branding the Bay Area: Taking Charge of Our Economic Future," to be held this Thursday, 5-7 p.m. in the Lincoln Center, 820S. Lincoln Ave.
      The perception of an intractable union presence has haunted, and held back, the area for years, according to business leaders. Bay County, especially, has been adversely affected.
      However, a new survey by Cliff Van Dyke, executive director of the Bay County Growth Alliance (BCGA), shows that the overwhelming union presence in Bay County is a myth. Of the top 13 employers, all with more than 100 employees, the number of non-union employees is 23 percent more than those who are unionized, according to Van Dyke. the survey encompassed only manufacturing employers with more than 100 employees.      
Only 2,381 of a total of 5,458 manufacturing employees are members of a union, and 624 of the union members are part-time employees of Monitor Sugar Co., he said. In addition, the number of unionized employees will be further reduced by layoffs of 180 of 272 workers at Northern Tube, Pinconning, according to Van Dyke.
      Van Dyke conducted the survey in response to reluctance by a major employer considering the area whose executives expressed fear of a dominant union presence here. The non-union firm apparently is fearful that if it moves to Bay County it will be subject to unionization.
      Dow Corning, located in Williams Township, is now the largest manufacturing employer, with 1,250 non-union employees, according to the BCGA survey.
      Other non-union manufacturing employee numbers include: General Motors Powertrain, 120; Monitor Sugar, 76; SC Johnson, 450; Consumers Energy, 150; Bay View Foods, 320 (seasonal); Euclid Industries, 234; Bay City Times, 192; F. W. Horak, 160; and Northern Concrete Pipe, 125. The non-union employee total in Bay County is 3,077.
      The unionized workforce includes: GM Powertrain, 950; Monitor Sugar, 624 (seasonal); Consumers Energy, 220; Northern Tube, 272 (with 180 due to be laid off due to downsizing; Bay City Times, 10 (press operators); and Magline, Inc., 120.
      A BCGA summary of the Brogan survey said: "The manufacturing survey audience had a generally poorer view of the tri-county area, communicating weaknesses of 'the lack of perceived image' for Bay, Midland and Saginaw counties, and the perception of povertyand blight in Saginaw and Bay."
      "The City of Saginaw is unquestionably perceived statewide as the regional hub of the tri-county area with strong shopping, business, arts and medical centers," the summary states. "However, Saginaw is perceived as having urban problems and must combat perceptions of high crime and decay by the manufacturing audience."
      All the statistics and survey results will be hashed over by local leaders Thursday, Jan. 29 from 5-7 p.m. at a meeting in theLincoln Center, 820 S. Lincoln Ave., sponsored by the City of Bay City and the Bay Area Convention & Visitors Bureau (CVB).
      Speaker at the session will be Don McEachern, president of North Star Destination Strategies, Nashville, Tennessee,whose clients are across the country and include Lansing.
      Persons interested in attending the summit are asked to make reservations with the CVB at 893-1222 by Tuesday, Jan. 27.
---
---

Dave Rogers




Dave Rogers is a former editorial writer for the Bay City Times and a widely read,
respected journalist/writer in and around Bay City.
(Contact Dave Via Email at carraroe@aol.com)

More from Dave Rogers
---
Send This Story to a Friend!
Letter to the editor
Link to this Story
Printer-Friendly Story View
---
--- Advertisments ---