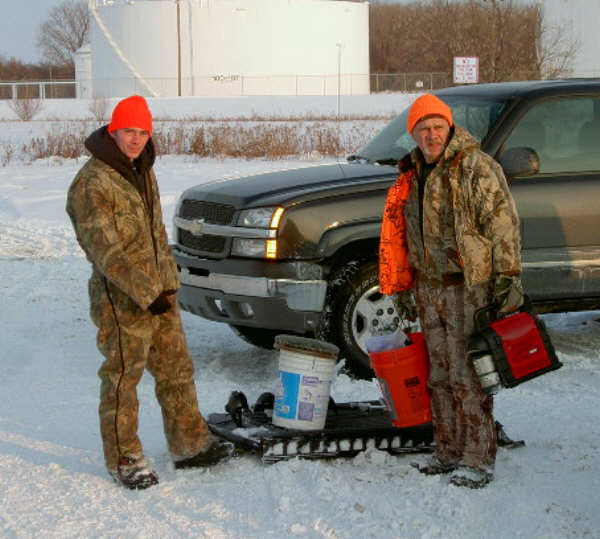 Justin Gorney and his grandfather Bob Sampton of Bay City leave the ice at Independence Bridge having caught many walleye but only one keeper.
---
Want Walleye?
Saginaw River Now Ice Fishing Mecca for Mid-Michigan
Independence Boat Launch Parking Areas Jammed with Cars, but Catches Slim
January 20, 2009 Leave A Comment
By: Dave Rogers
I-I-I-C-C-C-E-E-E FFFFFFISHING is back!!!!
Despite the bitter cold temperatures, ice fishing is back on the Saginaw River and bay big time.
Anglers are snagging dozens of walleye near the Independence Bridge; most are small but every now and again a monster keeper shows up, according to reports from the scene.
Only walleye over 15 inches are legal. One pair of anglers reported catching several dozen small ones with only one 18.5 incher in the pail.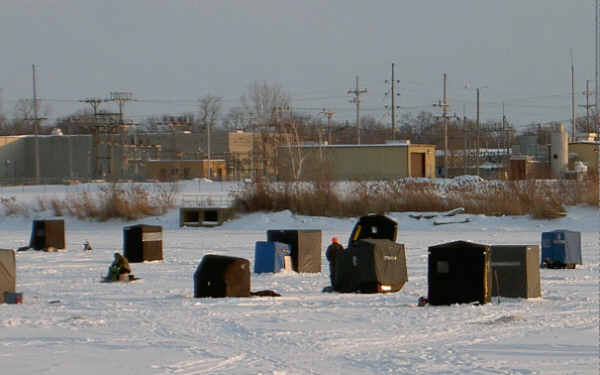 Shanties crowd the ice off Independence Bridge like the old days of ice fishing on Saginaw Bay.
(MyBayCity Photo by Dave Rogers)
Several weeks of sub-freezing weather is necessary before river ice is thick enough to support anglers -- and we've certainly had that. As late as Jan. 15, just about a week ago, the Michigan Department of Natural Resources was warning that river ice was not safe. "Usually, it's early to mid-January before wise ice-anglers venture onto the river in search of jumbo walleyes," one expert advised. "Many of the walleyes come in from Saginaw Bay in the fall behind schools of shad that run the river and then spend the winter in the river. Others trickle in throughout the winter and add to the number of targets."
Here's a link to a current satellite view of Saginaw Bay courtesy of the National Oceanic and Atmospheric Administration:
http://coastwatch.glerl.noaa.gov/mod...egion=h&page=1
The bay ice is said to be "totally unpredictable," so fishers should use the greatest caution when venturing onto the frozen surface.
Mike Gnatkowski has reported on Saginaw River conditions for Michigan Sportsman magazine and Frank's Great Outdoors:
"The current in the river is surprisingly swift and it often takes a 1/2-ounce lure to get down to the bottom and in front of walleyes. Favorite baits include Jigging Rapalas, Swedish Pimples, Rocker Minnows and lead-head jigs. Chartreuse and hot orange are good colors. Sweeten the lures with a whole shiner minnow, several perch minnows or just the head of a big shiner. The technique is to lift the lure a foot off the bottom and then allow it to flutter down. Most bites occur as the lure falls, and when you lift it feels like you've hooked bottom. Just before dark and right after first light are prime times. Work the 10- to 25-foot depths."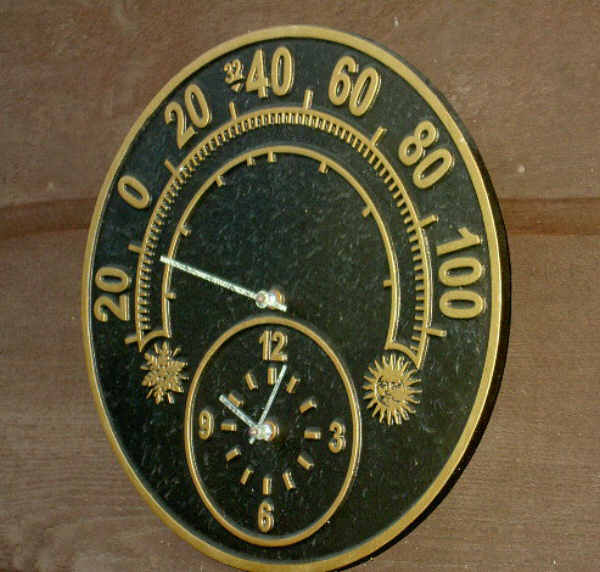 BRRRRRRRRRRRRRRRR -- Baby, It's Cold Outside -- Cold temperatures don't stop ice fishermen..
(MyBayCity Photo by Dave Rogers)
Reports are that walleyes can be caught all the way from Vets Park in Bay City to where the Saginaw River meets the Tittabawassee and Shiawassee rivers.
We found the entire Independence Bridge boat launch parking lot overflowing with cars on Monday, so obviously walleye are thick in that area, too.
Saginaw is home to good fishing and the famed "Shiver On The River" promotion. The experts say the best fishing is off Wickes Park in downtown Saginaw, near the old 6th Street Bridge, along M-13 (River Road), and near the Zilwaukee Bridge in deep water. Walleyes 10 pounds or more are reported by some anglers.
For live bait, hot lures and area maps, contact Frank's Great Outdoors by calling (989) 697-5341 or going online to their Web site, at www.franksgreatoutdoors.com.
Michigan is enjoying excellent ice fishing conditions with the cold being the only negative. However, the ultra-cold temperatures have not deterred many anglers. Days in the 30s will bring out even more hopeful fishers, but we don't know where they will find a parking place.
The DNR has issued the following report:
"Saginaw Bay - At Palmer Road, walleye anglers are going about 3 miles out, probably fishing around the Catfish Hole. At White's Beach, anglers are going out to 12 or 13 feet of water.
"Off Erickson Road and Linwood anglers are making it out to about 14 feet of water for walleye. Right now the average is one or two fish per angler with dawn and dusk the best times to fish. On the east side of the bay, there's not much activity at the Hot Pond right now. That's open water fishing, and it needs to warm up to do that comfortably.
"At Quanicassee, anglers going out of Vanderbilt Park are getting a few perch in 5 to 6 feet of water, and also spearing a few pike. At Thomas Road, guys are going out 1.5 to 2 miles for walleye. Small perch and the occasional pike have been caught in the Sebewaing Marina. "At Rose Island and Geiger Road, anglers are reporting pretty good walleye fishing 3 miles out in the Slot past the islands. This is primarily an evening bite. At Mud Creek, perch fishing was kind of slow. A few pike were being speared.
For Caseville and the Pigeon River, fishing in the marinas was reported slow but picked up as the cold tightened up the ice. (A radio station in Caseville reported this week that ice there was six inches thick.)
The DNR said "Tittabawassee River boat launches are iced in and the river moves too swiftly to get safe ice on it.
"On the Saginaw River in Bay City, anglers are creeping out on both sides of the Independence Bridge and getting a few walleyes off both the Golson and Municipal launches. They are also getting some perch off the Patterson Road access site at the mouth of the river. Anglers are reminded to use extreme caution on river ice!"
---
Outdoors Article 3473
---

Dave Rogers




Dave Rogers is a former editorial writer for the Bay City Times and a widely read,
respected journalist/writer in and around Bay City.
(Contact Dave Via Email at carraroe@aol.com)

More from Dave Rogers
---
Send This Story to a Friend!
Letter to the editor
Link to this Story
Printer-Friendly Story View
---
--- Advertisments ---