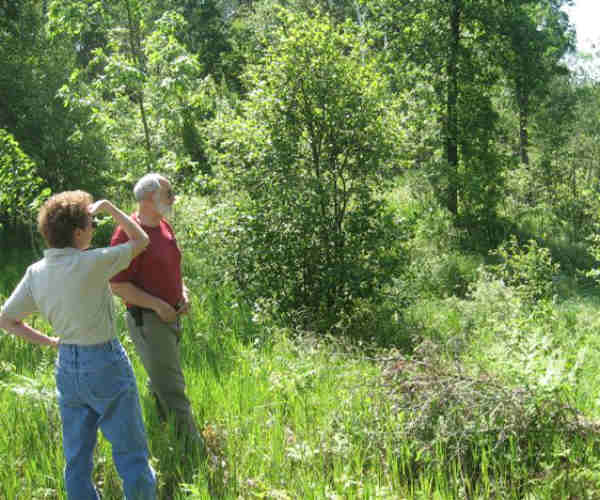 Valerie Roof, SBLC executive director, and Bernie Fegan overlooking the property
---
Land Owners Give A Christmas Gift
To Conservation Efforts
"The land has been in our family for many years, starting with my parents.
January 26, 2009 Leave A Comment
By: MyBayCity Staff
Bay City, MI - An Ohio couple recently donated 10 acres of vacant land to the Saginaw Basin Land Conservancy, ensuring protection of wildlife habitats and natural resources. The natural land is located in Ogemaw County near Prescott, Michigan. Bernard and Kathleen Fegan, of Sylvania, Ohio, have donated a portion of what was once a larger piece of land long held by the family. "The Fegans love the land and the memories that they developed there, including nature walks with their grandchildren," said Valerie Roof, Saginaw Basin Land Conservancy executive director. "The children enjoyed Grandpa's walks in the woods and stories of Sasquatch and fallen meteors."
The property is over half covered with a shrub wetland that serves as important wildlife habitat and a natural filter for storm runoff heading towards Cranberry Lake to the north. The Fegan property supplements a conservation easement near Skidway Lake that was recently donated to the Conservancy. Also, over 900 acres of conservation easement land held by the Conservancy lies within a few miles of the donation near Prescott.
"The land has been in our family for many years, starting with my parents Bernard and Stella Fegan," said Bernard Fegan. "Our family realizes our love for this property, but has no plans to relocate or use the land much when we are gone. We felt the best use was to donate it to a land trust for use by the public as a nature preserve and to enhance the scenic vista of the area where I grew up."
Wildflowers dot the property and song birds fly amongst the shrubs and meadows. Besides the natural beauty, shrub wetlands provide important habitat for wildlife and also serve as a natural water filtration system for dirty and contaminated water running from nearby roadways, such as the adjacent Greenwood Road. The Conservancy estimates that almost two tons of sediment will not reach nearby streams and Cranberry Lake because of this natural filtering effect.
For further information on this donation or the Saginaw Basin Land Conservancy, please contact Valerie Roof at 989.891.9986.
The Saginaw Basin Land Conservancy works to maintain the quality of life in the Saginaw Bay Watershed through the preservation of important wetlands, waterways and land of all types. The Conservancy is a non-profit charitable 501(c)(3) organization working in the Saginaw Basin. To date, the Conservancy has protected more than 300 acres in seven preserves and 4,163 acres in conservation easements with 50 landowners.
---
Outdoors Article 3498
---
---
Send This Story to a Friend!
Letter to the editor
Link to this Story
Printer-Friendly Story View
---
--- Advertisments ---