Attention State Economic Developers: Williams Township is in Bay County
"Brand" Planning Considered as an "Essential" Bay County Effort
February 1, 2004 Leave a Comment
By: Dave Rogers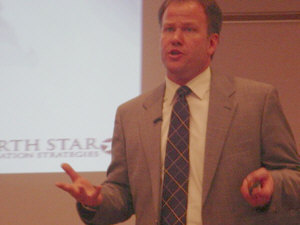 Visions of business-attracting community brands are conjured up by Don McEachern of North Star Strategies, Nashville, Tennessee, for local business planners.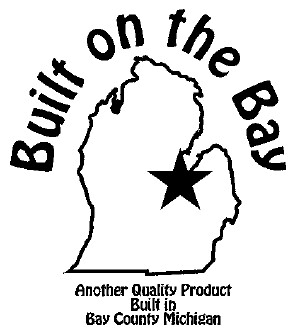 Computer consultant Steve Kent conceived these logos several years ago for consideration of business leaders as a Bay County "brand."
      It may be a small point to some, but to Bay County economic leaders the fact that Williams Township is in Bay County, not just "near Midland," is a major issue.
      As the Bay County community fights for recognition, investment dollars and jobs from the business world, every bit of information about our viability is crucial, local leaders indicated at a meeting last Thursday exploring community "branding."
      The meeting in the Lincoln Center of Bay Regional Medical Center drew nearly 100 enthusiastic leaders typified by Shirley Roberts, executive director of the Bay Area Convention and Visitors Bureau (CVB). Roberts keynoted the event with a local response to the Michigan Business Report, a slick magazine published by the Michigan Economic Development Corporation, giving good coverage to Bay County high tech businesses.
      "This is great!" she enthused, waving a copy of the magazine. "We're all over this. But I wish they would point out that Williams Township is in Bay County."      
That statement set the general tone of opinion, "yes, we need to cooperate with Midland and Saginaw but at the same time we also need to do our own thing; we have our own future to think of here in Bay County."
      The turnout of local leaders from all business and non-profit sectors was prompted by a report by consultants Brogan and Partners, Detroit, noting that a survey of 800 manufacturers produced little recognition of Bay County and indication that firmswould not consider a move here because of a strong union presence.
      "The image of Bay County is essentially a blank slate with 43 percent of respondents having no image or nothing that comes to mind when asked about Bay County," the Brogan report states, concluding:       "Bay County has little recognition around the state and what recognition it has revolves around Bay City and the water.
      "Midland County is dominated by one singular image: Dow Chemical Company.
      "Saginaw County, while having a more diverse image, must combat an image of an industrial, blighted urban community."
      City Manager Robert Belleman introduced the meeting, asserting "we share a common bond" andpromising to "work cooperatively with Bay County as a whole to grow the economy and provide diverse opportunities."
      The City Commission recently has agreed to contribute $36,000 a year, or one dollar for every resident, to the embryo Bay Futures, Inc., a new public-private economic development group organized over the past two years by Dominic Monastiere of Chemical Bank and County Executive Tom Hickner.
      McEachern pitched a $48,000 process by which his firm would help shape a "brand" for Bay County. Lansing, one client, is halfway through planning a Community Brandprint, he said, noting: "We pull everybody together to speak in one voice." A community "needs to be packaged and sold just like soft drinks," said McEachern, adding: "You need to create consumers for your product." In half of the two-dozen communities the firm serves, tourism is included as a goal along with general economic development, he pointed out.
      For Mobile, Alabama, fighting lack of recognition of being on the water, the brand became "Mobile Bay: Culture With A Southern Accent," McEachern said. "Baycations" are advertised.
      Augusta, Georgia, overwhelmed by the Masters Golf Tournament at Augusta National Golf Club, the theme became "I Played Augusta," touting nightlife and culture in addition to golf.
      "Your All American Getaway" is the theme for Dolly Parton's home of Pigeon Forge, Tennessee, promoting "affordable, action-packed family vacations."
      The bland image of Hattiesburg, Mississippi is combatted by creation of a cool persona, "Hattie," who speaks for the community.
      "We give you insights into your target audiences and come back every three years for branding check-ups," McEachern said. The brand process is aimed at both tourism and business relocation, he said.
      Branding is "not a panacea," McEachern noted, commenting: "The community still has to make it work; some used the information better than others." The amount of money available for marketing the brand becomes a factor, he said.
      County Executive Hickner pronounced the branding process "an essential investment for the community," noting that "it complements Bay Area Futures; it all fits together as an essential part of where we need to go for the next decade."
      Financing the marketing effort through additional taxes would "immediately dampen business activity," noted State Rep. Joseph Rivet. McEachern said financing could come from additional revenues generated on the existing "bed tax" of two percent per motel room rental or sources other than increased taxation.
      In response the question: How much do we need to cooperate with Midland and Saginaw in marketing? McEachern said: "Some regional effort makes sense, some condensation of marketing." However, the consensus of the leaders attending seemed to be that Bay County needs to create its own identity and attract tourists and businesses separately from Midland and Saginaw.
---
---

Dave Rogers




Dave Rogers is a former editorial writer for the Bay City Times and a widely read,
respected journalist/writer in and around Bay City.
(Contact Dave Via Email at carraroe@aol.com)

More from Dave Rogers
---
Send This Story to a Friend!
Letter to the editor
Link to this Story
Printer-Friendly Story View
---
--- Advertisments ---