Lady Cougars Edged Out 49-40 by Vassar Vulcans
All Saints offense plagued by questionable & untimely fouls
February 1, 2009 Leave A Comment
By: Kevin Kula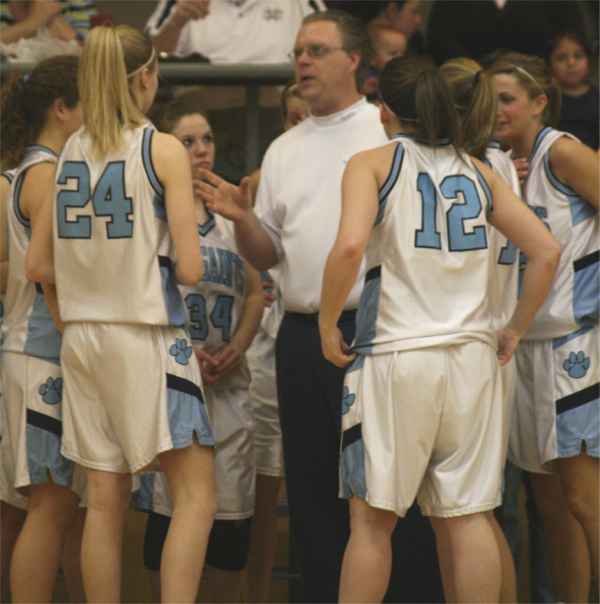 ASC Coach Duane Gorlewski talks strategy with the Cougars before the game.
(MyBayCity Photo by Kevin Kula)
Despite a 1-11 record, that does little to convey how hard they work each game, the Lady Cougars would throw everything they had at the Vulcans of Vassar Thursday night.
Almost immediately, things were going poorly for the struggling Cougars. The Vulcans racked up an early lead that could make or break a team. Despite being down by nearly ten points, the Cougars never gave up and working hard on offense, managed to comeback to within one point away from tying it up when the first period ended. The score was 12-11.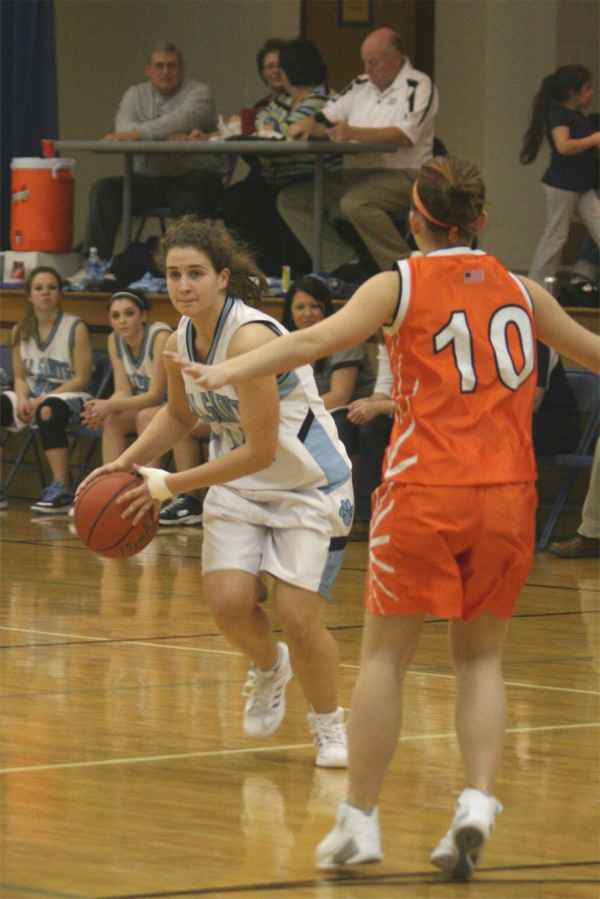 Senior Cougar Louise Reszmer moves around Vassar's Emily Aranyos.
(MyBayCity Photo by Kevin Kula)
The Cougars kept fighting throughout the second period, but the Vulcans impressive offense capitalized on every chance they got. Crashing through the Cougars ailing defense the Vulcans added 17 points to their score while the Cougars added only 6. When the first half expired the score stood at a daunting 29-17.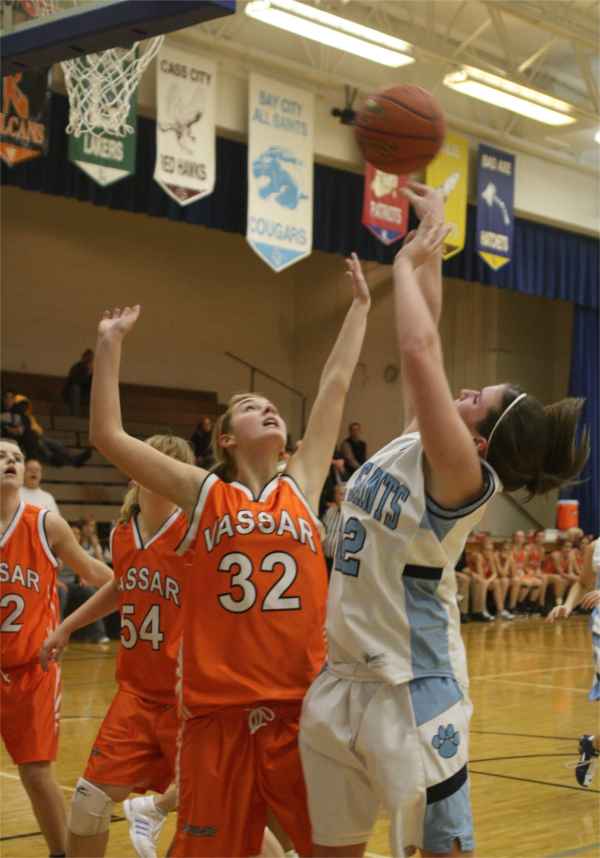 ASC's Jeanie Heintskill shoots over the reach of Jessica Hecht.
(MyBayCity Photo by Kevin Kula)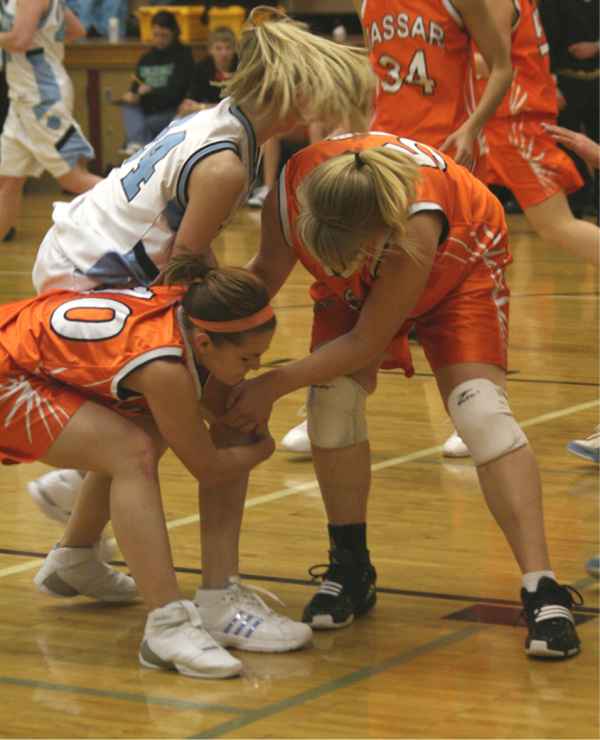 All Saints Ashley Bowker gets tied up by the Vulcans.
(MyBayCity Photo by Kevin Kula)
Despite the loss of a few All Saints fans, who were kicked out of the game for being
"too rowdy",
the Lady Cougars came out of halftime with a passion. Strong Cougar defense kept the Vulcans from increasing their lead too far, while the Cougars' offense succeeded in putting them back within striking distance. With the score at 36-28, the game would be decided by the fourth period.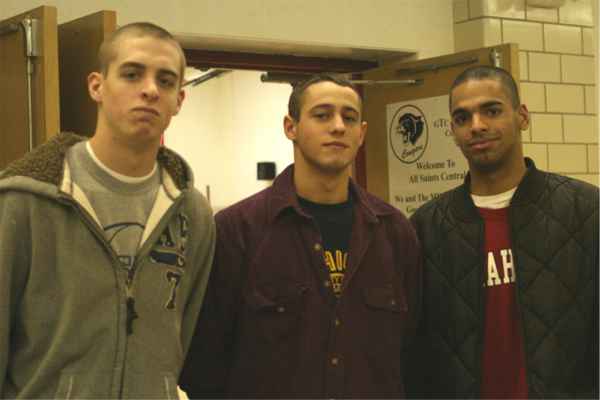 ASC students who loudly protested some of the many questionable calls were ejected from the game.
(MyBayCity Photo by Kevin Kula)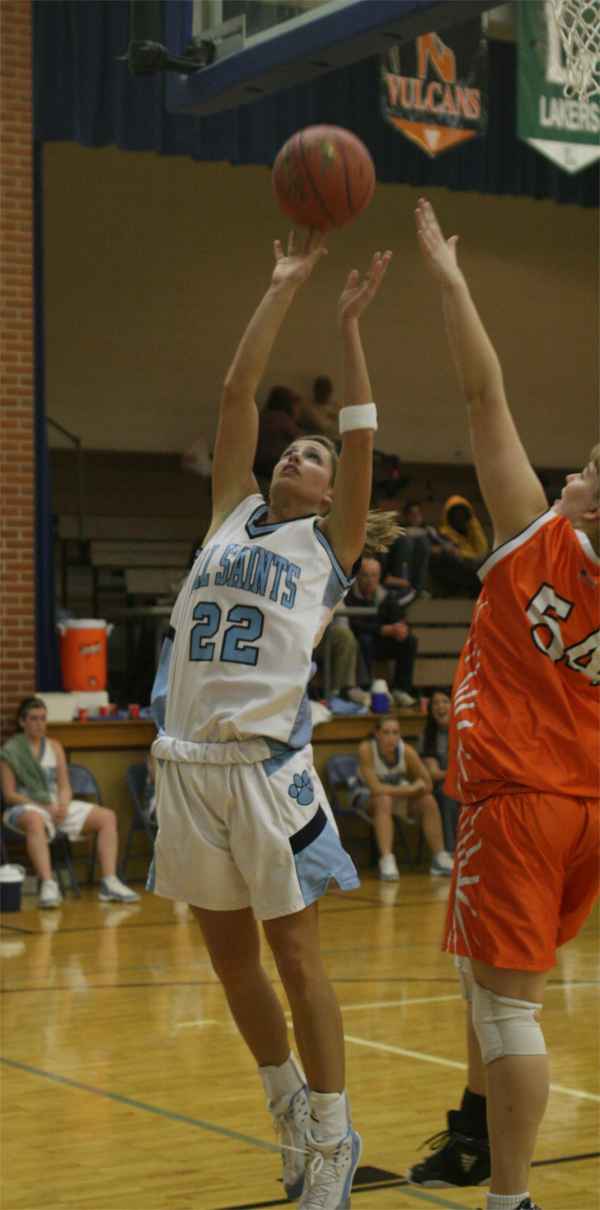 Cougar Senior, Taylor Timm reaches for the rebound.
(MyBayCity Photo by Kevin Kula)
The Cougars never gave up, and it paid off when a two-pointer scared the Vulcans into calling a timeout with Vassar clinging to a 37-34 lead. The Cougars put everything they had into the final minutes of the game, but unfortunately fouls gave the Vulcans the edge they needed to hold the Cougars off long enough to capture the win.
"Questionable"
calls from the referees constantly put Vassar on the free-throw line, and ultimately it would be free throws that finally put the nail in the coffin for the Cougars.
The Lady Cougars' record now stands at 1-12. Despite receiving their twelve loss of the season, Coach Duane Gorlewski says the Cougars
"Didn't give up, and you can't ask for more than that".

---
Sports Article 3512
---
---
Send This Story to a Friend!
Letter to the editor
Link to this Story
Printer-Friendly Story View
---
--- Advertisments ---