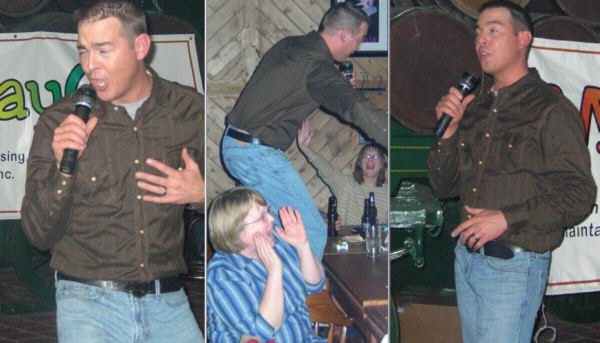 Steve Armstrong, 2007 Michigan Idol winner, entertains during competition at Stables Martini & Cigar Bar in Bay City. (MyBayCity Photo By Julie McCallum)
---
Labadie Pig Gig Fans Waiting To Hear You Sing!
2007 Winner Armstrong is Back To Judge the Michigan Idol Competition
February 15, 2009 3 Comments
By: Julie McCallum, Entertainment Editor
Thursday night. February 12th was opening night of the 2009 Michigan Idol at the Stables' Martini and Cigar Bar on Bay City's West Side.
This is the third year for the event which begins in February and ends at the Pig Gig during the first week of August.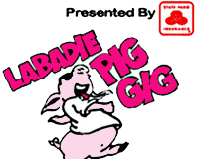 According to James McClure, Stables' Manager, there will be a series of competitions (Segments) which will be used to select finalists leading up to the Pig Gig.
Winner of each mini-competition will win a cash prize and will also be featured at an upcoming concert at the Prime Event Center in Downtown Bay City. In addition, these segment winners will qualify for the FINALS where they can earn the chance to perform at Labadie Pig Gig's Big Stage Concert during the Pig Gig weekend.
Steve Armstrong
(Pictured Above)
entertained the crowd at Stables on Thursday night during the Michigan Idol competition. Armstrong, who is now lead singer for 25-Cent Beer Band, was the Grand Prize Michigan Idol Winner in 2007. (Center Photo) Armstrong hopped up on the table to serenade some obviously happy fans during his rendition of "I got Friends In Low Places." This year, Armstrong is back as a judge for the weekly (Thursday) entertainment competition at Stables on Bay City's West Side.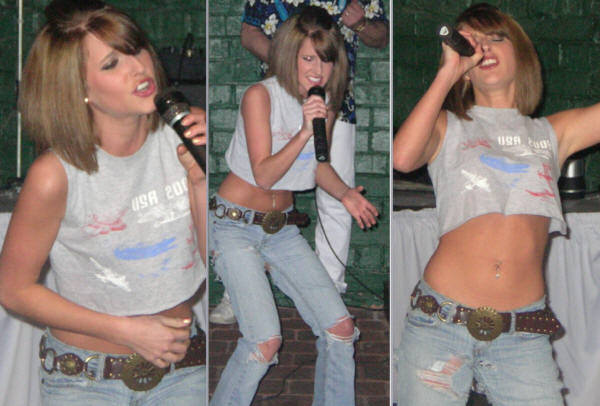 (Above) Kate Gembrowski is "working it" during Michigan Idol competition at Stables. Gembrowski was a Finalist back in 2007 & 2008 and is shooting for the top prize -- Opening Act for Pig Gig 2009 in August. Gembrowski got "three thumbs up" from the Michigan Idol judges.
(MyBayCity Photo By Julie McCallum)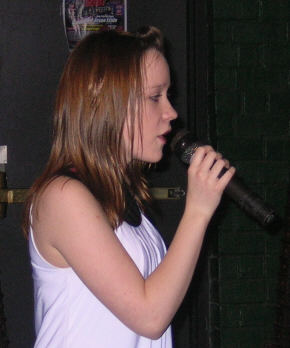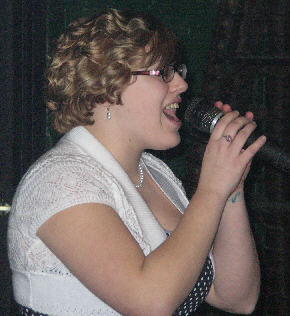 Bridgette Ballor (Left) and Jessica Rex (Right) sang for the judges during the opening night of the Michigan Idol competition at Stables Martini & Cigar Bar in Bay City. Ballor & Rex both competed in 2007 and 2008. Rex traveled from Lansing that night just to make the competition in time.
(MyBayCity Photo By Julie McCallum)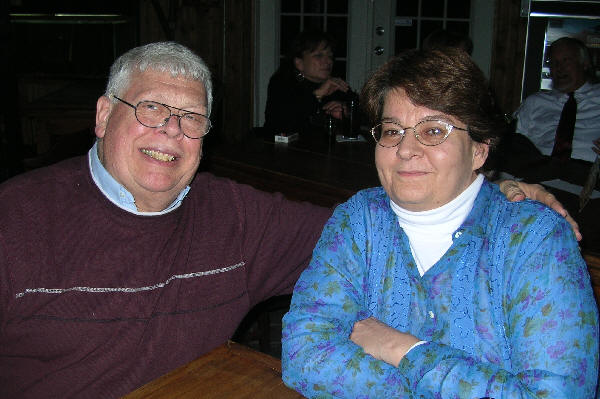 Chuck and Debbie Kirkbride were both contestants in the competition.
(MyBayCity Photo By Julie McCallum)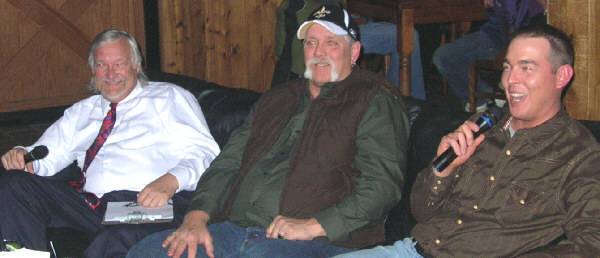 Michigan Idol Judges L/R, Dick Bork, DJ Bob and Steve Armstrong.
(MyBayCity Photo By Julie McCallum)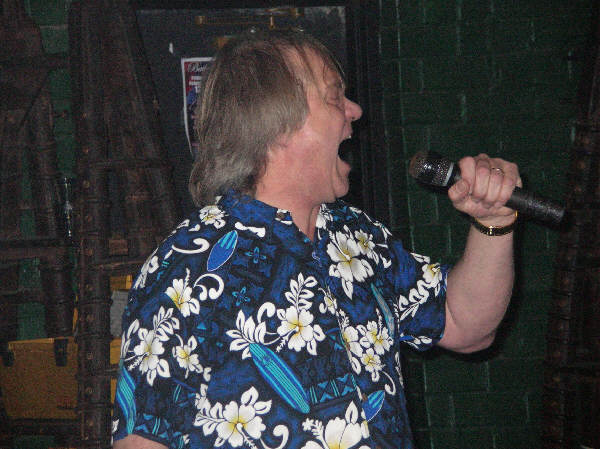 Fabulous host of the show Doug Dore belts out first song of the night!
(MyBayCity Photo By Julie McCallum)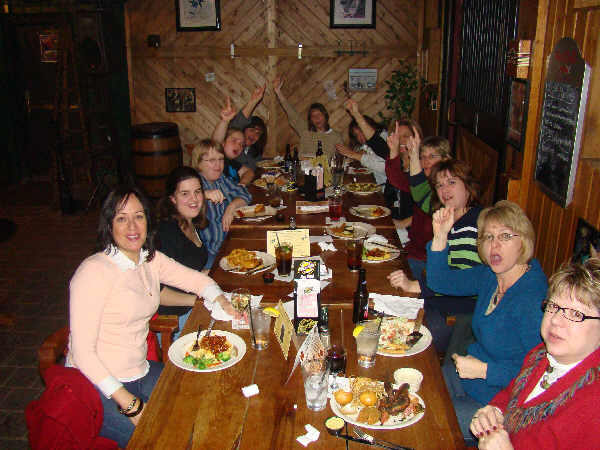 (Above) This crowd enjoys dinner as well as the entertainment
(MyBayCity Photo)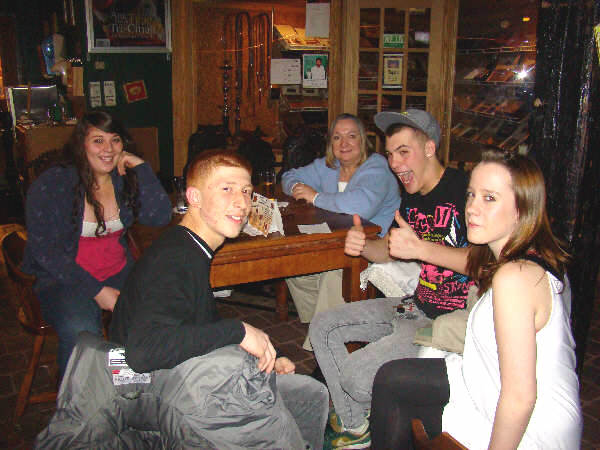 (L/R) Haleigh Harrison, Jess Velásquez, Bridgette Ballor, Josh Witt and Cherie Athanasoulias.
(MyBayCity Photo)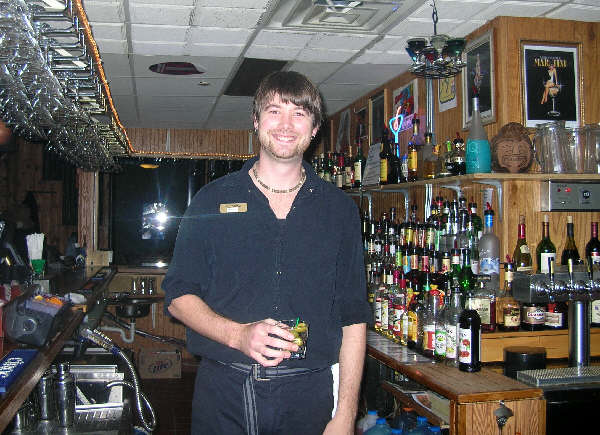 Brian -- your friendly Stables wait staff . . . Whats not to like!
(MyBayCity Photo)
MICHIGAN IDOL 2009 IS SPONSORED BY:


For Information On How Your Business Or Event Can Be Featured, Call Sales & Marketing Director, O.J. Cunningham At ((989) 892-8501 Or Email OJ@MyBayCity.com TODAY!
---
---
---
Send This Story to a Friend!
Letter to the editor
Link to this Story
Printer-Friendly Story View
---
--- Advertisments ---