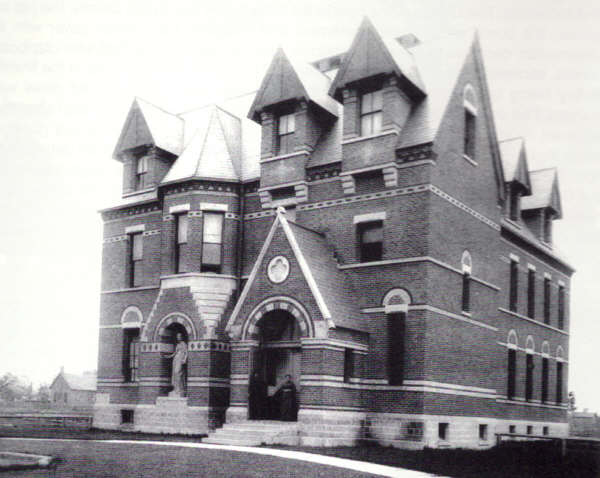 Sage Library stands starkly on Midland Street soon after construction in this 1884 photograph.
---
Sage Gave Library, 8,000 Books in 1884; Today's Collection is 80,000
Evening Hours Were Set to Discourage Saloons, Gambling, Says Eric Jylha
February 14, 2009 Leave a Comment
By: Dave Rogers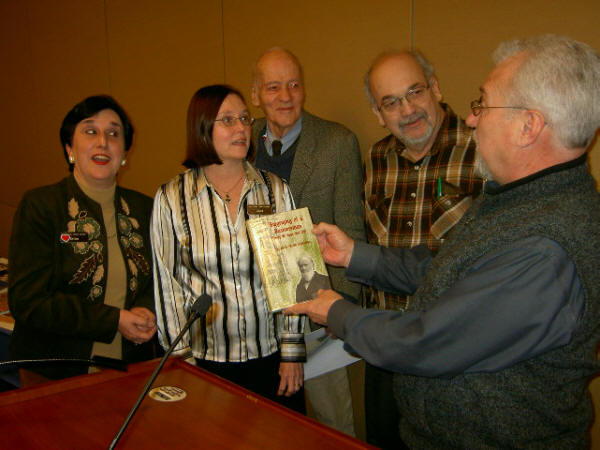 Eric Jylha, right, shows copy of Anita Goodstein's book, "Biography of a Businessman," about Henry Sage, in a "Booked for Lunch" presentation at the Wirt Library on Friday. Left to right are Esther Harrington, Auburn library staffer; Laura Meirlaen, fiction librarian at Sage Library; Peter B Frantz, local architect; local historian Alan Flood and Mr. Jylha.
(MyBayCity Photo by Dave Rogers)
Stay away from saloons, read books instead.
That was the watchword of Henry W. Sage, pioneer Bay City lumber tycoon.
When Sage built his library for the people of West Bay City, he specified it be open evenings to keep local folks away from saloons and gambling dens.
Eric Jylha, director of development for the Bay County Historical Museum, entertained an enthusiastic capacity crowd at the Wirt Library last Friday with Sage stories.
The occasion was a "Booked for Lunch" presentation on Sage's life based on his biography by Anita Shafer Goodstein, published by Cornell University Press in 1962.
The turnout was not only a tribute to Mr. Sage but also to the institution he built that this year marks its 125th anniversary.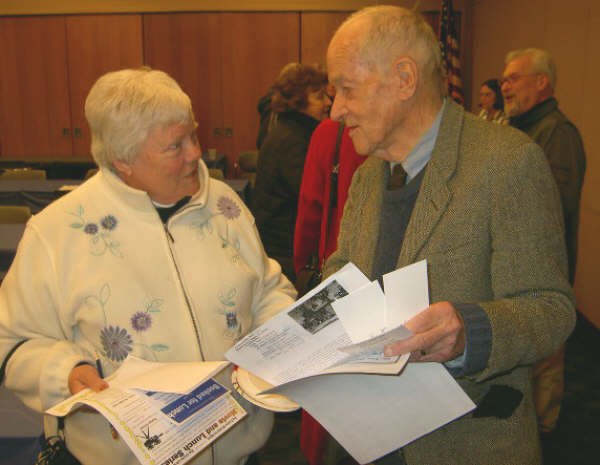 Peter Frantz shows Barb Ross a photo of Henry Sage's home in Ithaca, New York.
(MyBayCity Photo by Dave Rogers)
Sage donated $50,000 to the City of West Bay City to build the library. It was dedicated Jan. 16, 1884 with a minister, Moses Coit Taylor, of Ithaca, New York, presiding at the ceremony at the Westminster Presbyterian Church across the street from the library.
Sage was presented with an oil painting of himself that still hangs in the library.
The library was designed by Charles Babcock, dean of the School of Architecture at Cornell University.
The library was stocked with about 8,000 books when it opened. By contrast, today the library has about 80,000 books, said Mr. Jylha.
The library's collection still includes an ultra-rare, valuable 1492 Koberger bible, donated by local bookbinder Edward Kroencke in 1900.
Students from the old Western High School, located on the site of the Allen Medical Building, occupied the first floor at the Sage Library while the second floor was used by a mens' debating society and the West Bay City School Board and administrators used the third floor.
The French Chateau style building is reputedly the oldest continuously operating library in Michigan. Even though it was closed to patrons two years during a library austerity period after a millage defeat, Mr. Jylha said the fact that mail was delivered there qualified the library as "open."
Regardless of the "open" details, Sage Library remains the oldest building still used for library purposes in the state, according to historical sources.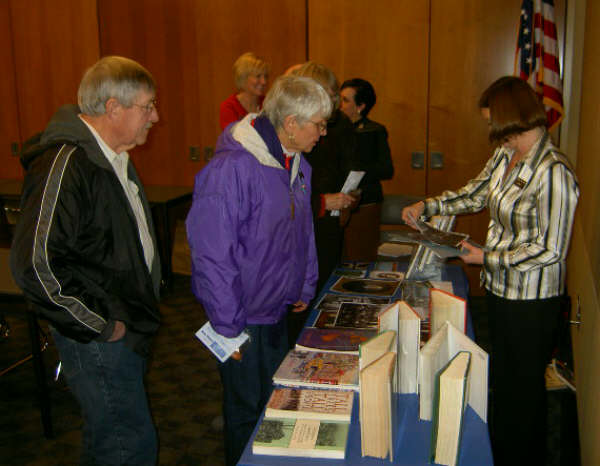 Laura Meirlaen, fiction librarian at Sage, displays local history books for browsing patrons (Paul Andrus, Left) after the Jylha presentation.
(MyBayCity Photo by Dave Rogers)
While today the library is open two nights a week, Wednesday and Thursday, until 8 p.m., that would have pleased Mr. Sage, he no doubt would have been distressed by the dozen or so drinking establishments and a gambling casino within a few blocks.
Sage was a teetotaler and through his influence the Village of Wenona, the company town he founded, was relatively "dry" while the more raucous east side had many more saloons.
Sage family connections are evident in names of west side streets Henry, Dean, DeWitt, Linn and William.
Born and raised in poverty in Connecticut, Sage studied medicine and then became an apprentice in a mercantile business in Ithaca run by his mother's brothers. He then went into lumbering and owned part of a mill at Lake Simcoe, Ontario, Canada. He later expanded his operations and began to buy land in Michigan.
After negotiating four years, Sage bought the 116 acre farm of James G. Birney, who had died in 1857, from his widow Elizabeth Fitzhugh Birney, in 1863 for a reported $20,000. The acreage originally was Government Lot 1 obtained from the Chippewa tribe by Gen. Lewis Cass in 1819 in the Treaty of Saginaw. Birney may have paid as little as 50 cents an acre, or about $58 for the land in 1842.
Sage was perhaps the largest private landholder in Michigan with 500,000 acres, said Mr. Jylha. He was called "the Prince of Michigan Lumbermen."
Forming a partnership with John McGraw, the pair built what was then considered the world's largest lumber mill. It stood about where Hooter's Restaurant is today. In 1868, Sage bought out McGraw, who then proceeded to build an even larger mill in the village of Portsmouth (South Bay City).
Sage was instrumental in getting the Jackson, Saginaw and Lansing Railroad to extend its line to West Bay City, a factor important in growth of the community.
Although he was notoriously penurious, when his mill set the 12 hour record for board feet of timber cut, he bought all workers an oyster dinner, noted Mr. Jylha.
Although known for "close management" of workers' wages, Sage was a benevolent tycoon when the mood struck him. However, a persistent rumor has it that Sage deducted 25 cents from each worker's pay to fund the cost of the library.
Sage built homes he sold to workers for $200 each and made loans at 10 percent interest, building his wealth even more. He complained of high taxes on his mill and properties here even while building an $80,000 mansion in Brooklyn, New York, and another huge home in Ithaca, New York.
Sage was a major benefactor of Cornell University in Ithaca and Sage Hall stands on the campus to this day.
When the standing timber began to run out and the Sage mill in West Bay City closed in 1892, it was valued at $8.5 million, said Mr. Jylha. He also owned huge tracts in Wisconsin, Minnesota, Alabama, Mississippi and Arkansas. He continued to buy and sell land until 1884 and he died in 1897.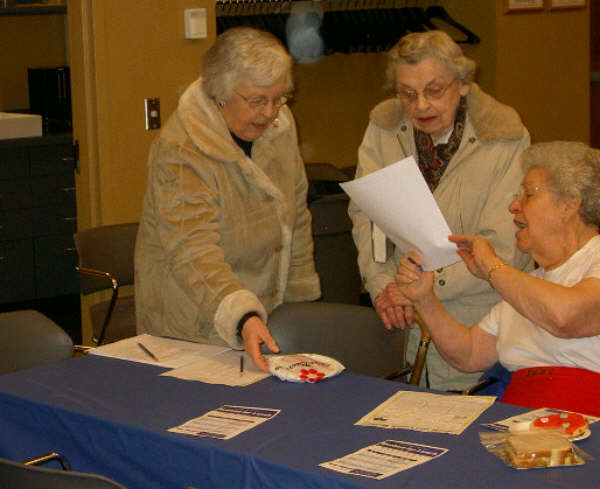 Marge Rooker, left, and Jane Flood, hear about library history from Marge Olson, right.
(MyBayCity Photo by Dave Rogers)
###
---
---

Dave Rogers




Dave Rogers is a former editorial writer for the Bay City Times and a widely read,
respected journalist/writer in and around Bay City.
(Contact Dave Via Email at carraroe@aol.com)

More from Dave Rogers
---
Send This Story to a Friend!
Letter to the editor
Link to this Story
Printer-Friendly Story View
---
--- Advertisments ---