Focus Economic Development Efforts on Creation of New Jobs, Says Appraiser
Community Leaders Urged to Set County Goals, Hire Professional Developers
February 8, 2004 Leave a Comment
By: Dave Rogers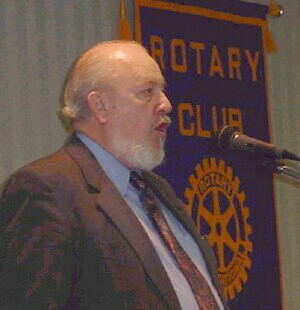 Appraiser Tom Starkweather speaks to the Rotary Club of Bay City on "Realities of the Local Real Estate Market."
      "Take all your energy and create new jobs," local real estate appraiser and former metropolitan banker Tom Starkweather advised members of the Bay City Rotary Club recently. The title of his speech was "Realities of the Local Real Estate Market."
      He said the reality of the local real estate market and also the local economy is that they are not measuring up to national standards and suggested a fresh look at how economic development is conducted.      
A graduate of the University of Connecticut, Starkweather moved to Bay City from Los Angeles about 15 years ago after serving on a federal reorganization team in the savings and loan crisis. Previously he was a commercial real estate appraiser and mortgage officer for the New York Life Insurance Company in New York City. He was also vice president and senior credit officer of Crocker National Bank in Los Angeles before serving with the Federal Savings and Loan Insurance Corporation in the savings and loan crisis 1984-86.
      Creation of new jobs is more important than retention of old industries because the percentage of manufacturing is shrinking here as well as in the rest of the country, he said.
      "The current economic estimate is that 95 percent ofthe new jobs in the U.S. will come from intellectual enterprises that don't exist today," said Starkweather.
      He praised industries such as Gougeon Brothers, Bay Cast and RWC, stating that these firm "import money" into the local economy. "We need more Gougeons," he said. He was critical of outside firms such as national chain restaurants and drug stores and Walmart that he called "dollar drainers" in that they take money out of the community. Medical centers like the Bay Regional Medical Center are more favorable to the local economy since they keep money from leaving. He called hospitals "dollar savers," commenting: "I want my buck to be spent here one more time."
      Although factories like General Motors Powertrain are classed as "dollar gatherers," Starkweather said the reality is that many local GM employees are not residents of Bay County so all the wages paid to them don't stay here. Many of GM's wage dollars bolster the regional economy, but not necessarily the economy of Bay County, he said.
      In Starkweather's opinion tourism is important but is a small part of the local economy and luring industries here is a long shot. "Every community in the country is trying to do the same thing," he said. He suggesteda countywide goal-setting process and using professional economic developers to guide growth.
      "Find your assets and liabilities and then go out and sell them," the speaker said, adding: "Do what's good for the community instead of what's in your own personal best interest. That causes good things to happen to you and we all grow together."
      Starkweather urged improvement of local real estate properties by current owners, noting that there is a mistaken belief that real estatetaxes will go up if improvements are made. "However, the reality is that the assessed value will go up but the taxable value will not, at least not until the property changes hands," he said.
      Starkweather said the "missing industry" locally is FIRE: finance, real estate and insurance. He suggested that efforts be made to bolster that sector of the local employment picture.
      He predicted that manufacturing soon will shrink from 30 percent to 10 percent of the national economy and from the present 18 percent to 10-12 percent of the local economy. "Mexico is sending jobs to Indonesia because it's cheaper there; that's the reality, that's what's happening."
      The U.S., and the Bay County area, needs to use the best skills we can to revive the economy, Starkweather said. "We think better than anybody in the world," he said, concluding: "We invent, design, engineer, plan -- that's our strength and that's where we should focus our efforts. If we're still thinking we're going to be grinding pistons forever, we've lost the battle."
---
---

Dave Rogers




Dave Rogers is a former editorial writer for the Bay City Times and a widely read,
respected journalist/writer in and around Bay City.
(Contact Dave Via Email at carraroe@aol.com)

More from Dave Rogers
---
Send This Story to a Friend!
Letter to the editor
Link to this Story
Printer-Friendly Story View
---
--- Advertisments ---