Dice Corporation, Dow Corning, Dominate "Michigan Business Report" Magazine
High Tech Firms in Monitor, Williams Townships Make Headlines
February 8, 2004 Leave a Comment
By: Dave Rogers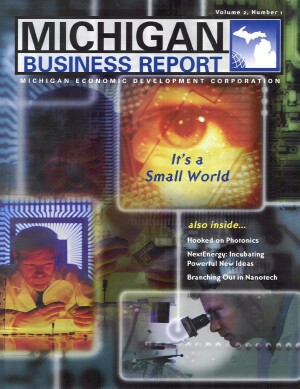 Information about high tech developments in the Bay City and Midland areas dominate the latest issue of the Michigan Business Report, local business leaders were told recently by Shirley Roberts, executive director of the Bay Area Convention and Visitors Bureau.
      She noted that tourism and economic development are inextricably linked together since a recent survey of 800 manufacturing employers shows that more companies are prone to expand here if their executives have visited the area.      
"We're a cool city," exclaimed Roberts at a meeting in the Lincoln Center of Bay Regional Medical Center to discuss creating a "community brandprint" as a marketing tool.
      Roberts, waving a copy of the business report, published by the Michigan Economic Development Corporation, noted that articles on Dow Corning should have specified that Williams Township is in Bay County, not just "near Midland." She got widespread acceptance of that viewpoint, given the makeup ofthe local crowd of development-minded leaders impressed by the fact that Dow Corning is one of the county's largest employers with about 1,250 employees.
      However, another article in the state magazine, entitled "The Information Super Highway Hits the Road," featured the Dice Corporation, a Bay City firm with headquarters in the Valley Center Technology Park on Mackinaw Road in Monitor Township.
      "The telematics boom has spread across the state and includes a major player in Bay City, the Dice Corporation, one of the foremost providers of software for the security industry," the magazine states.
      "Through its wireless division, the company uses wireless and global positioning system technologies to track and report the status of vehicles. Dice Corp. has partnered with automakers as well as service providers such as OnStar to collect and analyze automated collision notification (ACN) messages. These messages contain crash data that can help save lives and solve investigations in the event of an accident."
      Dice serves major automakers such as Ford, GM, and Japanese firms Toyota and Honda. The local firm also is working with the U.S. Department of Homeland Security in mock disasters to test the nation's emergency response system. Dice is also working on an alert system for natural disasters or other emergencies.
      Two and a half pages on Dow Corning report on the Williams Township's firm's work on harnessing photonics for a range of applications from telecommunications to information processing. Photons send out information much faster than electrons, a quality considered crucial in Internet applications. The marketplace is being driven by the need for additional bandwidth and high speed connectivity, the application targeted by the Dow Corning Global Photonics program, according to Babette Peterson, director. "That business initiative is expected to have an immediate economic impact," the report states.
      Photonics has such tremendous potential because it has the goal of replacing copper wires with optical fibers. Peter Lo, Dow Corning's photonics technology leader, explains that downloading a movie with copper wire and dial-up would take a full day, cable modem or DSL wouldtake 45 minutes, and optical fiber would take 30 seconds.
      Dow Corning, established in 1943 as a joint venture between Corning Glass Works and the Dow Chemical Co. to explore the potential of silicones, is now a leading supplier of silicon-based materials to the semiconductor industry.
      Dow Corning is also working with the French tire maker Michelin on a "green" tire to reduce consumption and protect the environment, and with with U.S. Army on a high-tech battle suit that could potentially repel bullets, monitor vital signs, protect against chemical attacks and create electronic camouflage.
      LEDs (light emitting diodes) are another focus area of Dow Corning. LEDs have the potential to eliminate light bulbs and provide vast savings in such applications as signs, street lights and automobile lighting systems.
---
---

Dave Rogers




Dave Rogers is a former editorial writer for the Bay City Times and a widely read,
respected journalist/writer in and around Bay City.
(Contact Dave Via Email at carraroe@aol.com)

More from Dave Rogers
---
Send This Story to a Friend!
Letter to the editor
Link to this Story
Printer-Friendly Story View
---
--- Advertisments ---